FREE ARTICLE


Earthquake disaster reconstruction support 5th All Japan Invitational Kendo Seventh Dan Championship (Yokohama 7th Dan tournament) brought back to life.


Yano Hiroshi, head referee, Hanshi 8th Dan
Born in Shizuoka Prefecture in 1941. After graduating from Sagara High School, he entered Kokushikan University, where he worked as an assistant professor. He became a professor at the university in 1986 and retired in 2011. His achievements include 2nd place in the World Kendo Championships, 3rd place in the Meiji-mura Kendo Tournament, 3rd place in the National Kendo 8th Dan Tournament to commemorate the completion of the Okinawa Prefectural Budokan and 1st place in the National Teachers' Tournament. He is currently a professor emeritus at Kokushikan University and council member of the All Japan Kendo Federation.
"This tournament was held for the 5th time this year, and we had 4 new debutants. Out of those, the youngest competitor Hashimoto Keiichi (Saitama), achieved the great accomplishment of winning the tournament on his first try. It was the first match that gave us a glimpse of Hashimoto's great performance.
Against fellow debutant Furukawa Kousuke (Osaka), he took the first Ippon with a splendid leaping Men, after which Furukawa equalized with his brilliant small Kote. Furukawa is a fighter who's abilities have allowed him to participate in the World Kendo Championships. With Hashimoto being able to beat such an opponent, I expected him to play an important role in the tournament.
In his second match, against Matsuwaki Shinsuke (Tokyo) and his third match, against Takanabe Susumu (Kanagawa), Hashimoto was also successful with his splendid Men attack. While both matches ended in a draw, he managed to pass his league by sticking to his own Kendo. In the final tournament, he ended up beating both former champion Hojo Tadaomi (Kanagawa) and Gonpei Noriyasu (Tokyo) in overtime.
In the finals, he tied with 3rd time competitor Matsuwaki, winning in overtime with a superb Morote-tsuki. Hashimoto is a member of Ida Technos' corporate Kendo team. As he also participated in last fall's All Japan Kendo Championships, I assume he has been training deliberately in order to improve ever since. Together with his team he continued to fight matches, eventually ending up on top. While of course it is the first time that a non-police player won this tournament, there had also never been a non-police champion at the Marume Kurando memorial 7th Dan Tournament, which was held for the 17th time in Nishikichou, Kumamoto prefecture.
I believe, Hashimoto's victory has motivated a lot of people in the Kendo community. The spotlight was on Matsuwaki, who regrettably lost in the finals, ever since the preliminary matches. The Morote-tsuki he scored against Furukawa was a highlight. While Matsuwaki is a known Tsuki specialist, this powerful Ippon in particular seemed to capture the essence of Tsuki. However, Matsuwaki's Tsuki did unfortunately not appear in the finals.
Third place was claimed by Kiwada Daiki (Osaka), who got the same result last year, and Gonpei, who lost in the preliminaries last year. Gonpei made the best of the lessons he learned last year, becoming the only participant out 16 to come out of the preliminaries with two wins. His fight with Koseki Taro in the quarter finals was also worth watching. Out of the 24 preliminary matches, 16 were ties. However, 6 of these matches had very even fights leading to the draws, with the fighters displaying their will to take an ippon within the 5 minutes of the match.
As I was watching the matches from very close, I could even hear the players breathing. Even though they are hardened veterans, their breathing was heavy in the later half. I believe it was fighting under these circumstances that lead to these tied matches. If you pay close attention to the way the players pressure their opponent and close the distance before attacking, your can learn something. I have been involved in this tournament as a referee ever since the first time it was held, and I felt that the amount of spectators is increasing. Because last year's All Japan Championships' runner up, Uchimura Ryoichi was participating, the number of children who came to watch was also high.
I was looking forward to Uchimura's matches, but all three ended up in a draw. Because preliminary matches and the final tournament are not the same, some adjustment is needed in order to win. I am sure he will change his approach next time.
Last year's winner, Teramoto Shoji, was defeated by Kiwada in the quarter-finals. Two time winner Takanabe failed to get out of the preliminaries, managing to score three points but still tying his three matches. This shows that the competition among the players is very fierce. Ever since the revival of this 7th Dan tournament 4 years ago, I believe this tournament has become an important goal for these competitors and they have probably been practising very hard in preparation for the tournament. I'm looking forward to next year's tournament."

Terachi Tanetoshi, Kyoshi 8th Dan
Born in Kagoshima prefecture in 1960, 60 years old. He went to Kagoshima Shoko High School and then entered Hosei University. Upon graduation, joined the Metropolitan Police Department. Currently the Metropolitan Police Kendo vice chairman.
"Compared to the previous four tournaments, I feel that overall the mindset of going all-in has increased. There was less unnecessary movement than before, and I got a calm impression.
Although Hashimoto participated for the first time, he was using his own Kendo from the start, overpowering his opponents. A good example is his Debana-waza. By scoring an Ippon with his Debana strike, he makes opponents feel like they can no longer attack safely. Hashimoto played three matches with Matsuwaki this time, in the preliminary league, the match deciding the winner of his league and in the finals. They tied in the preliminaries, but the final match was eventually decided by Hashimoto's Morote-tsuki in overtime.
I felt that Matsuwaki was a bit too hesitant in the final match. He was cautious with his Do strike and also barely used his Debana-waza. Although losing in the finals, Matsuwaki still impressed in the semi finals with two splendid Men-ippon. These two players also fought each other last time, when Matsuwaki was defeated by a Kote strike. This time however, I felt that Matsuwaki was one step ahead with his Seme, which may have made it easier for him to find the right opportunity to strike.
This tournament has now been held 5 times, and I believe that the tournament has become an important objective for all the competitors, motivating them to train hard. The results of one year of practice could be clearly seen, which to me was one of the highlights of the tournament. This tournament is the peak of 7th Dan Kendo.
I felt that it was not "hitting and then winning", but "winning and then attacking" that was the key to victory. I wonder what we will be able to see next time, and how much Hashimoto will be able to grow in the coming year."

Osawa Norio, Kyoshi 8th Dan
Born in Saitama prefecture in 1960, 60 years old. He went to Saitama prefecture Minano High School. Joined the Saitama prefecture police after graduating high school. Currently, he is Kendo teacher at the Saitama Prefecture Police.
"Many of the matches left an impression on me, but especially Hashimoto's match winning Men strike on Furukawa comes to mind. He positively pressured and struck his opponent, sticking to his own Kendo without showing concern for victory or defeat. In the end, throwing away everything and fully committing to his strike is what allowed him to win. This Men strike was worth seeing, especially for high-level players.
After the match, Hashimoto said: "I was able to do my own Kendo." If you are too fixated on winning, you won't be able to use your techniques to the full extent. I felt that sticking to his own Kendo is what allowed him to win. In a match between two top level players, wavering for only a short moment means you will be struck. If you are to throw everything into your strike instead of doubting yourself at moments like these, you will be able to score.
When the participants for this tournament were announced at the end of last year, Hashimoto had to choose between entering this tournament or the All Japan Prefecture Kendo Championship. After we talked with him about this a little, he decided to enter in this tournament, after which he started practicing at not only his own Kendo club, but also his prefecture's monthly Keiko Kai and other local Dojos.
He has always practiced with enthusiasm, but as this would be his first appearance in this tournament, he probably made some special adjustments to his training. The pressure that came with all his opponents being top level players made have also helped with achieving this amazing result. There were 15 draws in the preliminaries this time, but there never was a dull moment. In a battle between warriors, a conclusion might not always be found within 5 minutes. This led to some great matches, even if they ended up in ties. I felt that it was a good tournament."

Ishida Toshiya, Kyoshi 8th Dan
Born in Osaka in 1961, 59 years old. He went to PL Gakuen High School
and then entered Osaka University of Health and Sport Sciences. Upon graduation, he became an Osaka Prefecture Police officer and is currently a chief professor at the Osaka Police University.
"Overall, I felt that the players were actively fighting during their matches. Although there were 15 draws in the preliminary rounds, there were plenty of highlights in all of their matches.
Winner Hashimoto skillfully baited his opponents from the start and won two matches. He tends to be nervous during his first matches, but he stuck to his own Kendo and kept aggressively attacking. Hashimoto's opponent in the second match, Gonpei, also tends to tense up in his Shiai. But without disturbing his own pace, he managed to slowly push back his opponent.
Last time, the top 4 consisted of only fighters from Osaka. This year, three of those (Teramoto, Seike and Kiwada) also participated, but failed to leave the same mark this time. Armed with his typical ingenuity and his trademark kote strike, Kiwada was fighting valiantly. Teramoto seemed to be hesitant as a result of last year's victory. His third match with Iwashita did not lead to any Ippons, but I could feel the force behind his first Kote strike. Although Seike was not able to advance to the final tournament, he showed kendo worthy of a 7th Dan.
First timers Odaguchi and Koseki also displayed wonderful swordsmanship, and I enjoyed watching them. Odaguchi and Hashimoto are both members of corporate Kendo teams, so it must have been hard for them to train consistently. This was the first time that a member of a corporate team ever won the tournament. This might become an important stimulation to everyone participating in this tournament."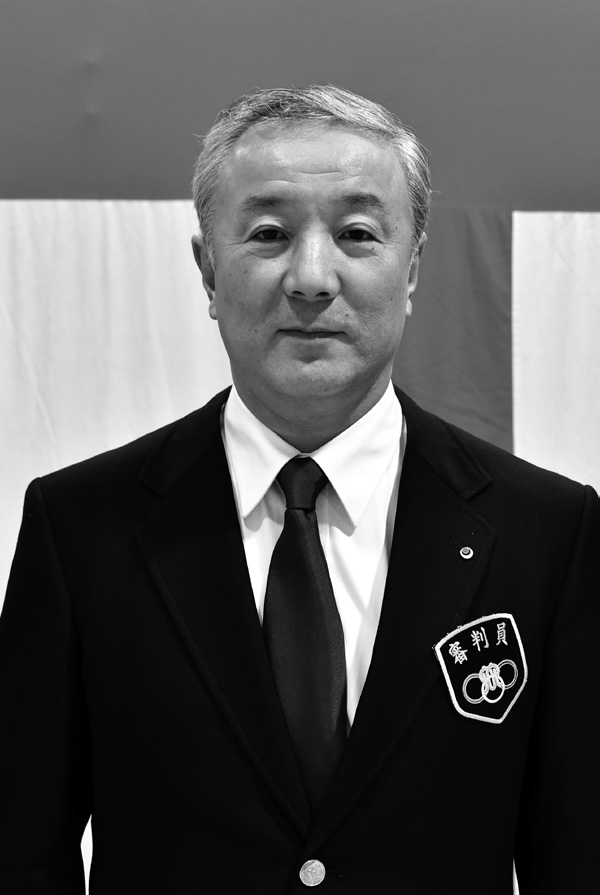 Miyazaki Masahiro, Kyoshi 8th Dan
Born 1963 in Kanagawa prefecture. After graduating from Tokai University and Sagami High School, he was appointed to Kanagawa Prefecture Police. 6-time All-Japan Champion, 4-time World Champion in teams and individual categories, 2-time National Police team Champion, 6-time National Police Individual Champion, Shinno Tomohito 8th Dan Championship 1st place, 7 time All Nippon Invitational 7th Dan Champion. He has stood at the top of every tournament. In April 2018, he won the first consecutive title in the history of the All Japan invitational 8th Dan Championship. Currently, Kanagawa Prefecture Police Chief Operating Teacher.
"The matches were very heated as usual. I could not take my eyes of the league matches until the very end, because I couldn't tell who was going to win.
Winner Hashimoto was frantically fighting to win, defending where necessary and attacking with no hesitation. Maybe the goddess of victory smiled at his dedication. In the final match, Hashimoto instantly exploited a momentary opening to settle the match by Tsuki. Matsuwaki was showing some impressive Kendo until then, but Hashimoto took full advantage of this chance.
Although they failed to win, I was impressed by the Kendo of Teramoto, Takanabe and Uchimura. Because I work at the same place as Takanabe, I know a lot about his daily practice. He might have been practicing the most out of all the competitors and he was in excellent condition. However, there were many cases where he was wary of a Men strike and tried to avoid it.
If we look at the number of wins, draws and losses in the preliminary league, we see many cases where, although they were not losing, competitors failed to win. This shows how difficult it was to win. This time the tournament was won by debutant Hashimoto, who trains at a corporate Kendo club. Because of the magnificence of this year's matches, I have nothing but high hopes for next year."

Takahashi Hideaki, Kyoshi 8th Dan
Born in Okayama prefecture in 1965, 55 years old. Went to Kanzei High School and Kyoto Sangyo University. He joined the Kyoto Prefecture Police after graduating and is currently the Kyoto Prefecture Police head Kendo teacher.
"All of the participants were high level Kenshi who came here to win. This lead to a very tense atmosphere, forcing me to keep my eyes on the matches. They showed us how 7th Dan Kendoka create opportunities and actively pursue Ippons. Although there were a lot of draws, it was never because of defensive play. Instead, it was caused by both players fighting aggressively.
It was also enjoyable for me as a referee. In the quarter final I could enjoy a match between two Osaka Prefecture Police members (Teramoto vs Kiwada), and two Tokyo Metropolitan Police players (Koseki vs Matsuwaki). As for the match between Teramoto and Kiwada, I felt that Kiwada had an aggressive mindset of refusing to lose, even though Teramoto is his senior by 3 years. The match was decided by Kiwada's do strike in overtime, striking the opponent at the start of his attack.
All of the players who advanced far into the tournament, such as Kiwada and champion Hashimoto, never missed a chance to strike. They didn't use physical techniques, but used their resolve to drive their Kendo.
Hashimoto had some moments were he parried the opponents Kote strike, after which he struck he opponents Kote as they were coming forward, which left a great impression on me. He took advantage of the moment before the opponent caught up, unleashing his build up energy at the right time. To mount an attack against players who know the severity of winning and losing requires a lot of courage.
I think being able to move your body without panicking in such an environment is the result of daily practice. To be able to perform techniques in that split second opportunity without fear is what they refer to when they say, "Kendo is won with your waist area". Perhaps we have this kind of battle not only in Kendo, but also at work and when dealing with other people."

Miyazaki Fumihiro, Kyoshi 8th Dan
Born in Kanagawa Prefecture in 1965, 55 years old. He went to Sagami High School and Tokai University. Joined the Kanagawa Prefecture Police after graduating and is currently the Kanagawa Prefecture Police deputy Kendo teacher.
"I had the impression that all the competitors fought with an awareness of being 7th Dan. I think that for the spectators too, this is the point of interest. This time it was befitting for the pinnacle of 7th Dan players, and we could watch aggressive techniques from beginning to end. I was expecting the fighters to only care about winning in the second half of the preliminary league, but this did not happen.
The competitors had to play at least three matches, with the finalists playing seven. It must have been tough for players in their late thirties to play this many matches. But the players still kept their eyes on their opponents without losing energy. Even in the moments where a point was not taken, it became visible that the sharpness of the strikes, posture, spirit, Tenouchi and the way of swinging of the fighters was the result of rigorous daily practice.
Two-time winner Takanabe was the center of attention. His first match was against the 2 years younger Matsuwaki. Matsuwaki seemed to be aware of Takanabe's strong Men strike. He managed to read Takanabe's movement and scored a Kote, striking him at the right time.
After this, Takanabe came back with wonderful spirit. He refused to give up, believed in his own techniques and managed to score a men strike. Then, he drew his matches with Furukawa and Hashimoto, causing him to be eliminated before the final tournament for the first time.
Not only is his Men very fast, he also pays good attention to his surroundings. Takanabe and Uchimura did not lose a single match, which shows the difficulty of advancing through the preliminary league."

Eto Yoshihisa, Kyoshi 8th Dan
Born in Kumamoto prefecture 1966, 54 years old. He went to Yatsushirohigashi High School and Kokushikan University. Joined the Osaka Prefecture Police after graduating and is currently a Kinki District Police School professor.
"I have been a referee for this tournament ever since its conception. This time there was a speech by Kanagawa prefecture deputy governor Shuto Kenji and a lecture by Kyoto University's Nishi Yoshinobu, both leaving a great impression. After three consecutive champions from Kanagawa, last year the tournament was dominated by players from Osaka. I was again hopeful for all the debutants this year.
I think that all the competitors understand the objective of this tournament, as was stated by tournament president Kobayashi Hideo. They showed self consciousness and demonstrated the result of their hard practice. It was clear that Hashimoto was well prepared for this tournament and trained hard everyday, and this left a great impression on me.
Matsuwaki had very strong Fumikomi-ashi. Kiwada softly and lightly delivered hard strikes. In all of the league matches, a conviction to advance to the final tournament could be seen. Winner Hashimoto may become an inspiration to other corporate Kendo players.
Similar to the Tsuki in the finals, the first Men Hashimoto scored in his match against Furukawa was amazing, making great use of the given opportunity. In the final league match, Matsuwaki was declared the winner, but both players showed great Sutemi in their Ai-men strike.
As for the semi final between Matsuwaki and Kiwada, the two of them are good friends. They put everything into their fight, making sure to enjoy every moment of it. In Kendo, we determine a winner and a loser, but when I saw the faces of all the participants at the closing ceremony, I could tell that, inspired by this tournament, they were already ready to move on to new things."

Hirao Yasushi, Kyoshi 8th Dan
Born in Hokkaido in 1967, 53 years old. He went to PL Gakuen High School and Tokai University. Joined the Metropolitan Police after graduating and is currently an instructor at the Metropolitan Police Kendo club.
"It was a wonderful tournament with players pressuring the opponent and putting everything into their strikes. I got to see some beautiful matches fitting of 7th Dan Kendoka. Especially the people who participated in this tournament before were actively and confidently attacking each other. While the preliminaries started of with a lot of draws, the sharpness of the strikes increased as the tournament progressed.
As for Hashimoto, Matsuwaki and Gonpei, they all scored 4 points in the preliminaries, and were always actively fighting to win. Matsuwaki tied two times in the preliminaries, but won his 3rd match with two morote Tsuki strikes. As for Gonpei, he won his first match with two points, got a draw in the second, but in his third match managed to kill his opponents pressure and strike a splendid Debana-men.
In the quarter finals, Gonpei fought against his Metropolitan Police senior Koseki. In this match, Gonpei was waiting for his chance to strike Debana-kote, while Koseki was applying great pressure with his Men strikes. While Koseki ended up being struck by Gonpei, he still showed us some beautiful techniques.
After this, my eyes were focussed on Hashimoto's impressive movement. He attacked aggressively, striking at the exact moment his opponent's posture collapsed. Because he did not sway from his attitude of forcefully attacking, he managed to defeat the favoured Matsuwaki with Morote-tsuki. The reason that Matsuwaki was unable to deal with this tsuki might have been Hashimoto's dominating Seme."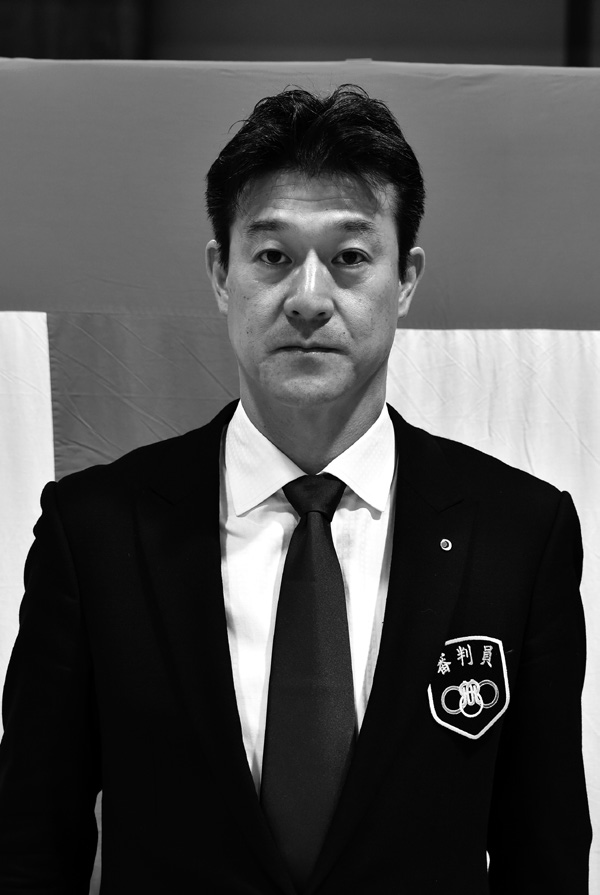 Nabeyama Takahiro, Kyoshi 8th Dan
Born in 1969 in Fukuoka prefecture. Started Kendo at Imajuku Kendo club, graduated from PL Gakuen High School and Tsukuba University. In his student days, he attained brilliant achievements such as 1st place in Inter-High Individual & Team competition and All Japan Student Team championship. After graduating from university, he took the path of researcher through the graduate school of the same university. Participated multiple times in the All Japan Kendo Championships, twice in the WKC and took the title in the All Japan Teachers' Championships. Currently, Nabeyama is associate professor of physical education at the Tsukuba University and men's coach of the Tsukuba University Kendo Club.
"I think this tournament's appeal lies in the exchanges between fighters and tactics displayed in the matches. The age of the players ranges from late thirties to early forties. Once players reach the latter half of their thirties, there will be a decline in explosiveness and physical strength as compared to their All Japan Championship days.
Seeing these famous players break out of their shells to show us a new form of Kendo is interesting to me. It is fascinating to see the players pressure their opponents with more than just speed. In the preliminary league where most players were carefully studying their opponents, it was Hashimoto's daring game of relentlessly pressuring his opponents without raising his hands that caught my eye.
The matches which Gonpei won with two points also attracted the audience's attention. The Men strike with which Matsuwaki defeated Hashimoto in the league play off match was amazing. I would have loved for the final to have had the same vigor, but I feel like the players might have been a bit too careful.
Teramoto and Takanabe both had one point scored against them, but continued to fight a wonderful match. They chased down their opponents with composure. While normally it is frustrating to be behind by one point, a champion is able to patiently keep pressuring his opponent.
I participated in the first tournament myself, and this time I got to be a judge. When I was participating, I remember being unsure about how to fight in the preliminary league, resulting in me playing a very careful game.
Now that we have held this tournament more often, players are learning how they can get first place in their league. I feel like the tactics unique to 7th Dan players displayed in this tournament will be studied by many people, and I hope even more people will visit this tournament in the future."