FREE ARTICLE
There are approximately 10,000 people in Europe that posses a dan grade among a total kendo population of approximately 20,000. The kendo population is small compared to Japan, as is the number of children. Furthermore, the quantity of training days and tournaments are also limited.
Both in Japan and overseas many children who start kendo do so inspired by their parents. However, it can be painful, challenging and the repetitive nature of basic training can make it hard for children to stay interested. Outside of Japan, it is even more difficult to keep children interested in continuing kendo.
Under such circumstances, Wakakoma Kenshikai in Belgium is home to 40 boys and girls, and these children have fun and do their best in keiko. Young national squad members who participate in the WKC take care of the children. It is a very warm dojo.
Mr. Yoshinobu Kurogi is at the center of this dojo. He was transferred to Europe in 1990, and founded Renshinjuku Dojo in the Netherlands. He loves children and it is striking to see how he talks with them on the same level. In this article, we've asked about what Kurogi sensei values in teaching boys and girls in Europe and his ideas for keeping them interested and continue kendo.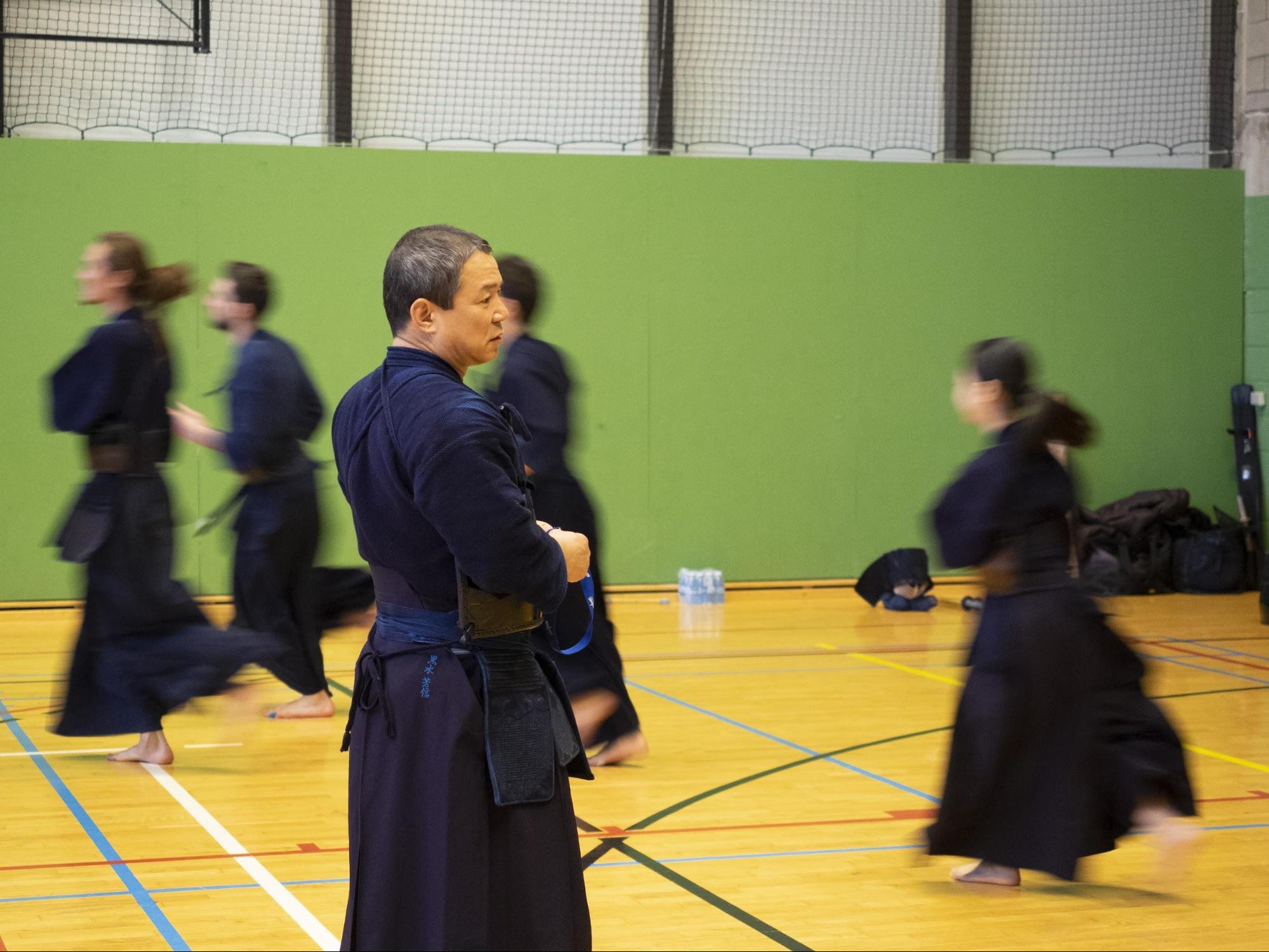 profile
Kurogi Yoshinobu, kendo renshi 7th dan, working at Fuji Travel, founder of Wakagoma Kenshikai in Belgium and Renshinjuku in the Netherlands. Born in 1963. Came to Europe in 1990 for his work.
After ten years of kendo hiatus, he resumes kendo at the Museido dojo in Amstelveen. At the time there was no kendo education for children in the Netherlands. He got invited by a local Dutch kendo practitioner called Bert Heeren to start a dojo for expat's children, and together they founded Renshinjuku dojo in Amstelveen. After moving to Belgium, he established Wakakoma Kenshikai in 2004 and is engaged in the guidance of kendo for children.
Joint kendo keiko for European boys and girls
Every January, a two-day joint keiko is organized by the Wakakoma Kenshikai in the capital of Belgium: Brussels. Boys, girls and adults from Belgium, Germany, the Netherlands, England, etc. gather to deepen relations and polish their skills. This year's event in 2019 is the 10th anniversary.
Belgium, Germany, and the Netherlands have been organising competitions for boys and girls, led by three countries, and have been running them for 25 years. Not only do they organise these competitions, but at the start of every year this joint practice is organised to have the children of all participating countries deepen their friendships.
"I like to continue teaching because I like children"
Kurogi sensei is fond of children and this gives him the energy to put so much effort into educating and organising events to make European children stronger.
When Kurogi sensei was transferred to the Netherlands, he not only enjoyed kendo for the first time in 10 years, but he was also indebted to the general support in his life from Dutch kendo friends. With one of those associates, Mr. Bert Heeren, he established Renshinjuku in the city of Amstelveen. To this day it has many Japanese members, and it was started as a children-centered kendo dojo. The original reason for founding Renshinjuku was that he wanted to help teaching children as a way of returning a favor to Bert Heeren.
The basis of his teaching was taught to him as a boy in his hometown of Miyazaki. He felt that he would like to pass on the lessons he received from his teacher in Miyazaki to Dutch children.
It is essential but difficult to secure time for teaching. If you work and have a family, you can not continue teaching if your heart is not into it. However, because he likes children he has been teaching for a few decades already.
Important things to make a good Kendo Dojo
Currently, Kurogi sensei has moved to Belgium and is teaching at Wakakoma Kenshikai. The Wakakoma Kenshikai is home to a thriving community. Children are practicing kendo and polishing their ability. At the joint reunification, held on January 19th and 20th too, the children's lively vibe was impressive.
In Europe, kendo still has a minor scene and it is difficult to gather people. In some cases even if there are new members to the dojo, motivation might suffer if there aren't many friends of the same age. Even though this is quite common in Europe, people gather around Kurogi sensei and a lively community is created. Such an atmosphere can not be made easily. In managing the Dojo, we've asked about what Kurogi Sensei is concerned about and what he values.
Speak on the same level as the children
"First of all, I try to speak to children on the same level, and not as somebody who is in a higher position than they are. Specifically it is not about practicing kendo but to speak to children on a regular basis."
Indeed, when you look at the exchange between Kurogi sensei and the children, the children smile as they answer questions such as "How was your lesson today? Have you enjoyed it? Have you become strong?" In addition, the communication with parents is smooth. They actively share what they saw and felt in the practice of the day.
Making sure that members get along with each other
"I cherish the emphasis on both fun and tough things. What I particularly value in teaching is greeting. I teach them to say hello brightly and actively. I also teach dojo members to get along well with each other."
Greeting is the foundation of human relationships. The children of Wakakoma Kenshikai certainly have good greeting manners. The children are in good relationship with each other.
The nationalities of the children who belong to Wakakoma Kenshikai vary. There are Japanese children, Belgian and mixed children. However, everyone is included and playing together.
"Children will play together even if they don't understand each other's language. Unlike Japan, Belgian children are not all in the same school even though they live in in the same district. There are various schools such as local schools, supplementary schools, international schools etc.
It is painful while doing kendo, but it is fun after that. It is the same for adults and children. Isn't it fun to do kendo and interact with the children after that? It is like the second Dojo and the third Dojo for adults. "
It doesn't have to be only kendo
The children spend their time in various environments. There are many fun things to do besides kendo.
"I think it is fine if they develop interest for something else besides kendo. I've experienced that myself. If they want to explore football, volleyball or basketball I don't want to hold them back. There are unique things of value to be experienced in those sports. I would be happy if they learn there and come back to kendo whenever they feel like it."
Keiko for the feeling of accomplishment
We've asked Kurogi sensei what he pays attention to in keiko. It appears that he focuses on having the children experience a sense of accomplishment by letting them surpass what they feel like is their physical limit. In other words, having them do things they thought they could not do, thus giving them a feeling of accomplishment.
Belgium has few tournaments for children, and regular practice does not always lead to results of the competition. If we focus on winning and losing, it will become harder for the children to continue. As a teacher, he would like them to win competitions, but not so much that the keiko focuses on winning.
Furthermore, children won't develop unless you praise them once in a while. For example, it can be important to acknowledge that they did their best after keiko or have them perform techniques as an example when they are good at it.
"Not only will a praised child be proud and motivated, the children around the praised child will wonder why they got praised and be motivated too."
Resting is also important
One of the differences between children's kendo in Europe and Japan is the vacation season. In Europe, school facilities such as gymnasiums can not be used during summer vacation. Because of this children do not practice kendo in summer and enjoy their vacation.
"Belgium also does not practice during the summer for about a month. I think it's good to get them sharp again. It may not be in line with the purpose of kendo training but I feel a little sorry to ask the children to do keiko at their age in holiday season. When you are a child, it is important to play and rest well. If they really want to get into it, they can do it with their own will at a later stage in their lives.
One of the reasons for Kurogi sensei to teach Kendo with enthusiasm is to return the favor to the European kendo world.
"I don't belong to the kendo elite, I am not a pro. I happened to start doing kendo again in Europe when I was exploring a new world due to work. So because of work I started kendo again. I believe it is because of the efforts of previous generations who have made such an environment that I can comfortably do kendo here. From a common point of view it is madness to lend a gymnasium to people that scream and hits with sticks. It is because of the locals who tried to understand Japanese culture and spread kendo throughout Europe that we can do kendo here."
In addition, there are some well-known teachers and swordsmen who he came to know due to the fact he is stationed in Europe. "I am grateful to these things on a daily basis, and do my best to do return the favor to the European kendo world."