Published on KENDOJIDAI 2018.8
Yamashita-sensei, who has been very successful in competition since his childhood, encountered his greatest challenge in the form of his hachidan examination. How do you break through this obstacle? He said he took a good look at his own kendo and focused on his tame. I asked Yamashita sensei how to cultivate tame, starting from the basics.
Profile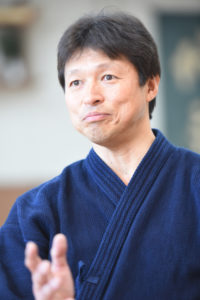 Yamashita Katsuhisa, kyoshi hachidan.
Born in Miyazaki prefecture in 1967.
Miyazaki Kenritsu Takachiho High School.
Tsukuba University.
Became a middle school teacher after university.
Runner-up in the All Japan Interprefecture Tournament, second place at the All Japan Teachers and Educational Staff Tournament. Currently working at the Ibaraki prefectural office.
Contents
Learn how to strike with tame using 3 levels of movement
The rest of this article is only available for Kendo Jidai International subscribers!