2019.4 KENDOJIDAI
Japanese arts and crafts have been enhanced by the clan system throughout history. As with the way of arts, kendo has also been promoted and developed with the quality determined by the grade system. Kendo grade examinations require proficiency and correct kendo in the process of training regardless of age. In particular, the 8th dan examination is the most difficult one with a pass rate of 0.7%.
So first of all, let's give a brief overview of analysis and short comments by the judges on the 8th dan examination over the past five years from the monthly magazine "Kenso" which is published by the All Japan Kendo Federation. In addition, we will examine the 8th dan examination from the perspective of the judge's committee and the 8th dan candidates.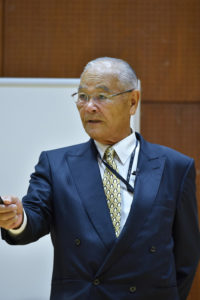 Hayashi Kunio / Born in 1944 in Gifu Prefecture. Emeritus Professor of the Chukyo University, Chukyo University Kendo Club Director, 8th dan in kendo.
8th dan examination, examiners' review
In shiai, three judges will judge whether valid strikes are made. However, exams are judged by more judges. The All Japan Kendo Federation reports the results of the 8th dan examination in the magazine "Kensei" and provides a review of the judges. If you read the reviews of the judges, there are many judges that wrote "please read the past reviews." Therefore, I was surprised that when asked, there were surprisingly few 8th dan examinees who actually read the reviews.
Not limited to sports, it is said that learning skills are improved by seeing, listening, reading, reviewing, and writing down. In other words, keiko is to stimulate the brain and to express that input through techniques with your body. Therefore it is recommended that the review are read. Next, the overall reviews of the past five years are as follows.
① During offense and defense, seme is overemphasized and too formal due to being over aware of the examination. For this reason, there were no strikes that were followed through by seizing opportunities in distance or striking, and a multitude of monotonous techniques could be seen.
② It is preferable that the examinee focuses on instantly identifying the reaction of the opponent and land strikes that resonate with the judges in the midst of mutual vigorousity.
The rest of this article is only available for Kendo Jidai International subscribers!