2020.7 KENDOJIDAI
Iwatate Saburo, Hanshi 8th Dan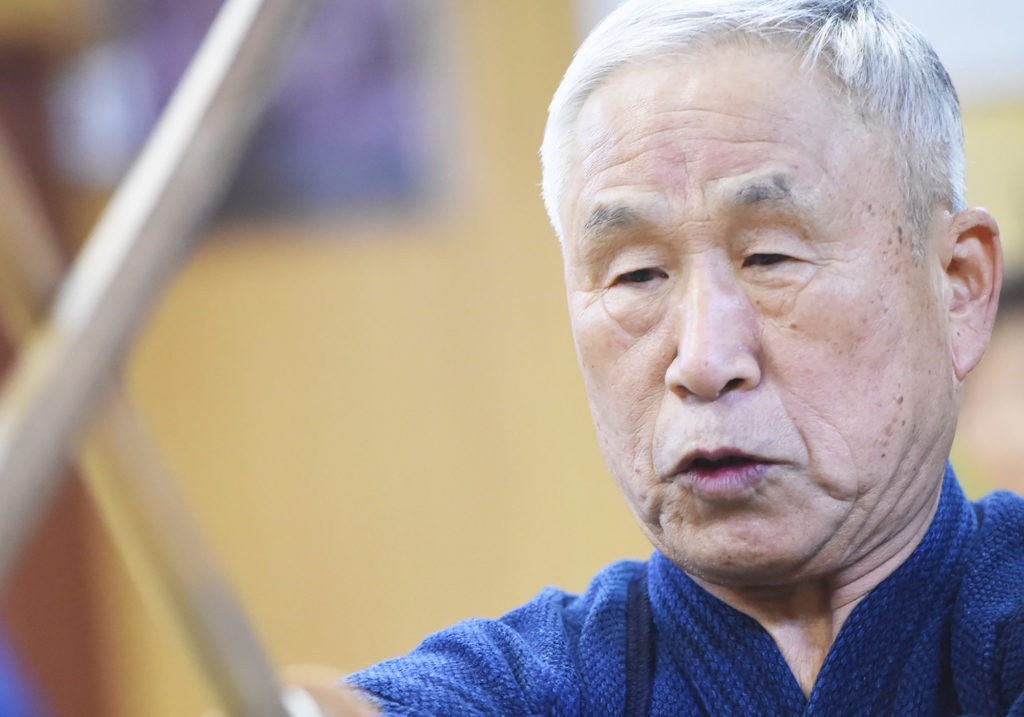 Born in 1939 in Chiba Prefecture. After graduating from Chiba Prefecture Narita High School, he got a job at Chiba Prefecture Police. Upon retirement from the Tokuren, Iwatate sensei served as a Kanto District Police School Instructor and Chiba Prefectural Police kendo head teacher. Starting in 1978, Iwatate began teaching at the Shofukan Dojo and a number of swordsmen from Japan as well as overseas have gathered to ask for the guidance of Iwatate Saburo.
Currently, he is the director of Shofukan, Shobi Gakuen University kendo head teacher, the All-Japan Kendo Federation councilor, All Japan Kendo Federation vice-president and the All Japan Senior-Kenyukai chairman.
Building a foundation with one-man practice
Solo Keiko is one of the most important types of Keiko to develop Kendo skills. Due to the spread of the new coronavirus, tournaments and seminars have been cancelled and examinations have been postponed. At Shofukan too, Keiko has been cancelled until further notice. I believe, this is a good opportunity to review your Kendo.
It is difficult to improve your ability by doing exclusively solo Keiko, but it can help you prepare for the coming regular Keiko. The quality of your training should be greatly improved if you can confirm the results of solo Keiko when you start attending Dojo again.
The solo Keiko that I have been doing consists of running and Suburi. I believe that the source of strength in Kendo is to build up the body. As they say, a healthy mind resides in a healthy body, this is exactly true for Kendo. Takano Sasaburo Sensei said, when you can't do Keiko "If you practice running and Suburi, you will never lose strength".
In order to have a fulfilling Keiko session, you must first take care of your health and build your body properly. If you build up your body, your level of technical proficiency will increase. If you can feel the improvement of your technique, your motivation to do Keiko will increase and your spirit of inquiry will deepen. The more inquisitive you are, the more questions you will have, and the more motivated you will be to do Keiko. Building up ypur body will enrich you mind.
I have developed my basic physical strength for Kendo through running, but I was not good at it when I was little. Even after I joined the Chiba Prefectural Police, I used to be last of the group. When I realised that I had to run to build up my body in order to be on the team, I decided to run on my own as well. I was not able to achieve much when I was in the Tokuren, but I never stopped running. I owe my present situation to that.
Also, the king of solo Keiko is the practice of Suburi. Not only Kendo, but also in baseball, golf, tennis, table tennis, etc., a lot of time is spent on basic exercise. Suburi is important for mastering the principles of Shinai handling, but it is also useful for competitive scenarios.
However, you must be careful not to do Suburi the wrong way, as it will have a bad influence on your Kendo. Here are some points to keep in mind when you do Suburi.


The rest of this article is only available for Kendo Jidai International subscribers!