FREE ARTICLE
2020.8 KENDOJIDAI
Renshi Furusawa has achieved brilliant results in high school, university, police and other fields. He is currently the men's coach of the Kendo club at the Nihon University of Health and Sport Sciences, his alma mater, where he does Keiko with his students. He has been researching and devising his own footwork style, which is directly related to competitive scenarios.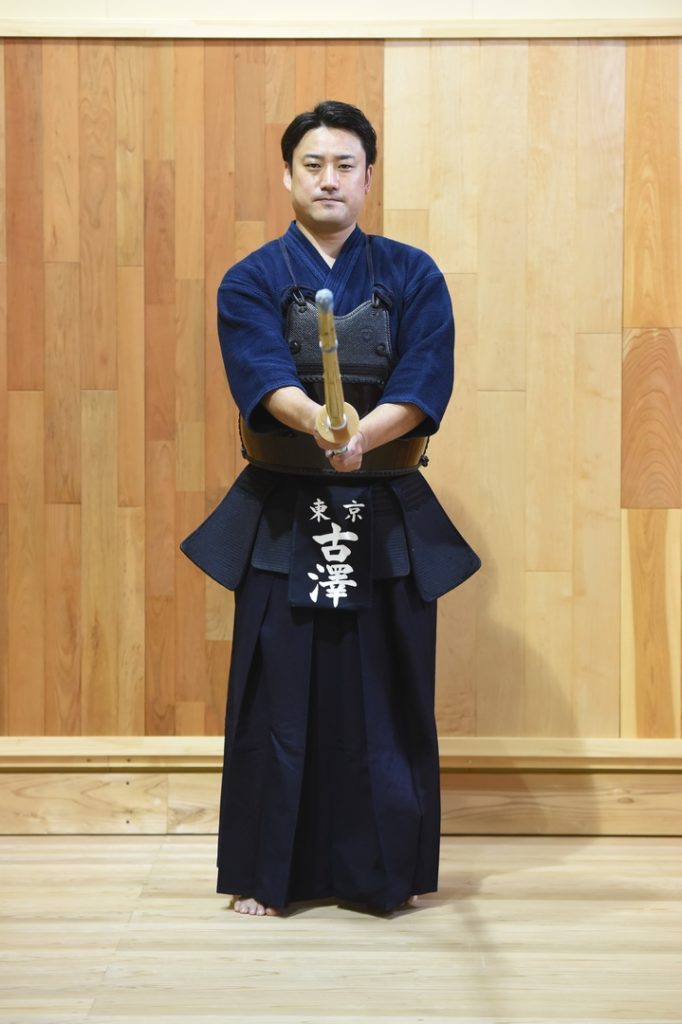 Furusawa Nobuaki, Renshi 7th Dan
Born in Kumamoto Prefecture in 1981, 38 years old. After graduating from Aso High School, went to Nippon Sport Science University and served in the Imperial Guard. Attained 3rd place in the National Police Championship. After retiring from the Imperial Palace Police and working at Nippon Sport Science University Graduate School, he is currently an assistant professor at the Department of Martial Arts Education, Faculty of Sport Sciences at Nippon Sport Science University, and a male director of the Kendo Club at the same university.
When your heels touch the floor, you're stuck. Minimize vertical movement of the waist
Lift your heels when moving feet to prevent you from freezing on the spot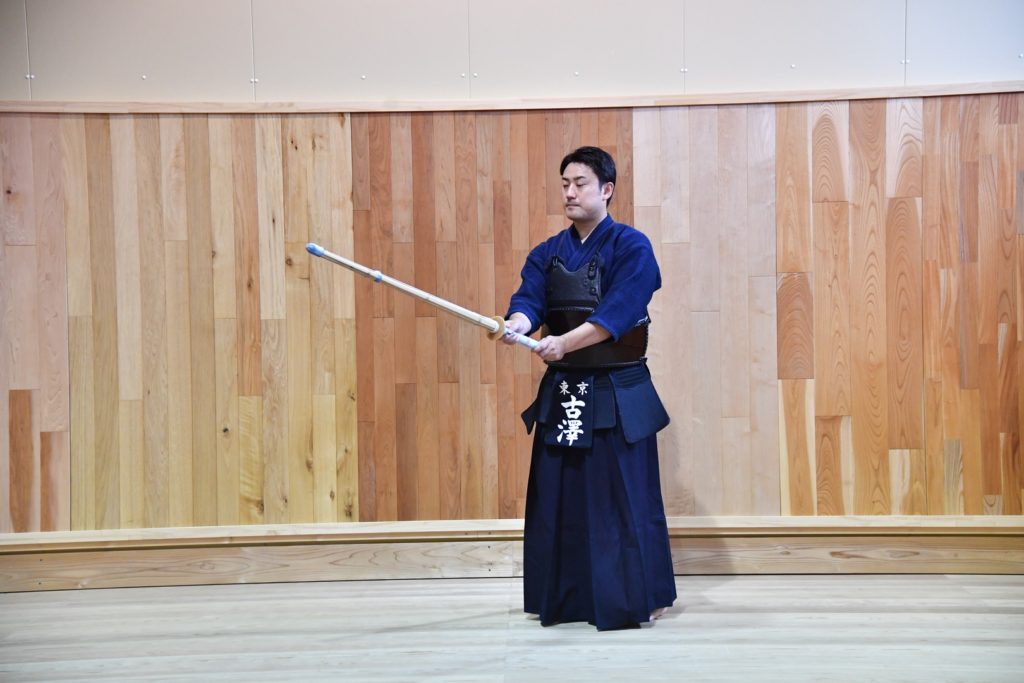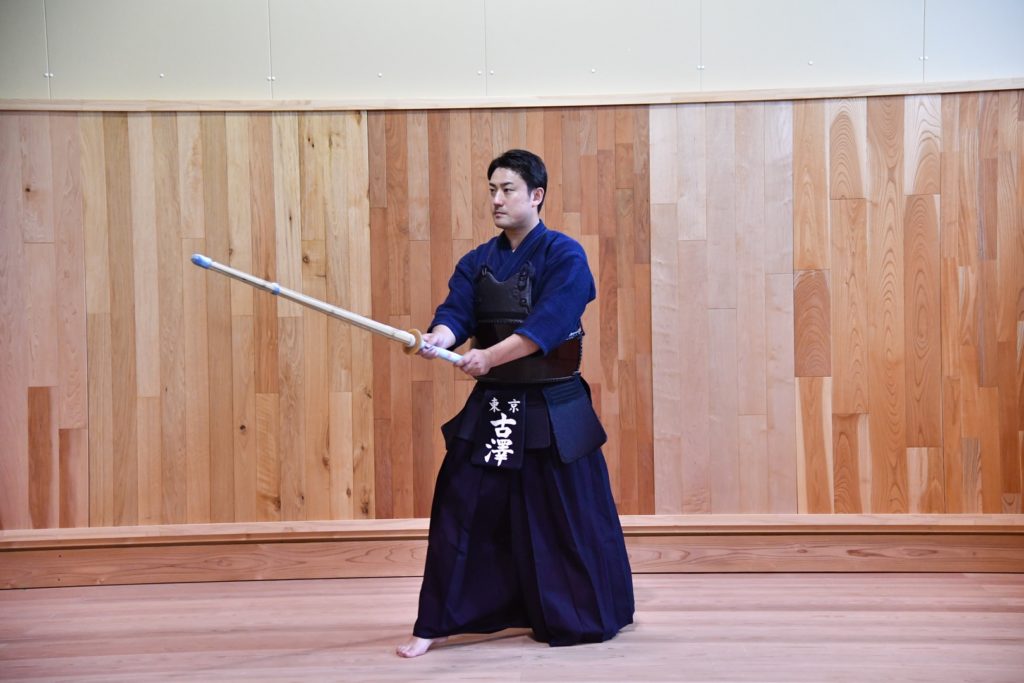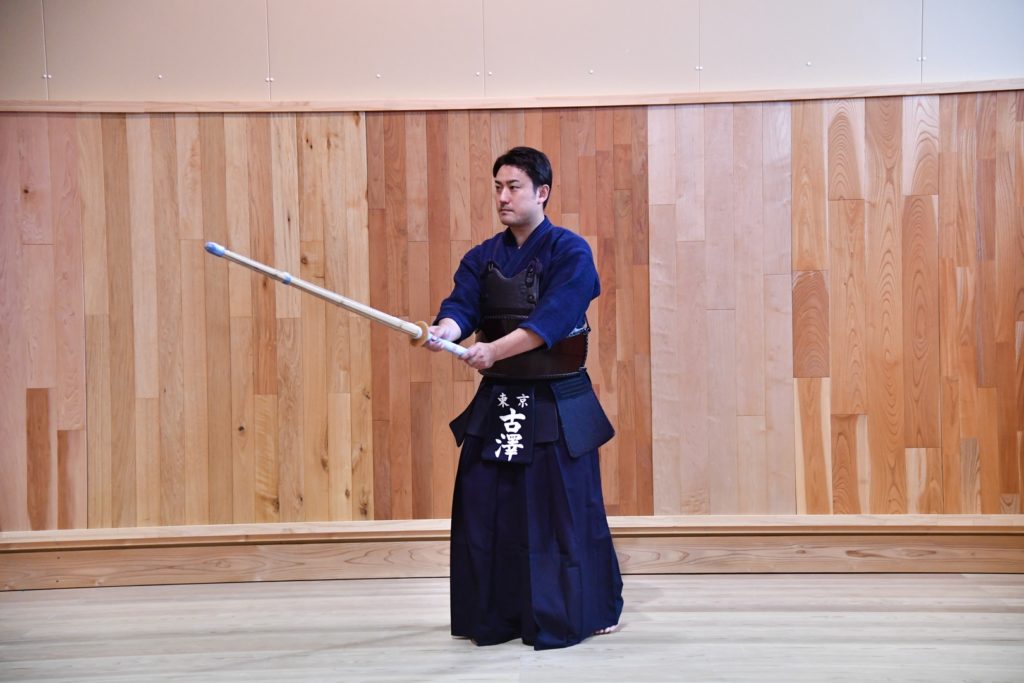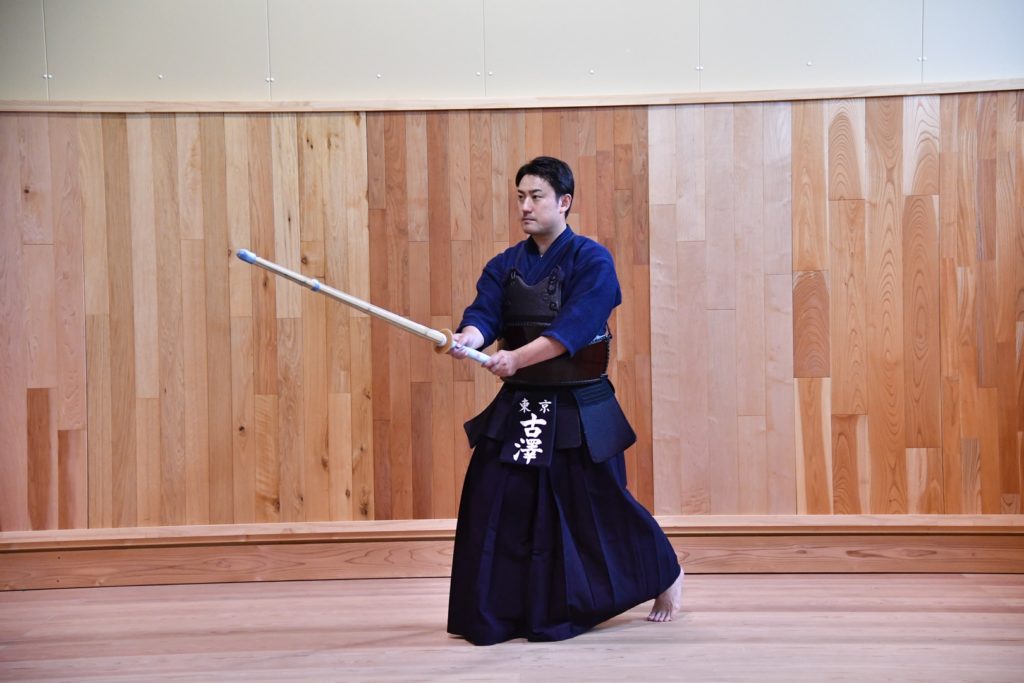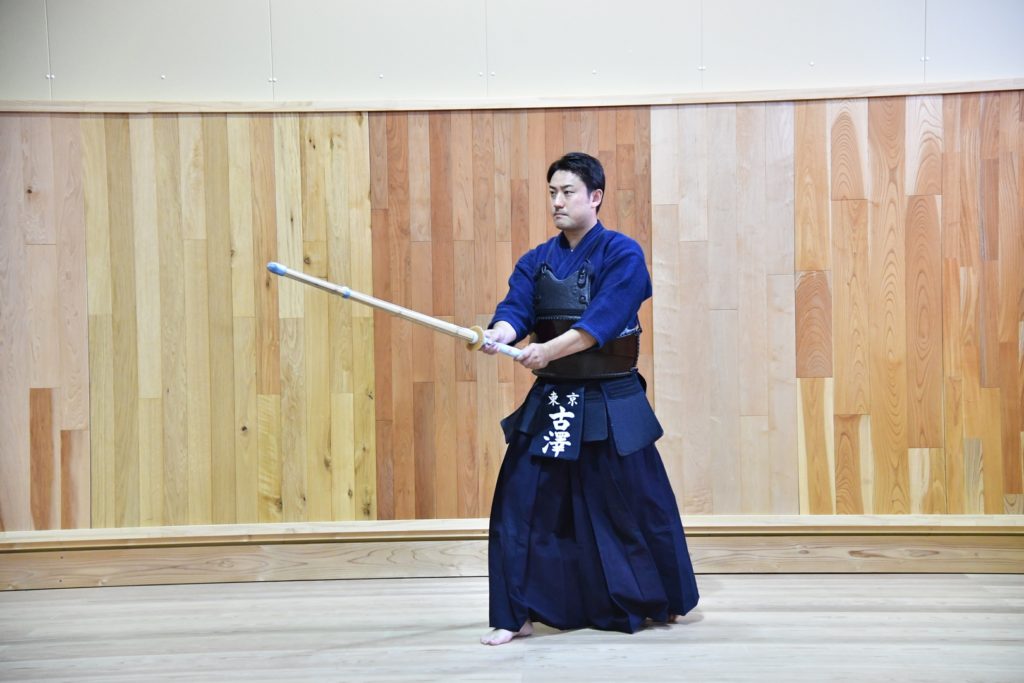 Footwork is closely interlinked with body movement, and is essential for applying Seme and striking the opponent, or for striking while avoiding the opponent's attacks. As the saying goes "Ichigan, Nisoku, Santan, Shiriki" (Observation first, Footwork second, courage third, strength fourth), it is well known that the emphasis is on footwork. When in mutual Kamae with my opponent, I have to deal with him in any kind of situation by going in any direction while keeping my heels off the floor. It is said that the height at which the heels float should be one toe on the left and as if stepping on a thin sheet of paper on the right. When the heels touch the floor in competitive scenarios, there is a high risk of becoming immobile. The center of gravity should be placed in the middle, and I am careful not to go up and down with my core when moving.
Footwork should be performed with purpose, otherwise it will be wasteful movement. It is necessary to be able to move naturally while checking the feel of the floor with your toes even while dealing with the opponent. Therefore, even when I practice footwork alone, I try to be careful and concentrate. Just as Suburi is performed with an imagined opponent in front of you, footwork Keiko is also performed with an opponent in mind so that you can benefit from it in regular Keiko. Now that I have to refrain from practising with other people, I am concentrating on my footwork and posture.
Drive your body by pressing the floor with the left foot, don't focus on jumping far
Maintain forward intent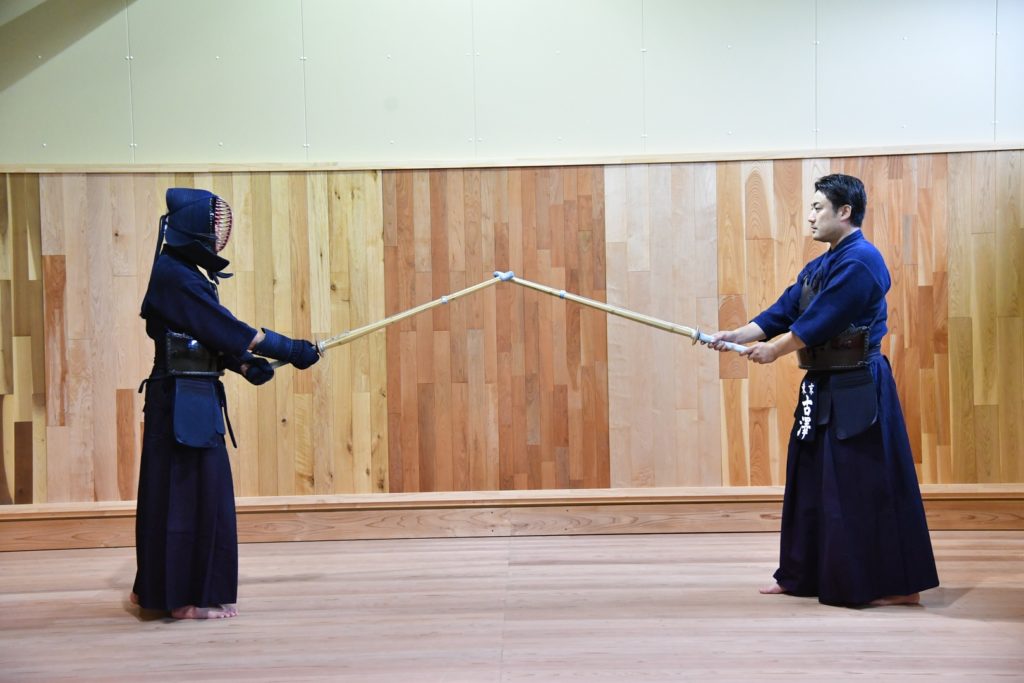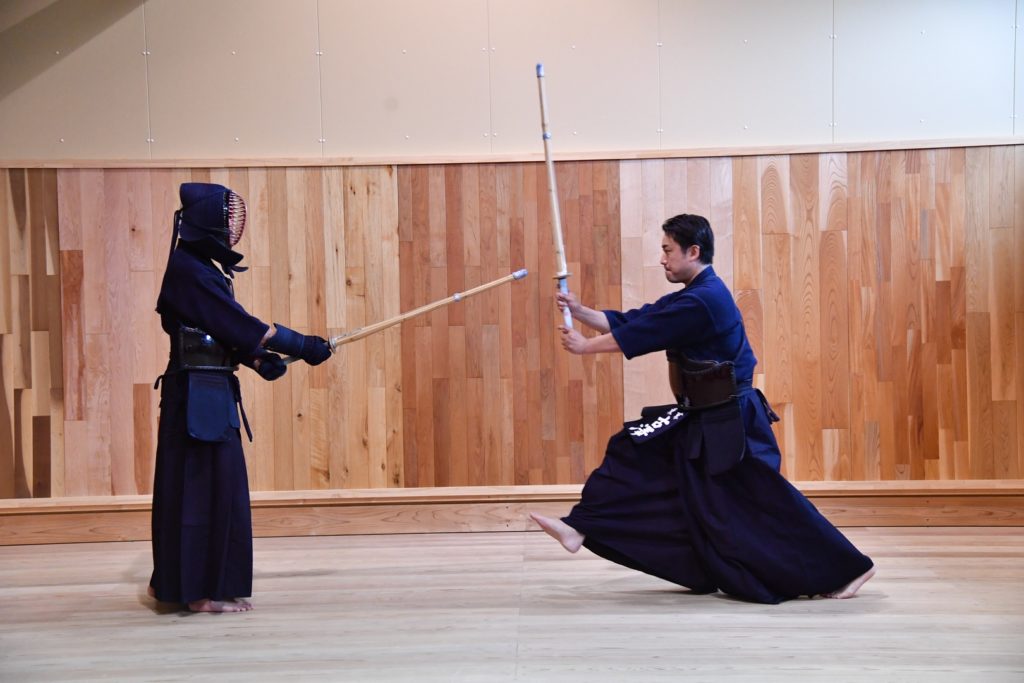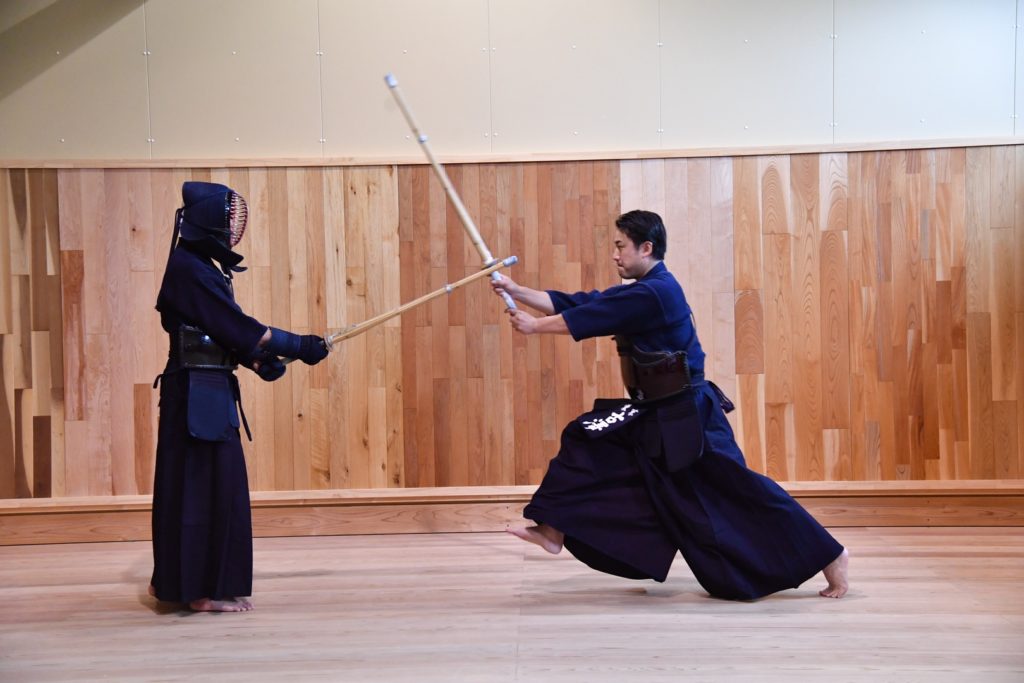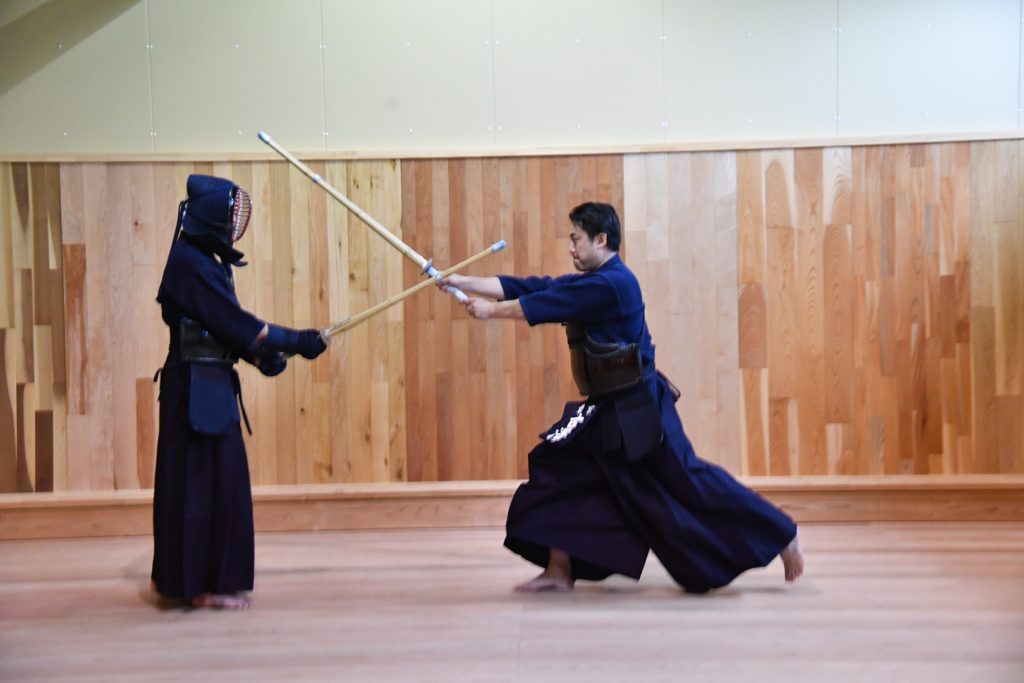 Press the floor with the left foot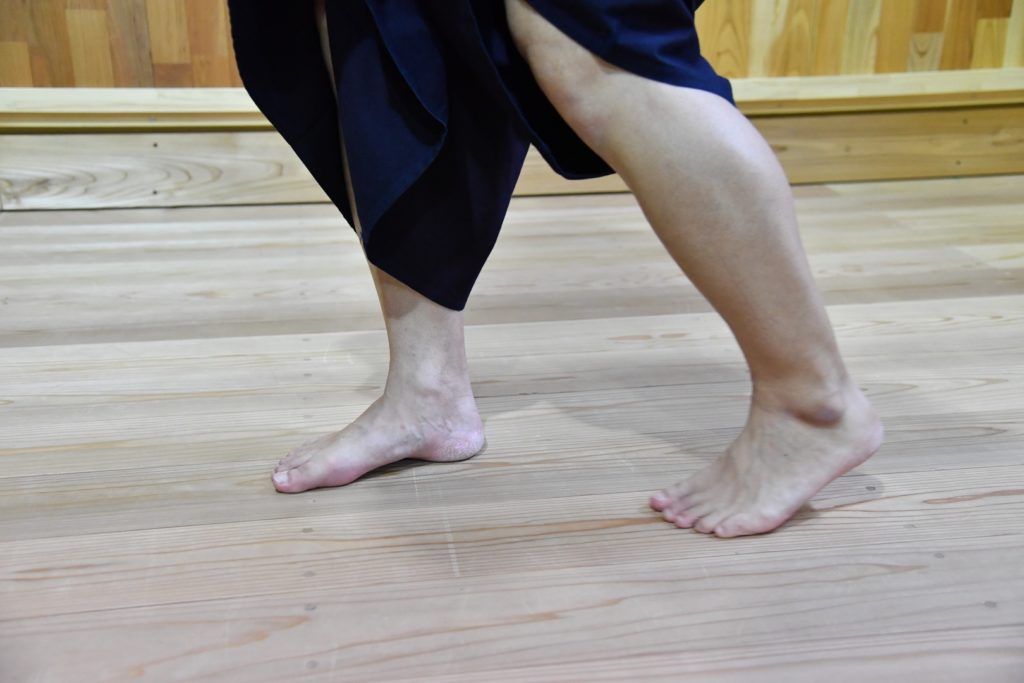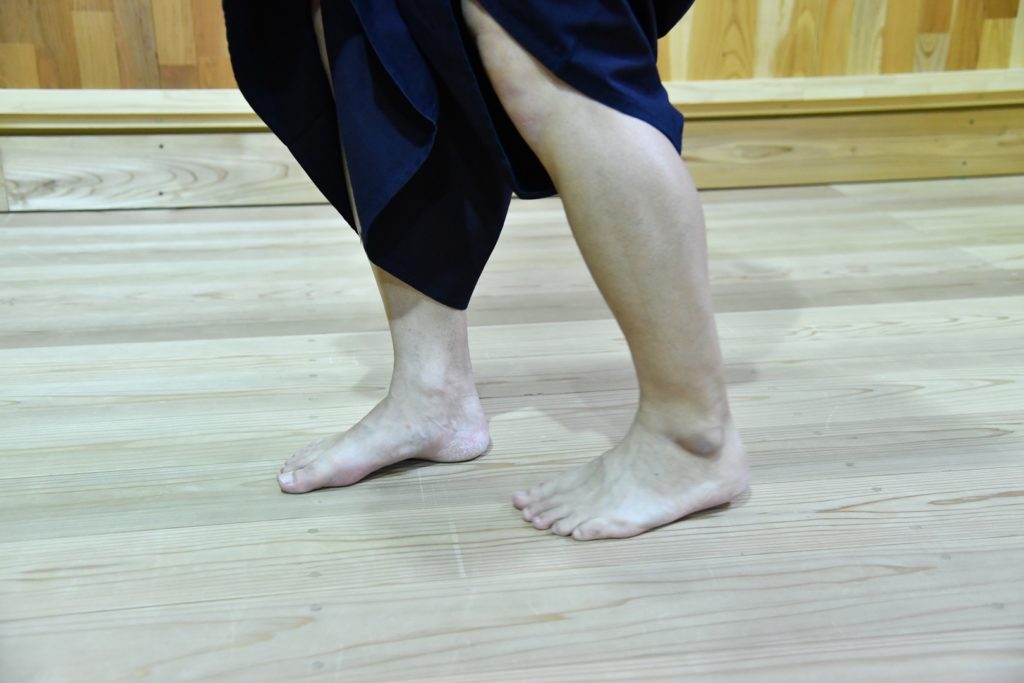 Fumikomi-ashi is an application of Okuri-ashi, and I think that it will not be effective unless it is performed with Okuri-ashi in mind. If you have leg strength, you may be able to reach from an unreasonable position, but as you get older, you will not be able to overdo it, and many of the Kendo members of our university will become Kendo leaders in the future, so I teach them with the hope that they will learn the correct Okuri-ashi. When stepping out with the left foot, the force is applied by pushing the floor with it and the right foot is carried forward parallel to the floor instead of being raised high.
By keeping your toes as low as possible, you should be able to realize that you are moving forward rather than jumping. If it is difficult to strike from Issoku-itto no Maai, first try to get closer and learn how to strike accurately. When performing Fumikomi-ashi, the right foot is right below the knee. As a movement, the right foot moves and the left foot is being pulled up, but as mentioned above, the feeling is to push the floor with the left foot and push the right foot forward with that momentum. You can do Keiko on Fumikomi-ashi without having to hold a Shinai. I am always aware of the feeling of moving from my core.
Be aware of your right knee. Boldly strike when you enter your Uchima (striking distance and window of opportunity)
Apply Seme with the right knee in mind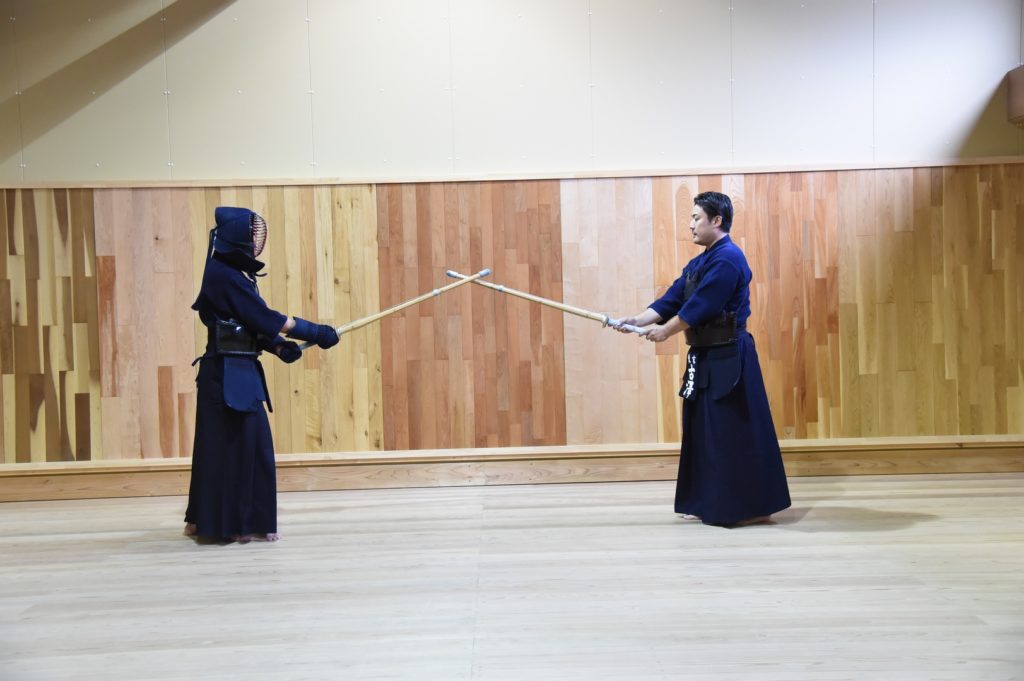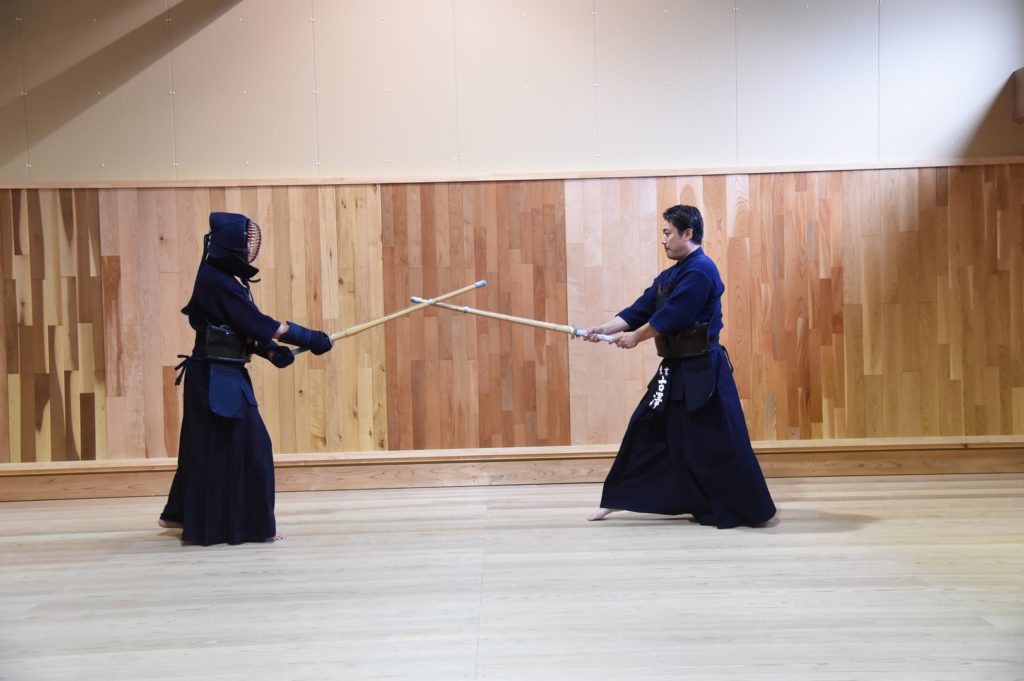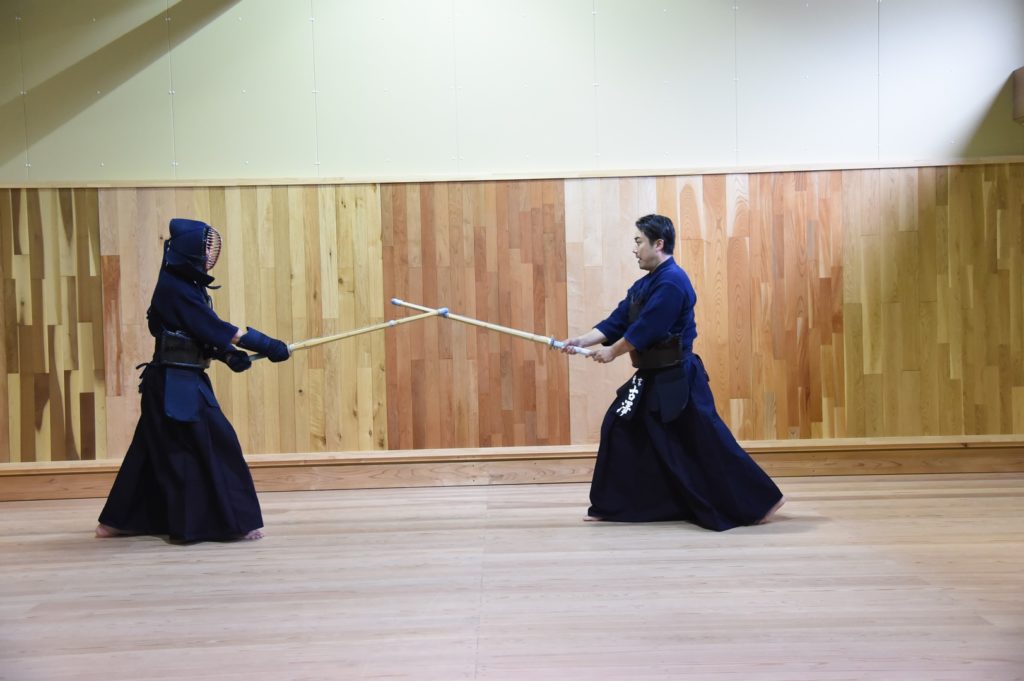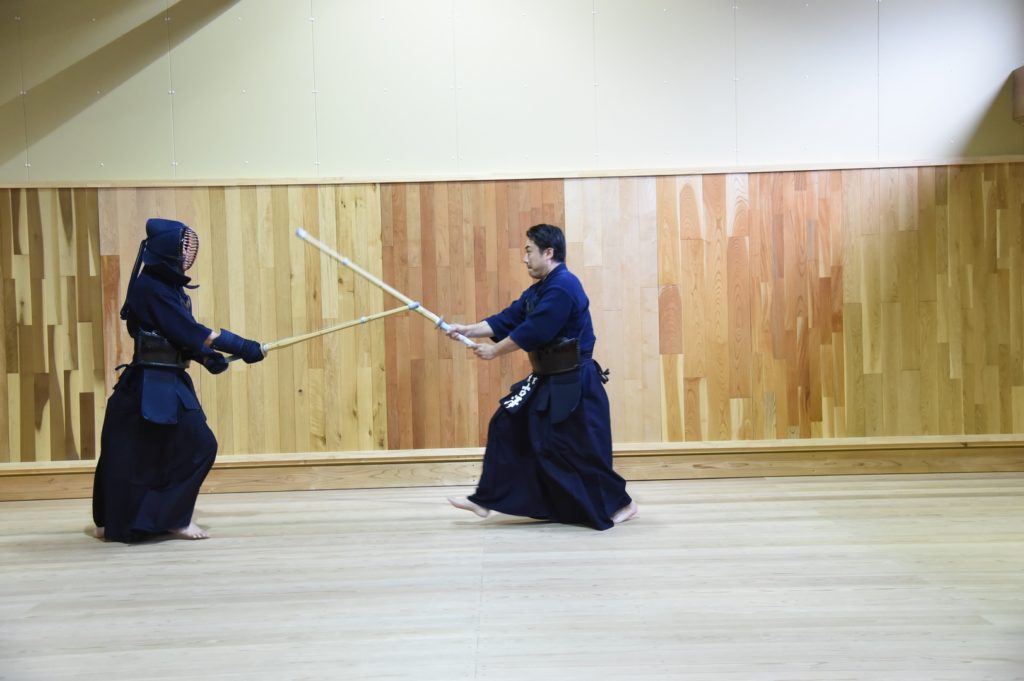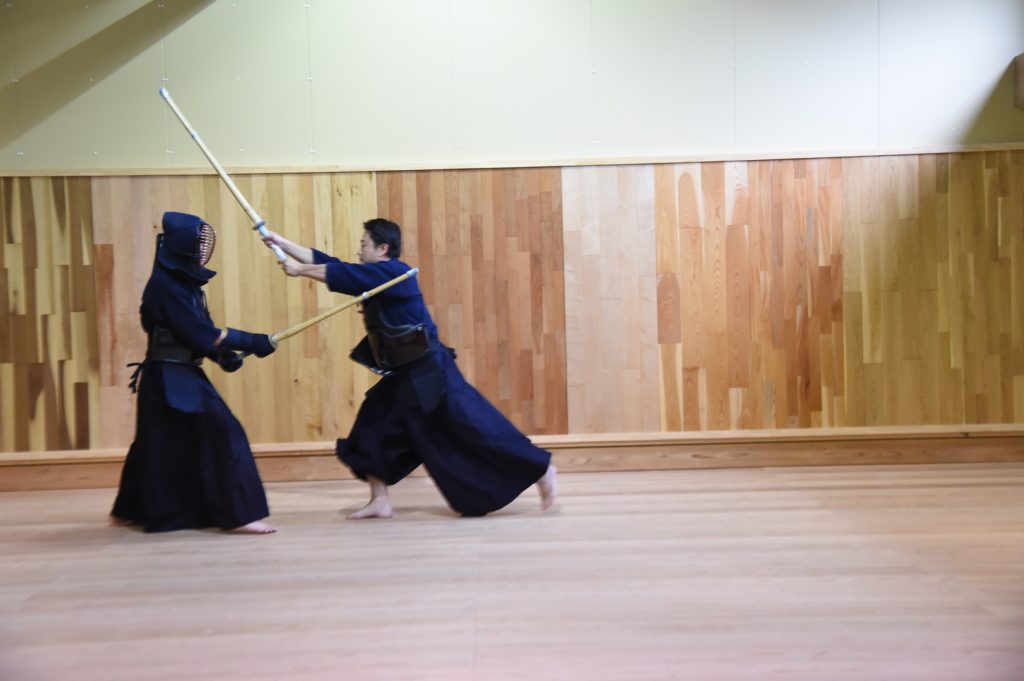 During mutual Seme and exchange of techniques, you will not succeed if your opponent's Kamae or posture aren't disrupted. It is necessary to aggressively apply Seme, induce the opponent's disruption, and create an opportunity for strikes. Move your legs short and swift when attacking and boldly strike when you get into your Uchima. In order to do this, the Kamae of your feet must be ready when you get into your Maai. For example, if you sense your opponent moving backwards, you have to adjust and pull up your left foot so that you can strike effortlessly. If the opponent comes out, you need to strike small and sharp without moving your left foot first in order to make an accurate strike.
When applying Seme to your opponent make sure your Kamae is ready with your right knee in mind. If the opponent responds to your provocation, aim for the Debana as it is, and if he does not come out, pull up your left foot so you are able to strike. By pulling up your left foot, your opponent may be swayed to move. In addition, if the opponent counter pressures during this offense and defense, you may at times pay close attention and cut off the Maai. In competitive scenarios, there are always intrinsic tactics, so it is not as simple as this but footwork is important for tactics until a strike is made, and I am always aware of it.
Learn the footwork which allows you to catch the Debana timing
Debana timing in Keiko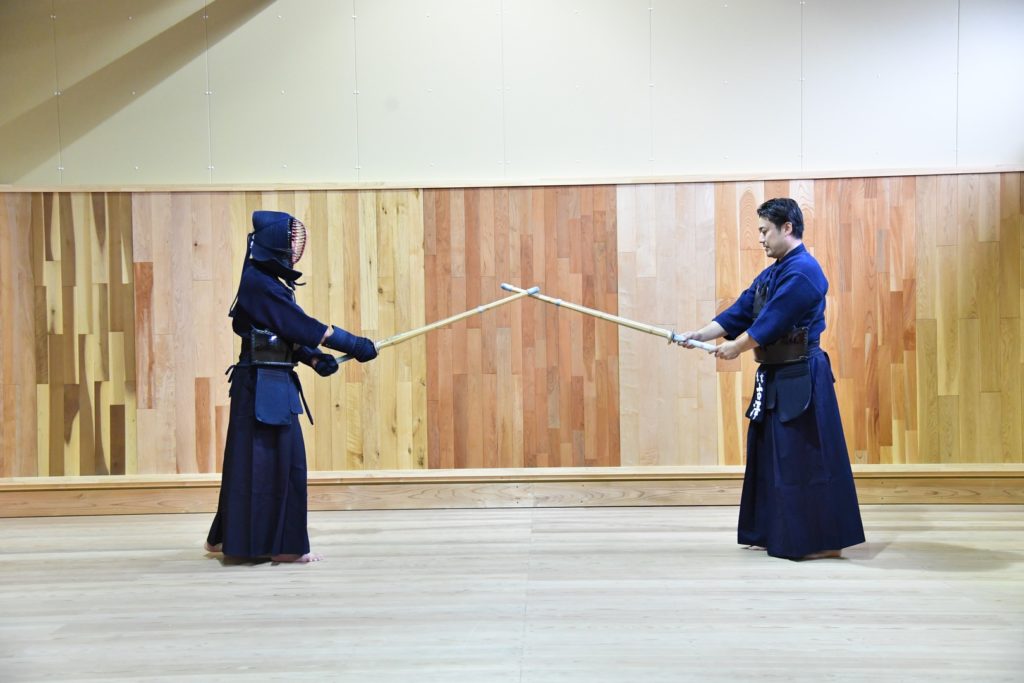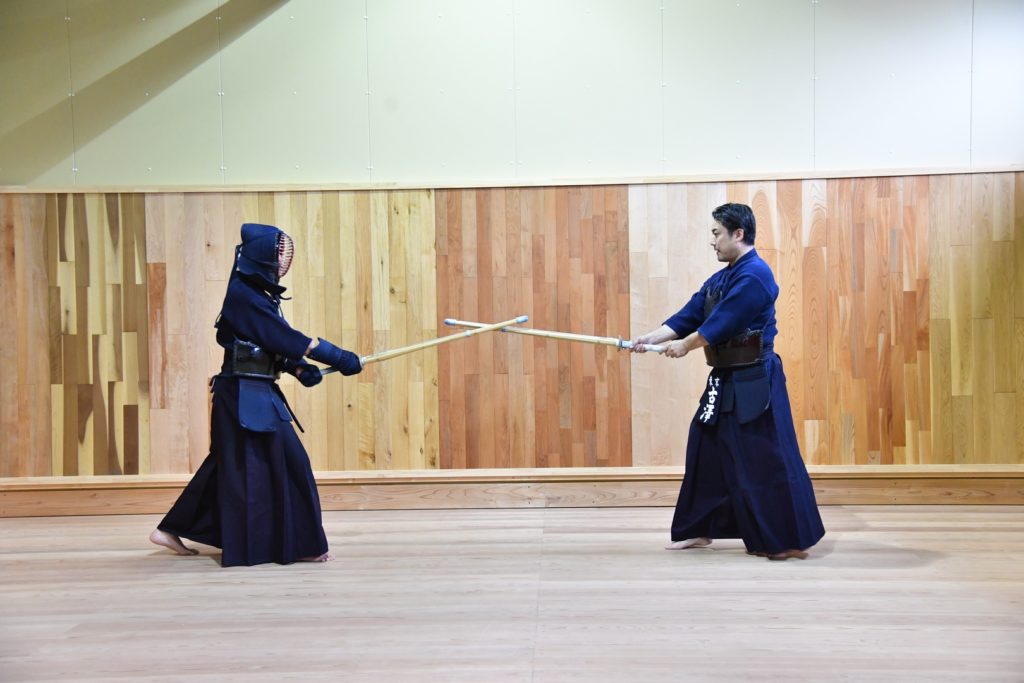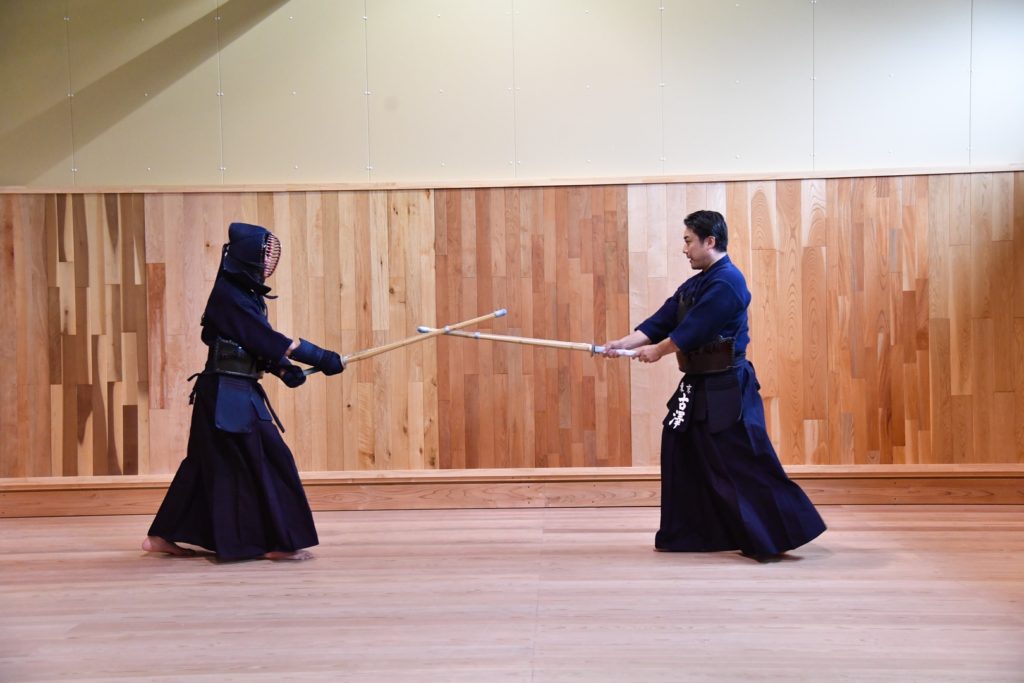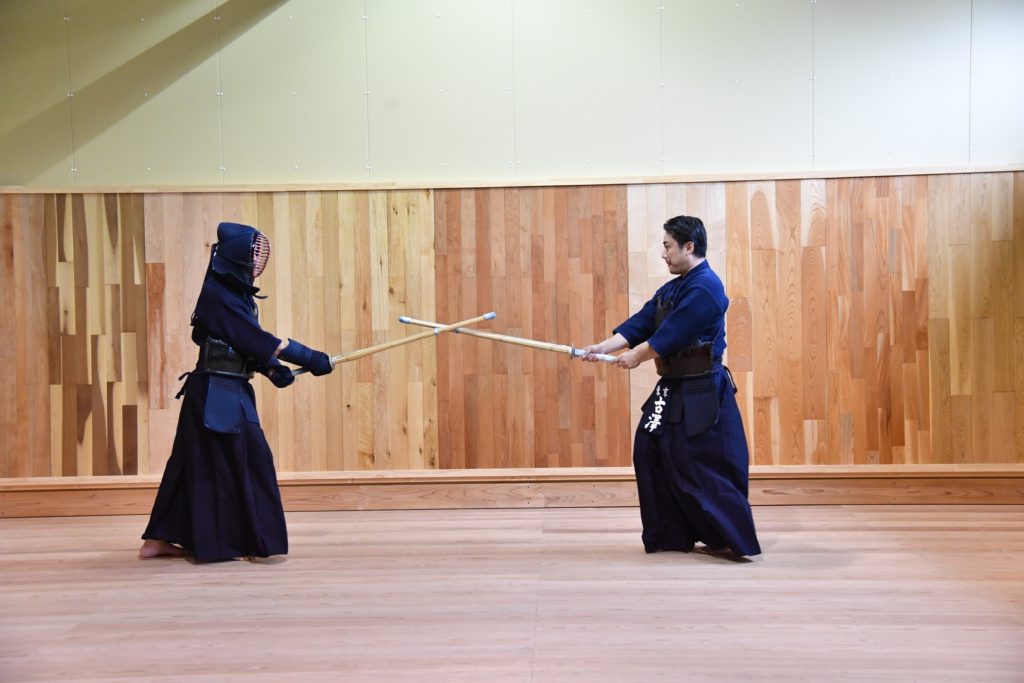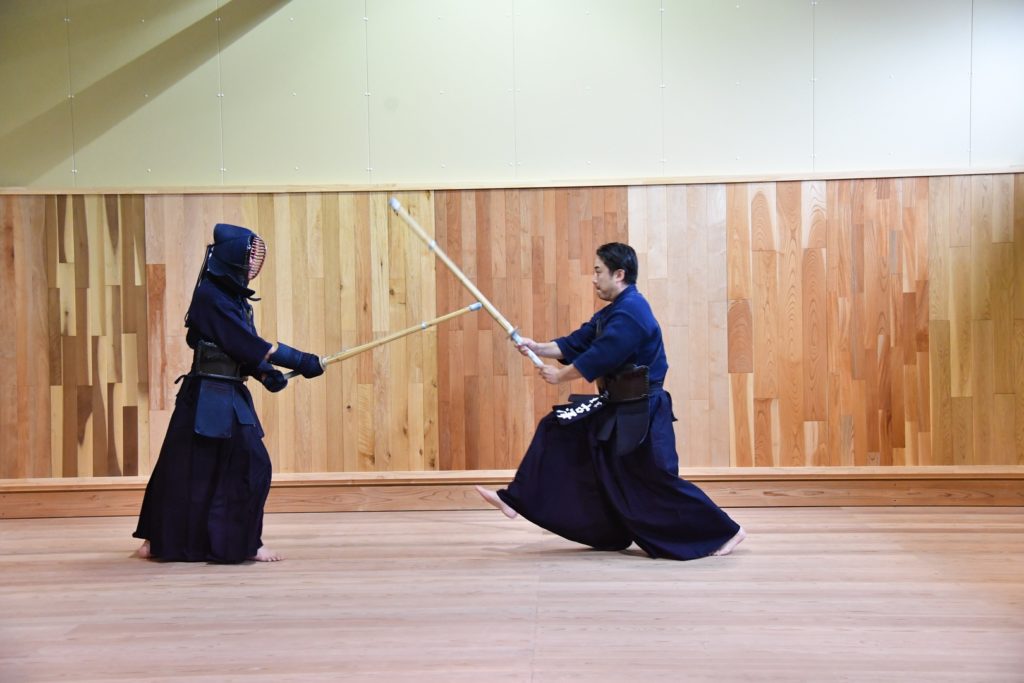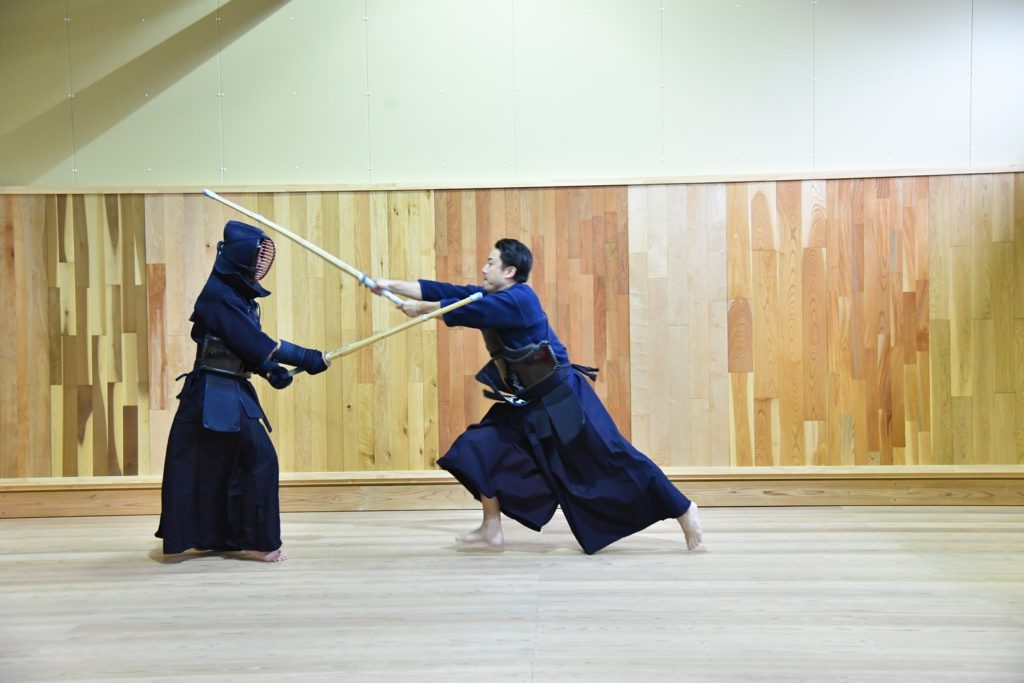 I think one of the real thrills of Kendo is Debana timing. If you can capture the moment when the other person tries to move, it will be an Ippon that everyone will recognize. We want our students to learn how to take such opportunities, and we are conducting specific Keiko to do so. In this Keiko method, the Kakarite advances his Maai, the Motodachi responds and advances his Maai, and the moment the Motodachi tries to counter pressure, the Kakarite catches the Debana timing. When advancing the Maai, synchronize with the Motodachi and have the same sense of urgency in competitive scenarios..
The heels of both feet should not rest on the floor and should be ready for use. Always be aware of your right knee when applying Seme and when performing a technique, operate the Shinai at the shortest distance to catch the target area. If the left foot lingers at this time, your posture will be disrupted so be prepared with your left foot and drive your body forward with it. There aren't many chances to make a valid strike in a single Shiai. The higher the level, the less chances you have. It is important to make sure that those few chances are met with valid strikes, and I think that one of those opportunities is to accurately capture the Debana timing.
Footwork for Motodachi: Use the left foot as a pivot to turn and apply pressure swiftly
If you are used to changing direction with your left foot as a pivot, you will be able to prepare faster than your opponent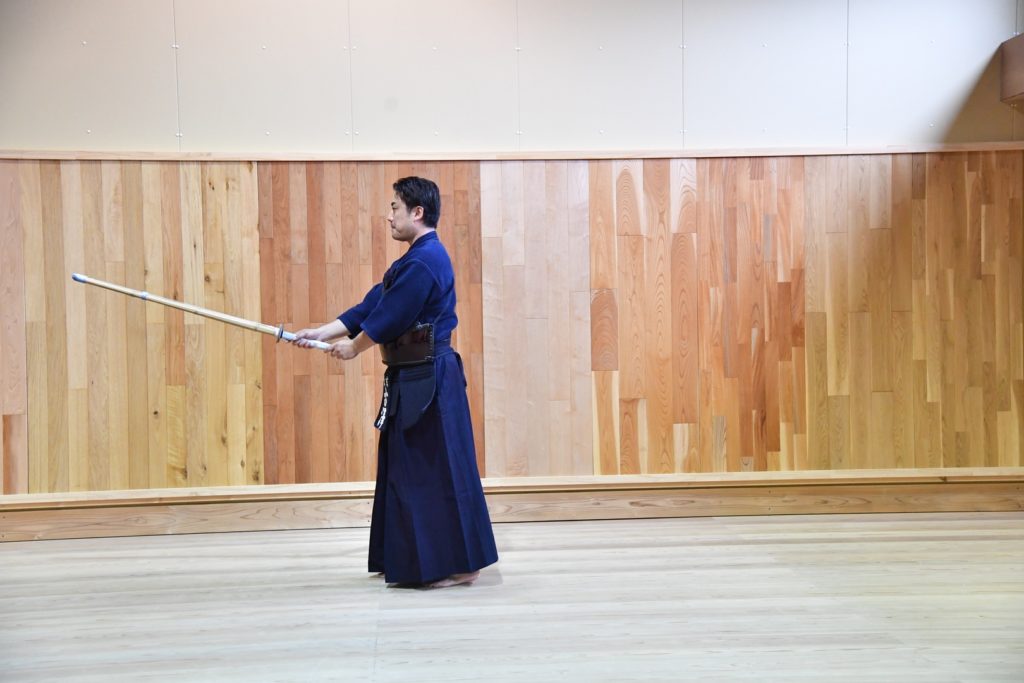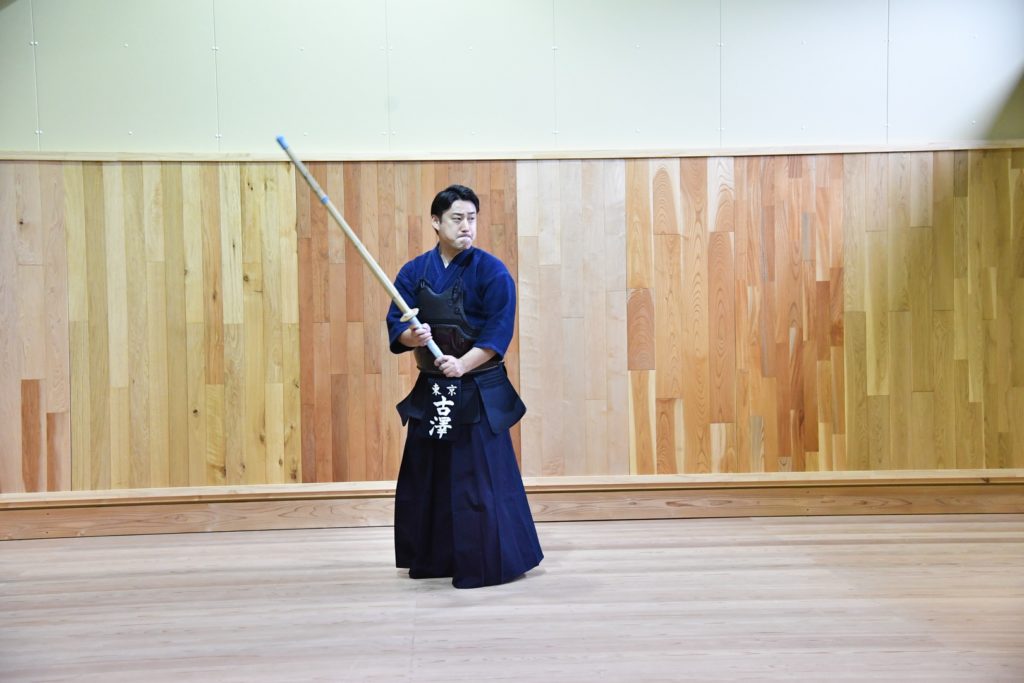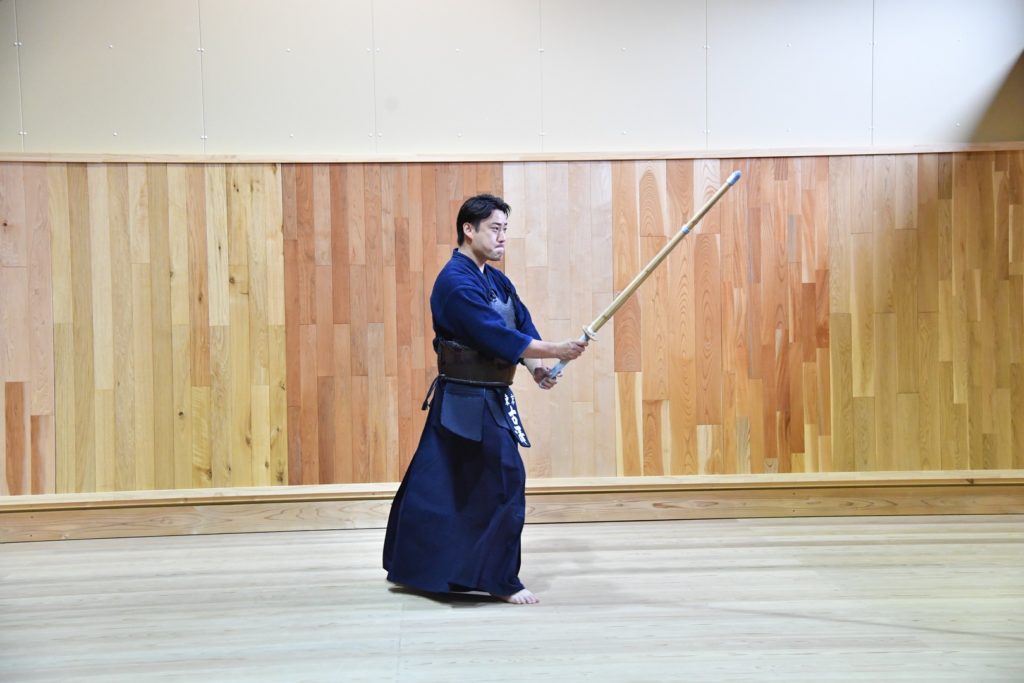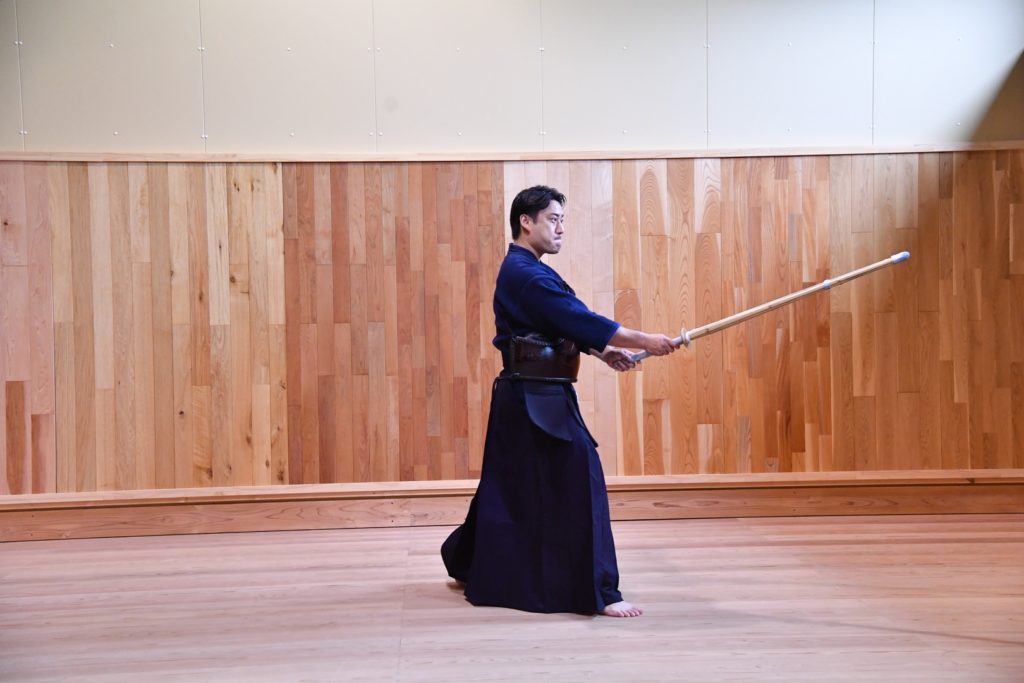 In the competitive scenarios, the moment the opponent passes through, we may turn around and chase after him. Especially in police Kendo, offense and defense change rapidly and a moment of relaxation can be fatal. The moment after striking presents us an opportunity, and I instruct not to miss the opportunity in regular Keiko. In this Keiko, the Kakarite performs a technique and passes the Motodachi. At this time, the Motodachi changes direction and faces the Kakarite again but if you use your left foot as a pivot, you can quickly confront the opponent. It is obvious that in comparison, a left foot turn is quicker than a right foot turn.
If you are used to changing the direction with your left foot as the pivot, you can adjust to the opponent's movements faster than the opponent can, and it will be possible to apply pressure to the opponent faster. The Motodachi is supposed to try to be even more prepared and turn and face the Kakarite and these small accumulations lead to a tense Keiko. There is no time to relax in competitive scenarios and if you don't implement what you are used to in your regular Keiko, you will give away both physical and mental advantages. Therefore, the way of turning and facing your opponent with the left foot as pivot will be a big factor for improvement for both the Motodachi and Kakarite. I think it is important to pay attention to every detail in regular Keiko in order to dominate battles which are fought on paper thin margins.
Photography — Kunihiko Nishiguchi
Photoshoot cooperation — Gokan Co., Ltd.
Translation — Jouke van der Woude