2021.1 KENDOJIDAI
The interview was conducted with masks on, and the masks were temporarily removed for the photo.
From the standpoint of a physician Kendoka working in the clinical setting during COVID-19
The January 2020 outbreak of the novel coronavirus infection in Wuhan, Hubei Province, China, quickly spread around the world. The impact was tremendous, Kendo being no exception. The Japanese government declared a state of emergency in April, and all Kendo activities were suspended.
On June 10th, the All Japan Kendo Federation (AJKF) lifted the restrictions on practicing with others, but we can't resume the way we practice like before. It is still unclear what direction Kendo should take considering our new way of life with COVID-19.
In this article, we spoke to two physician Kendoka, Professor Hayashi Akito and Associate Professor Sueyoshi Koichiro, who work at the frontline of the novel coronavirus infection at Juntendo University Urayasu Hospital (hereinafter Juntendo Hospital), about Kendo during the COVID-19 pandemic.
Juntendo University Urayasu Hospital is located in Urayasu City, Chiba Prefecture, five minutes from Tokyo Disneyland. It is a 785-bed university hospital that provides advanced medical treatment, education, research, and emergency and critical care for life-threatening patients in the region.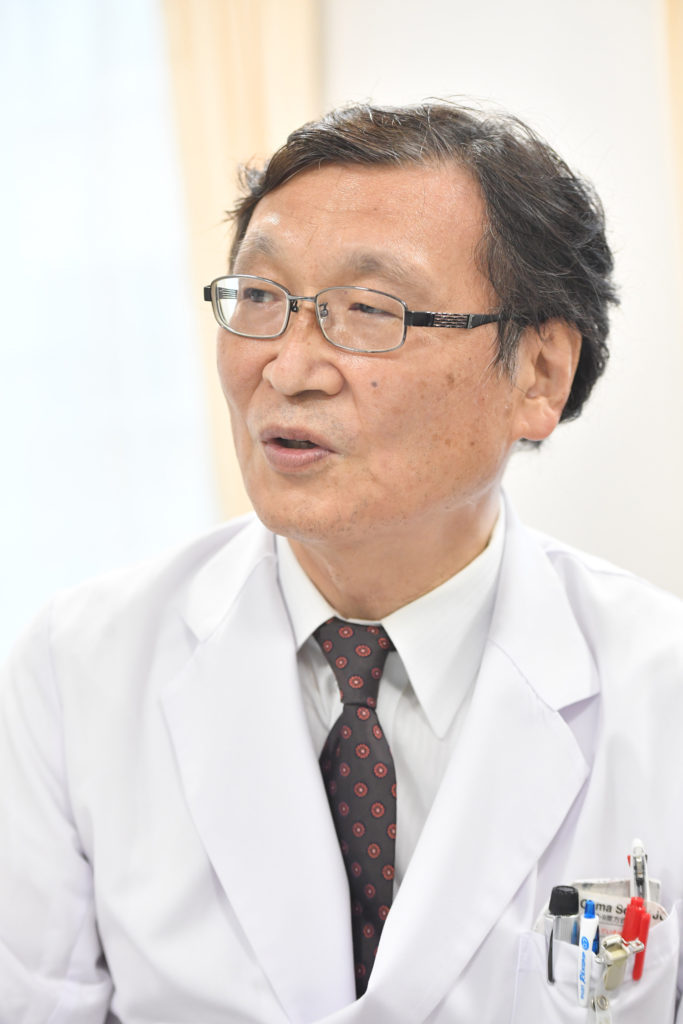 Dr. Hayashi Akito was born in Kirishima City, Kagoshima Prefecture. After graduating from Juntendo University School of Medicine, he worked as an associate professor in the Department of Neurology at the University of Wisconsin, USA, then at the University of Tsukuba, and is currently a professor in the Department of Rehabilitation and in the Department of Neurology in the School of Medicine. He started Kendo in his junior high school days and when he was a medical student, he won the individual and team titles at the Kanto Medical, Dental and Veterinary Kendo Championships and the team title at the All Japan Medical Student Kendo Championship. He is currently practicing after a 20 year break and is 6th Dan in Kendo. Dr. Hayashi is the Secretary General of All Japan Medical Kendo Federation and Chairman of the Medical Committee of the Ibaraki Kendo Federation; sports instructor certified by the Japan Sports Association; member of the medical and scientific staff of the Japanese Olympic Committee.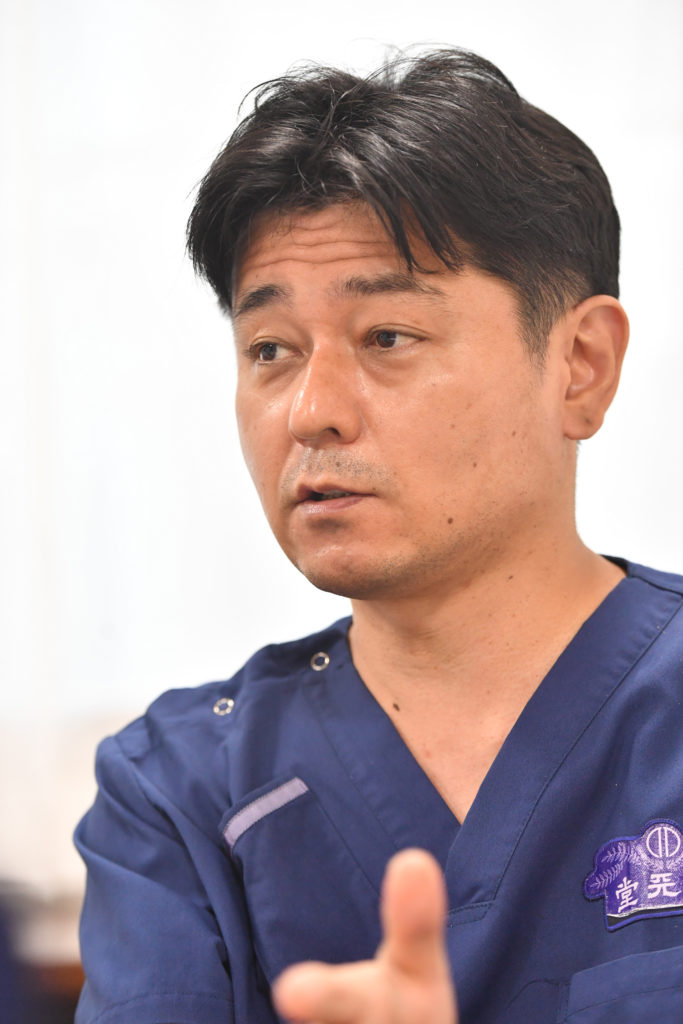 Dr. Sueyoshi Koichiro was born in Miyazaki Prefecture and graduated from Osaka University School of Medicine. After working at Osaka University Hospital and Harvard University, he is currently an associate professor in the Department of Emergency Medicine. About one-third of the patients admitted to Juntendo University Urayasu Hospital are admitted from the emergency room, where critically ill patients are given intensive care. He started Kendo in the first grade of elementary school and participated in the All Japan Student Kendo Championship when he was a member of the Osaka University Athletic Association Kendo Club. He is currently 7th Dan in Kendo. Member of Shofukan Dojo.
Exploring treatments for an unknown disease
Difficulty returning to daily life. Patients with severe cases of COVID-19
Some cases of COVID-19 infections are very severe. Patients with severe cases may have a high degree of functional impairment even after their condition improves, such as muscle weakness and impaired ability to swallow due to prolonged bed rest, and may have difficulty returning to daily life. Juntendo University Urayasu Hospital has accepted many COVID-19 patients and is providing advanced medical care.
Saving the lives of critically ill patients, as well as the prevention of impairments resulting from prolonged hospitalization, are crucial for returning to society, and therefore early rehabilitation intervention is important. Dr. Sueyoshi is engaged in patient treatment as an emergency physician and Dr. Hayashi is in charge of rehabilitation, providing medical care from the early stages of hospitalization through rehabilitation. In the case of COVID-19 infections, the emergency department and the rehabilitation department cooperate with each other to provide general medical care, and also treat and rehabilitate patients with severe cases.
In this interview, we spoke with Dr. Hayashi and Dr. Sueyoshi on the topic of Kendo during COVID-19, from the perspective of physicians engaged in COVID-19 treatment in the clinic, where the emergency department serves as the entrance to the hospital and the rehabilitation department as the exit. Although Kendo has resumed, allowing for Keiko against others after a period of suspension, it is not clear what direction Kendo should take in the future. Therefore, we asked the two men for their opinions on the future direction of Kendo.
Medical treatment practices for the novel coronavirus
– As an emergency physician who responds first to COVID-19 patients and who is in charge of their rehabilitation toward discharge, what was your first impression of the novel coronavirus?
Dr. Sueyoshi: Coronaviruses are a type of cold virus. Most COVID-19 cases are mild, with only cold symptoms, but in some cases, the disease can become severe. In severe cases, the disease can cause complications from pneumonia to multiple organ failure and is life-threatening. The elderly and people with underlying diseases, such as diabetes, are at particularly high risk for severe symptoms.
When the outbreak occurred in China in January of this year, many people thought it would be similar to a seasonal flu outbreak, and I did too. However, the infection spread quickly, and we began to receive infected patients at our emergency room. My perception of this infection has changed 180 degrees now, after having treated patients. In other words, the speed and severity of the disease is completely different from previous viral infections, and it was the first time I realized that something out of the ordinary had started to spread throughout the city.
Dr. Hayashi: I had the same experience. In February or early March 2020, many physicians, myself included, thought the epidemic would be over in a few months. However, as we learned the reality of COVID-19, we came to realize that it is not at all what we expected. The spread of the disease from Wuhan, China, was followed by the spread of the disease by returnees from Europe.
Dr. Yamanaka Shinya, a Nobel laureate in medicine, said, "We should respond to new Coronaviruses with a sense of humility, because they are different from what we thought before", and he is right. COVID-19 is an unknown virus that differs from what the medical profession expected, and I think we need to learn and respond with humility to the unknown.
It can be transmitted by droplets, aerosols or through contact; it can also be transmitted by asymptomatic people; it is highly contagious before and early in the course of its development; it can cause a wide variety of symptoms such as loss of smell, thrombosis, and pneumonia; and depending on the age and the presence or absence of underlying risk factors, the disease can suddenly become severe and leave considerable after-effects.
Preventing exposure and transmission. COVID-19 treatments at the hospital
– What kind of treatment do you provide for COVID-19 patients? What are the difficulties with treatment?


The rest of this article is only available for Kendo Jidai International subscribers!