2021.2 KENDOJIDAI
Komeda Toshiro, 8th Dan Kyoshi
Born in Otsu-cho, Kikuchi-gun, Kumamoto Prefecture in 1969. After graduating from Kyushu Gakuin Junior and Senior High School, he went on to Chuo University, after which he returned to his alma mater to teach. He has participated in the All Japan Championships, the All Japan East-West Tournament, the National Athletic Meet and the National Teachers' Tournament. As a coach, he has won the Inter High School Team Championship eight times and the individual championship four times, the National High School Invitational Tournament ten times and the Gyokuryuki Tournament nine times.
Reevaluation through standalone practice with third-year high school students
Kyushu Gakuin Junior and Senior High School has a brilliant record in winning the Inter-High School Group Tournament and the National Junior High School Tournament. Komeda Toshiro, the coach of this prestigious school, passed his 8th Dan examination in October 2020.
"I think I was able to face the examination in my own natural way, without exerting myself too much, and with the right amount of mental tensity", he said.
As a teacher and coach of the Kendo club, he must have had a busy schedule, so how did he spend his time in the past few years?
"This was my 9th time taking the examination, and I received advice from many teachers, including Kamei Toru Sensei, as I continued to try for the first and second times, and I also went through a lot of trial and error myself. However, it was not easy to pass the exam, and there were times when I felt sorry because of the many considerations from the people around me. I used the excuse that my original job is to be a teacher".
One day this year, he came across the turning point as he continued to face this dilemma: "When I was doing Keiko by myself, I was asked by a group of high school seniors (who had retired from club activities), "What are you doing?" They must have been curious. So I told them for the first time that I was aiming for my 8th Dan examination, and asked, "Would you care to accompany me?" They responded with excitement and some of them started to come along with me for Keiko".
Since he declared this challenge to his students and they cooperated with him, he couldn't turn away from this.
"After club activities were over, about four or five of them came for Keiko for about 40 minutes. It's not a sufficient amount for them, but they still came. That's what encouraged me, and it also made me realize that I was too caught up in what was going on."
He explains that he gained something from training with the students.
"Usually, when I teach students, I try to develop their good points and let them adopt new elements. Then, when I thought about what my good points were, I thought, 'There's no point in making myself do something I can't do, and this is where my good points are', and after that, I started to feel more and more comfortable."
Komeda says that he was able to look at himself in a new light.
"A colleague and former student of mine was also doing their best in Keiko with me. He doesn't care if you're old or trying for exams or not, he gives you his all. When I got struck by him, I would feel frustrated and put more energy into Keiko, so I think there was a synergistic effect between us."
Practicing with Sensei and students helped him to renew his spirit. This year however, due to the outbreak of the new coronavirus, all of the junior high and high school students' biggest goals, such as the Inter-High School Tournament, were cancelled. There were times when he felt severe emptiness.
"I think it was very important for me to be able to practice together with my students under such circumstances. It may sound cliche to say that I learn from my students, but they make me realize and feel things. It's not just a relationship of teaching and being taught Kendo. I trust them, and when they strike me, I can honestly reflect on my mistakes."
From past to future, he will continue to learn and progress together with his students.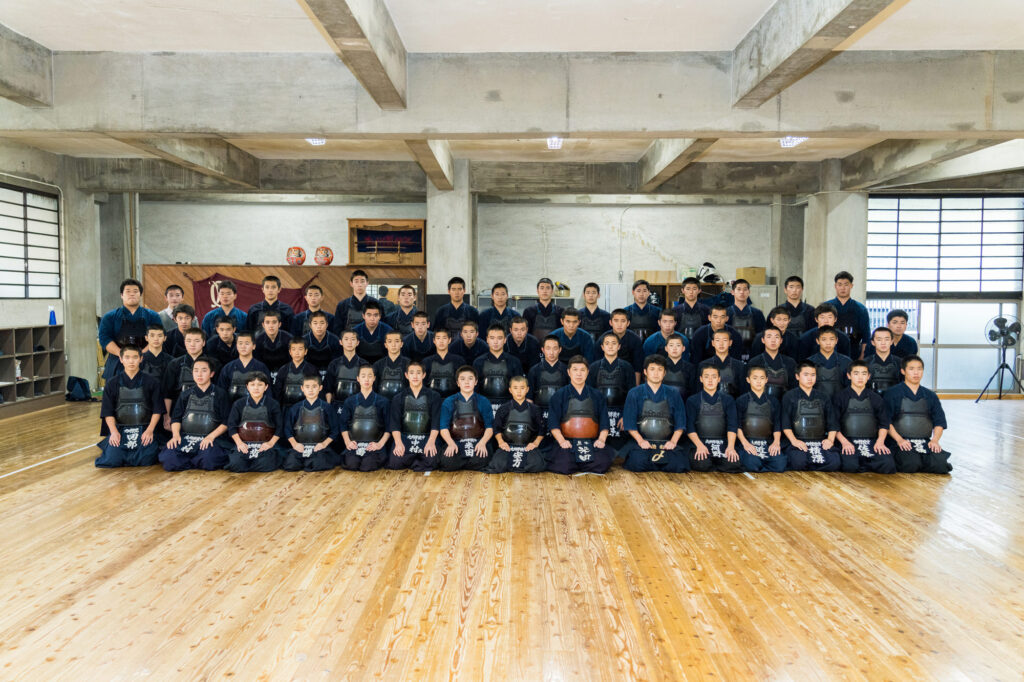 Self-analysis in the Komeda style
Observe yourself as if you were teaching yourself


The rest of this article is only available for Kendo Jidai International subscribers!