2022.12 KENDOJIDAI
Half a century dedicated to youth Kendo.
53 years after it was founded, Shirakawadai Shonen Kenshukai, managed by Ichioka Masaki, won the All Japan Dojo Youth Championship for the first time. Ichioka Sensei, a former Hyogo prefecture Tokuren member, believes that the principles of "spreading Kendo", "sticking to the basics", and "practice does not lie" exemplify his passion.
Ichioka Masaki
Born in Oita prefecture in 1940. Went to Oita Prefectural Aki High School (closed down) and made it to the best 8 of the Inter High and 2nd place at the Gyokuryuki. After graduation, he joined the Hyogo Prefectural Police. He established Shirakawadai Shonen Kenshukai in 1971. He led the team to place 2nd at the All Japan Dojo Youth Championship and later on won the same tournament. Won an award of excellence at the All Japan Girls Budo Championship 13 times. Was awarded the All Japan Kendo Federation's Youth Kendo Education Encouragement Award twice. Currently, he is an advisor of the All Japan Kendo Dojo Federation and the Hyogo Prefecture Kendo Dojo Federation. Kendo Kyoshi 7th Dan.
Pressure your opponent and strike Men; This Will Bring You to the Top
Shirakawadai Shonen Kenshukai, which is mainly active in Kobe, won its first title in the All Japan Dojo Youth Kendo Championship this past July. This great accomplishment came 53 years after Ichioka Masaki Sensei, 30 years old at the time, founded the Dojo with the determination to devote himself to spreading Kendo.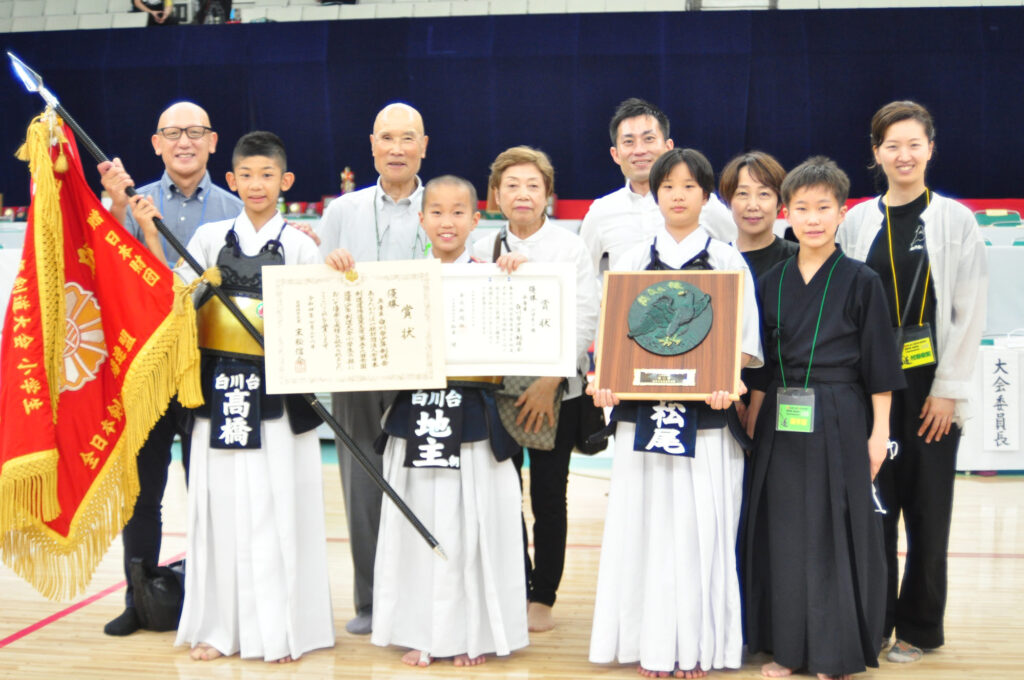 "My friends sometimes jokingly refer to my Kendo as Showa-era (1929-1989) Kendo. If you watch the matches, you can see that I mainly teach attacking from Issoku Itto No Maai. I discourage using halfhearted attacks from close range."
On the day of the tournament, Ichioka Sensei's style of applying pressure, taking the center and striking Men was on full display. Especially in the quarterfinal match against Hisaeda Kendokai, both sides refused to take even a single step backward, and the match ended up being a heated battle that went all the way to Daihyosen. Takahashi's final Men was a true testament to the training received at Shirakawadai.
After the start of the COVID-19 pandemic, the local police Dojo could no longer be rented to use as practice space. Ichioka Sensei banded together with the children and their parents and cleared a field to make an open-air Dojo. The parents also tried to find a public facility that could be rented.
"Wakamatsu Takehiko, my teacher in high school, used to say that practice does not lie. If you keep practicing every day, you will see results. The enthusiasm of the children and their parents also played a big part in me continuing Kendo."
The change in location made it difficult to attract new members. Currently, there are no children aged 9-11. However, younger children have recently started to join.
"Children are treasures. As long as they are in my care, I want to pass on the Kendo that my Sensei taught me." Ichioka Sensei never gives up on his goal of spreading Kendo.
Being able to strike far and strong will lead to Seme


The rest of this article is only available for Kendo Jidai International subscribers!