2022.12 KENDOJIDAI
Translation: Anne Zwart
Kyoto achieved its first win in the 10th All Japan Interpefecture Women's KENDO Championship in July 2022. Tanaka Yurika, as the Taisho of the Kyoto team, drove her team towards their first championship title. She has been active in Kendo since elementary school, and is a constant and notable presence in Japanese Kendo.
What helps her perform in the national spotlight? In this interview, we trace Tanaka's walk of life looking for hints how to become stronger Kenshi.
Tanaka Yurika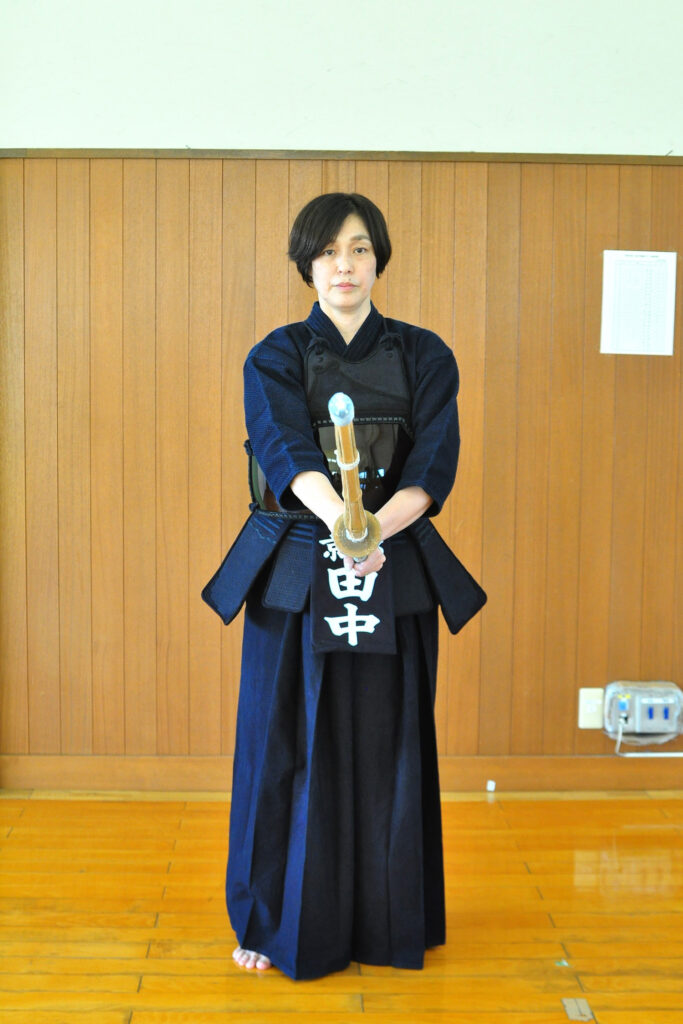 A victory for Team Kyoto at the 10th All Japan KENDO Championship
This year marks the first time the All Japan Interprefecture Women's KENDO Championship had teams of seven people. It was also the first year Kyoto also received the championship title.
Kyoshi Tanaka Yurika, the Taisho for team Kyoto, led her team towards victory. As the Taisho is the face of a team, her members must have thought she was a strong and stable presence.
"Ah no, not at all. I haven't done as much as Keiko as I used to for 2 years now, since the COVID-19 crisis started. It was also the first tournament in 4 years for me. I didn't feel strong enough to handle Shiai, and at some point I was reconsidering participating in the selection tournament. However, someone told me that I should go for Kyoto's sake, so I decided to take on the challenge. I went into the tournament trying to give back to Kyoto."
Tanaka devoted a lot of time to Kihon-geiko in preparation for the tournament in order to make up for the break from Kendo she'd had before.
"I figured my sense for Shiai would come back as my strength and stamina improved, but it wasn't going like it was before. I was nervous if I could manage, right up until the actual Shiai."
However, this uncertainty disappeared as soon as the Shiai began. Outstandingly, Tanaka scored a Men in the finale's Taisho-sen, breaking the nail-biting 1-1 tie with an invaluable Ippon at the eleventh hour. The experience of a veteran proves to be invaluable.
"Hamamoto, my opponent in the finals and I are the same age, and we've known each other for a long time. It was a hard battle for both of us. Good circumstances to make Ippon are rare, so I wanted to turn small moments into good opportunities."
Tanaka's trusted teammates gave her the confidence she needed to win.
"I had a lot of time together with the team director, Toyota Mari and Fukusho Kudo Nobuyo. My Kohai from Kyoto and good friends Nagazawa Yumi, Ozaki Asami and Yamamoto Anri were also by my side. University Kenshi Hashimoto Kyoka and Kusunoki Ayaka also came by often. Kudo and Kusunoki showed up at the last minute because of other circumstances, but I think we were on the same wavelength."
Tanaka seems to enjoy the memories. There is obviously a close bond and good atmosphere in the Kyoto team.
"Even if I was able to get stronger on my own, I wouldn't have been able to win the tournament with just my own strength. My family, cooperation from my company, everyone supporting me helped make this win possible."
Again, she is full of gratitude towards those around her. She wants to repay the favor by coaching for tournaments and teaching. The people around Tanaka and their support are her biggest drive.
Tanaka's devotion to improvement


The rest of this article is only available for Kendo Jidai International subscribers!