2022.10 KENDOJIDAI
Composition: Teraoka Tomoyuki
Photography: Sasai Takamasa
Translation: Pepijn Boomgaard
"I have neither speed nor a signature technique," says Iwashita Tomohisa Sensei. He practices a variety of Seme techniques in order to move his opponent. He uses these forms of Seme to determine how his opponent reacts, and then uses that as an opening to break down his opponent and create an opportunity to attack. Iwashita Sensei made his presence felt at the Yokohama 7th Dan Tournament. We asked him about how to seize opportunities.
Iwashita Tomohisa, Kyoshi 7th Dan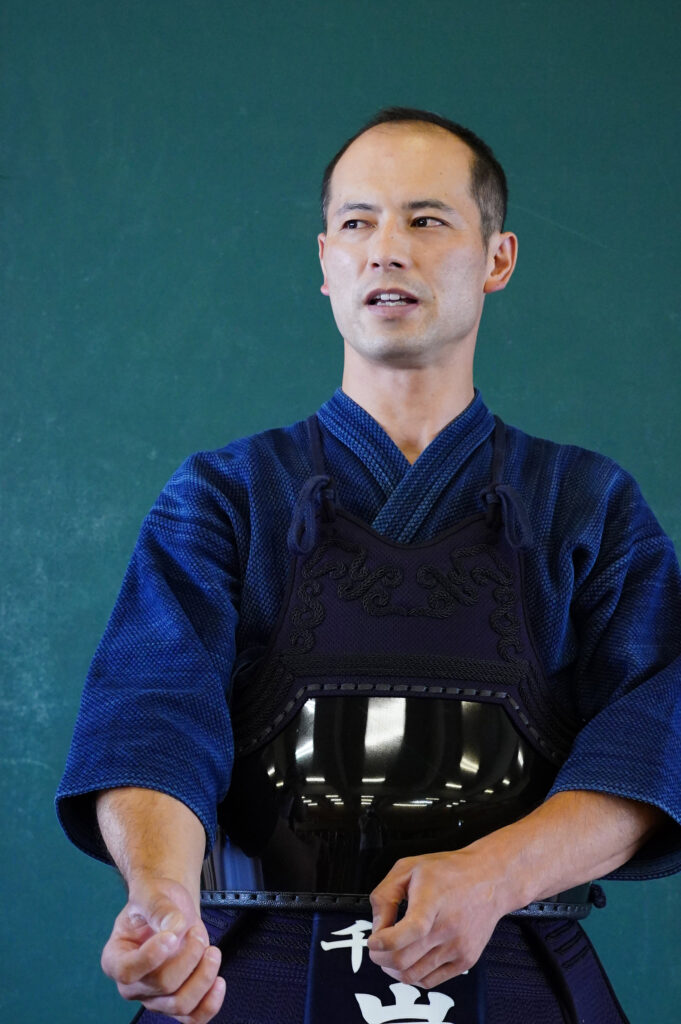 Different Kendo for different ages
Everything I've learned has broadened my horizons
I believe that seizing opportunities is not something that can be learned overnight. I started Kendo in elementary school and have been taught by different teachers at different ages. I naturally became able to recognize openings and seize them.
As an elementary school student, I learned about the joy of Kendo, but it was during my time at Kikuchi Minai Junior High School that I learned about the fun of competition. Honda Kiyozumi Sensei advocated Kendo with individuality, and I was able to learn many techniques and ways to use Seme. He would ask things such as, "If your opponent moves to the right, how will you respond?" I feel that my training with Honda Sensei naturally helped me develop the ability to recognize variations of Seme, as well as the ability to respond to my opponent's movements.
I entered Kyushu Gakuin High School, one of the strongest schools in Kumamoto, with the aim of becoming the best in Japan. At that time, Kamae Toru Sensei was the main instructor, and I learned many things from him. Kamei Sensei always told us to take the center and not to raise our hands. With the goal of taking the center when I strike, I was able to diligently practice the basics for three years. I believe that this helped me acquire strength and pressure in my Seme. It was also during this time that I learned the importance of winning by using correct Kendo. The techniques I learned in junior high school and the correct Kendo I pursued in high school fused together to establish my own unique style of Kendo.
At Hosei University, I was taught by Miyake Kazushi Sensei, who taught me the importance of the feet in particular. He said, "In Kendo, you can't win if you're not familiar with your feet. " At first I didn't understand what he meant, but the more I practiced, the more I came to understand it. He used Seme that strong Sensei could not see. If I as a college student were to do the same things, it would not be useful, so I started using my legs to cut the distance and win. I came to understand that Miyake Sensei was trying to tell me to use my legs to win while I am still young enough to move my legs. I am not fast, nor am I particularly good at any specific techniques. I feel that using my legs is one way to survive as a competitor, and I still aspire to do Kendo that values the use of my legs.
Looking back now, I feel that because I tried to absorb different Kendo at different ages, I was always able to face Kendo with a fresh mindset.
Move your opponent to see how they react
Use Seme to break them down and create an opening


The rest of this article is only available for Kendo Jidai International subscribers!