FREE ARTICLE
The 32nd European Kendo Championships (EKC) came to an end. The winner of the men's individual competition was Lucas from France, who won for the second year in a row. His Men strike is impressive and beautiful. Even when he is behind on points, he seems to calmly come back. What kind of kendo career and mindset does he have? I asked him 14 questions about his Kendo life and the EKC. I hope that his words can be an inspiration and help kendo in Europe and around the world move forward.
Lucas Przewlocki
Lucas was born in France in 1998. He started kendo in BudoXI at the age of 6. He has been training with the French Team for 8 years, and started representing his country 2 years ago. His first European Kendo Championships were those held in 2014 in Clermont Ferrand, France, where he competed in the junior category. He has attained the individual title at the European Kendo Championships held in Frankfurt in 2022 and Beauvais in 2023.
1. Why did you start kendo?
My mother is Japanese and wanted me to practice a martial art for the values it gives. That's why I started Kendo when I was young.
2. When, where, and for how long have you been practicing kendo?
I started kendo at 6 years old at BudoXI. I participated in the junior lessons directed by Kimura sensei until I was 18 years old. I practiced only once a week at first and then twice a week later on. After that I moved on to the adult lessons at BudoXI. I also started to practice with the French national team at Levallois. It's been 19 years since I started practicing Kendo.
3. What kind of training did you do before EKC? How did you prepare both physically and mentally?
Since I started training with the French team, I haven't done any specific training for the EKC. I just do my usual Kendo practice three to four times a week, of which one is physical training (Oikomi, Kakari-geiko, etc). I also go to the gym. In addition, we have training with the national team once a month. I try to keep consistency in my training throughout the year.
I also watch a lot of Kendo videos to study techniques, but also to understand how strong Kendoka achieve their level. I consider that part as training, as we don't have as many strong and varied Kendoka in Europe as in Japan. Watching videos gives me some benefits I can't get just by practicing in Europe.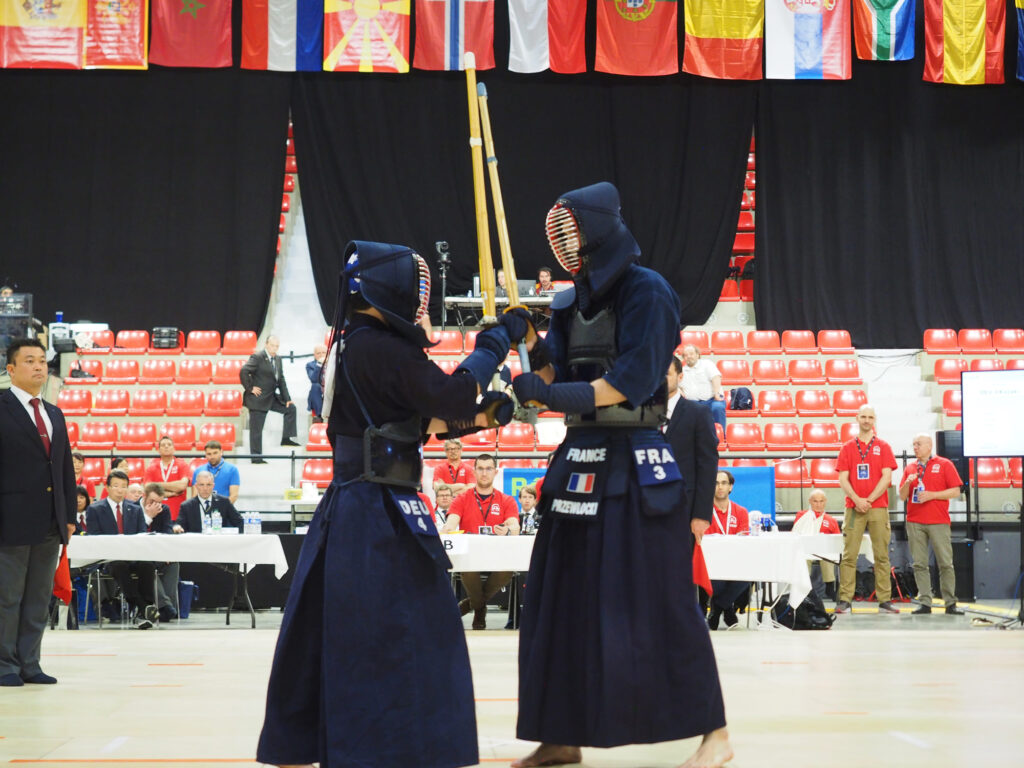 4. Could you explain what benefits you find in watching videos?
Do you have a favorite video you would like to share that taught you something important?
By watching videos I can see a variety of Kendo styles that we don't have in Europe, so I can be prepared when I fight against a style of Kendo I am not used to. I can also find many new techniques that I can try and make my own. I observe everything around the technique. For example, the Seme before the strike, the distance, the use of the Shinai to deal with the opponent's Shinai, the feet, the timing, the opportunity, etc. There are so many things I can learn from videos.
I don't have a favorite video in particular.
5. What do you value and keep in mind in your daily practice?
My mind is always full of things I need to work on. So I focus on learning as much as I can, as fast as I can.
6. What was your most impressive match at the EKC and why?
I had very strong opponents and I was sometimes in difficult places. situations. I consider all my fights to be crucial, so I can't decide on a single one.
7. How did you feel going into the finals of the team competition?
I try to keep my focus all along the competition. I don't think about how many fights I still have ahead of me or how far along the tournament I am. I just focus on the next opponent and I try to avoid unnecessary thoughts until it's all over.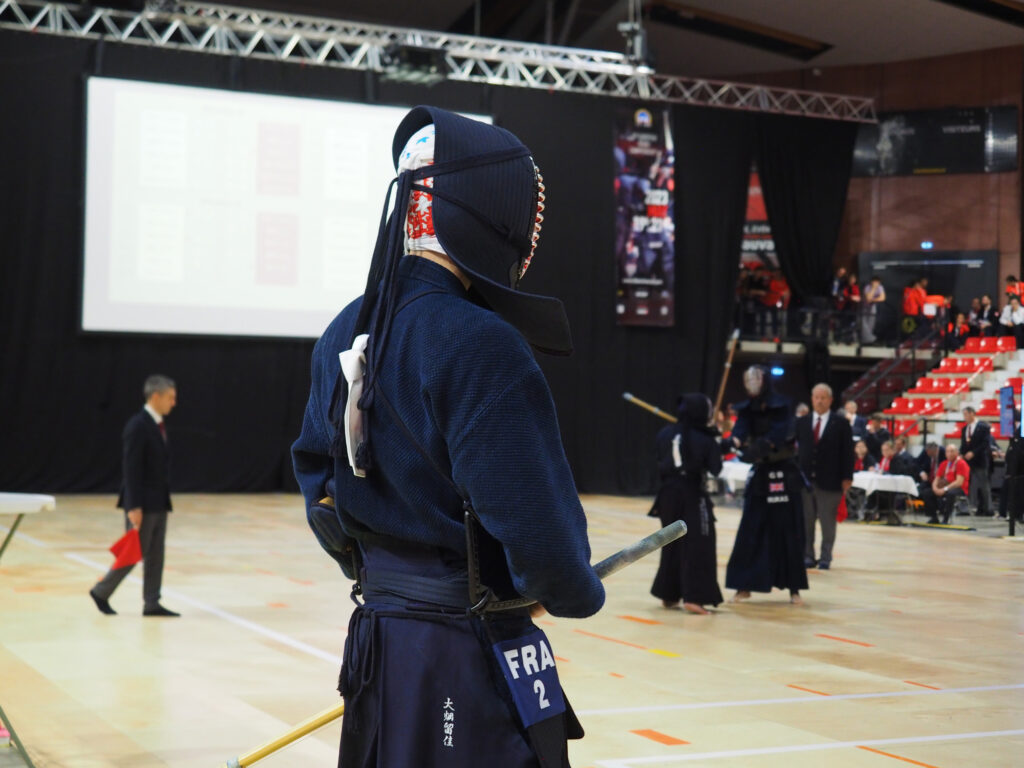 8.The final match of the individual competition was against Olivier, who belongs to the same team. What did you think before and during the match?
I thought about limiting my flaws and blocking his favorite techniques. I focussed on the fight, as it was Ippon Shobu.
9. What are your thoughts on the EKC as a whole?
I think the overall level in Europe is getting higher and higher. It's encouraging and makes me excited for the future.
10. Do you still find enjoyment in kendo? Sometimes strong players struggle with the pressure.
In competition, I tend to feel a lot of pressure. However, I am capable of containing it by focusing on my opponent at each step of the competition. During practice, I find a lot of enjoyment in experimenting with everything I learned from the videos I watched.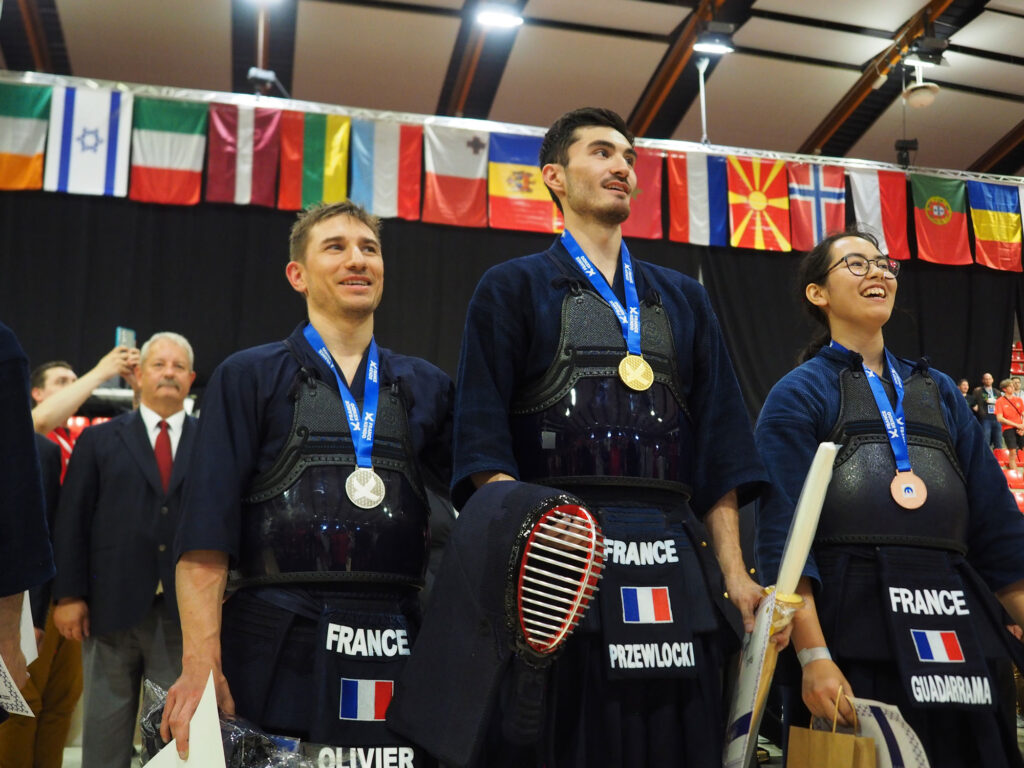 11. Have you ever trained Kendo in Japan and where?
When I was younger, I sometimes practiced at Taigijuku (大義塾).
In 2019, I did an internship for my studies in Japan for 4 months. I was able to practice at the Saga University Kendo Club. It was free practice (Jiyu Keiko) almost every day, so it was a good opportunity for me to find my own way of Kendo.
I recently went to Kokushikan, where I got to do some Jigeiko. I also had the opportunity to go to Keio University for the first time. It was a great chance to do Keiko with strong opponents. It is the kind of experience I am looking for when I go to Japan.
12. What differences did you find between European Kendo and Japanese Kendo?
In Europe, Kendo is considered to be a hobby. Even at the highest level, we all have a job and have to train during our free time. Kendo is less developed in Europe. The lack of suitable wooden floors and the opportunity to practice, as well as a shortage of varied training partners and Kendo styles makes it difficult to increase the overall level. I personally go to Japan to get those things I can't have in France.
On the contrary, because Japan has all of these things, training there is more accessible, but it is also harder and there is more pressure.
However, the difference in skill is not only due to these reasons. Japan has an undeniable culture of hard work and never quitting, especially compared to Europe, where amateur sports are considered to be just a hobby. Despite this, in the French team, we are cultivating the hard-working mindset and tenacious spirit necessary to reduce the gap between Europe and Japan.
13. What do you aim for at the World Kendo Championships and European Kendo Championships?
At the WKC I want to show the Kendo that the French team and I have cultivated these past years.
14. Bonus question: What do you think about before you hit men?
It's just a feeling. I sense that "I can hit it."