FREE ARTICLE
On Sunday, September 15, 2019, the 68th Kanto Student Kendo Tournament was held in Kawasaki City, Kanagawa Prefecture at the Kawasaki City Todoroki Arena.
The Kanto Student Kendo Team Championship is one of the biggest competitions for Japanese university student swordsmen sponsored by the Kanto Student Kendo Federation. This year, 93 universities participated, and the top 20 universities that remain in the tournament will be eligible to participate in the 67th All-Japan Student Kendo Team Championship in October.
In this tournament, University of Tsukuba defeated Chuo University and won their sixth victory, the last one being two years ago. Meiji University and Tokai University came in 3rd place, and Nihon University, Senshu University, Keio University, and Tokyo University of Agriculture won a fighting spirit prize.
Results
1st prize: Tsukuba University
2nd prize: Chuo University
3rd prize: Meiji University, Tokai University
Fighting spirit award:
Nihon University, Senshu University, Keio University, Tokyo University of Agriculture
Final: Chuo University vs Tsukuba University
Hoshiko (Tsukuba) (D) -vs- Honma (Chuo)
Tsukuba University won 2-0 with their senpo Jukuroki and started smoothly. This momentum was stopped in the jiho match by Chuo's Kuroki. He quickly scored two ippon and equalized the scores. After that, the draw continued and the teams went into daihyosen. Tsukuba University's Hoshiko who developed a calm seme decided the match with a gyaku-do.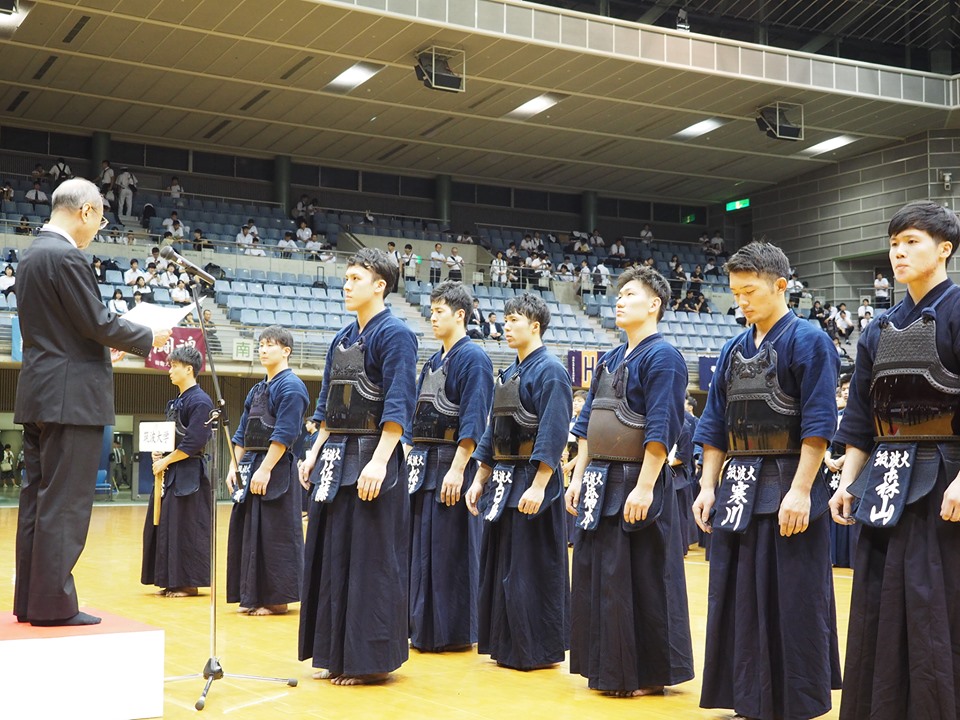 The University of Tsukuba played a stable game from their first match. "I was able to play calmly because my teammates won a lot before me" said Hoshiko, who served as Taisho. The biggest hurdle for him came in the form of a daihyosen in the finals. It seemed that Tsukuba was onto a smooth start with their senpo, Jukuroki taking two kote, but in the jiho-match Chuo's Kuroki changed the flow. The draw continued from gosho to taisho and the match went into a daihyosen. Both coach Nabeyama and the competitors from Tsukuba recalled that the hardest part was the final. It was Hoshiko's gyaku-do that ended the eight-minute extra game. He landed it without missing the opportunity where his opponent moved in while defending.
At the All Japan Student Kendo Individual Championship in June, Hoshiko won the title, Matsuzaki won second place, Shiratori took third place, and Sato took a best eight spot. They are all Tsukuba University students. Coach Nabeyama also said, "This year we have overall strength." However, he thinks that "challenges still remain" even after winning this team title. Nabeyama says, "There were a lot of players who couldn't make the most of their ability. This year, the players who are on later positions in the team are stable, so the team tends to rely on them. If it is difficult to score an ippon, you shouldn't force it. However, I don't want them to be afraid of being beaten but to play a match where they manifest to the best of their ability."
With the upcoming All Japan Student Kendo Team Championships in mind, the Tsukuba competitors said "We gained a lot by finding new challenges this time." According to Sato, many of them do extra practice individually this year. We are looking forward to their exploits at the All Japan Student Kendo Team Championships.