FREE ARTICLE
France has attained 21 men's team titles, 4 women's team titles, and 5 junior team titles in the 29 tournaments that have been held so far (there have been 12 women's championships and 21 junior championships)
This year their presence was felt too, attaining the men's team title, the men's individual title and third place, women's team second place and junior team third place.
"France has done well in Europe, but has not left good results in the world tournament yet. As Japan is home to kendo, we are working hard to catch up with and surpass Japan," said coach A. Diebold. The French Kendo Federation is under the umbrella of the French Judo Federation, and is known for its large organization among the European Kendo Federations.
The kendo population of France is about 4,000. Among them, there are 35 promising young men and women in the national team. They receive backup from the French Kendo Federation and the level is high in part because they are engaged in keiko in their dojo and keiko organised by their federation.
"They practice well. Us staff also feel responsible for raising their level. Not all of the players live in Paris, so it is hard to gather them. However, there is support from the French Kendo Federation." Says coach Diebold.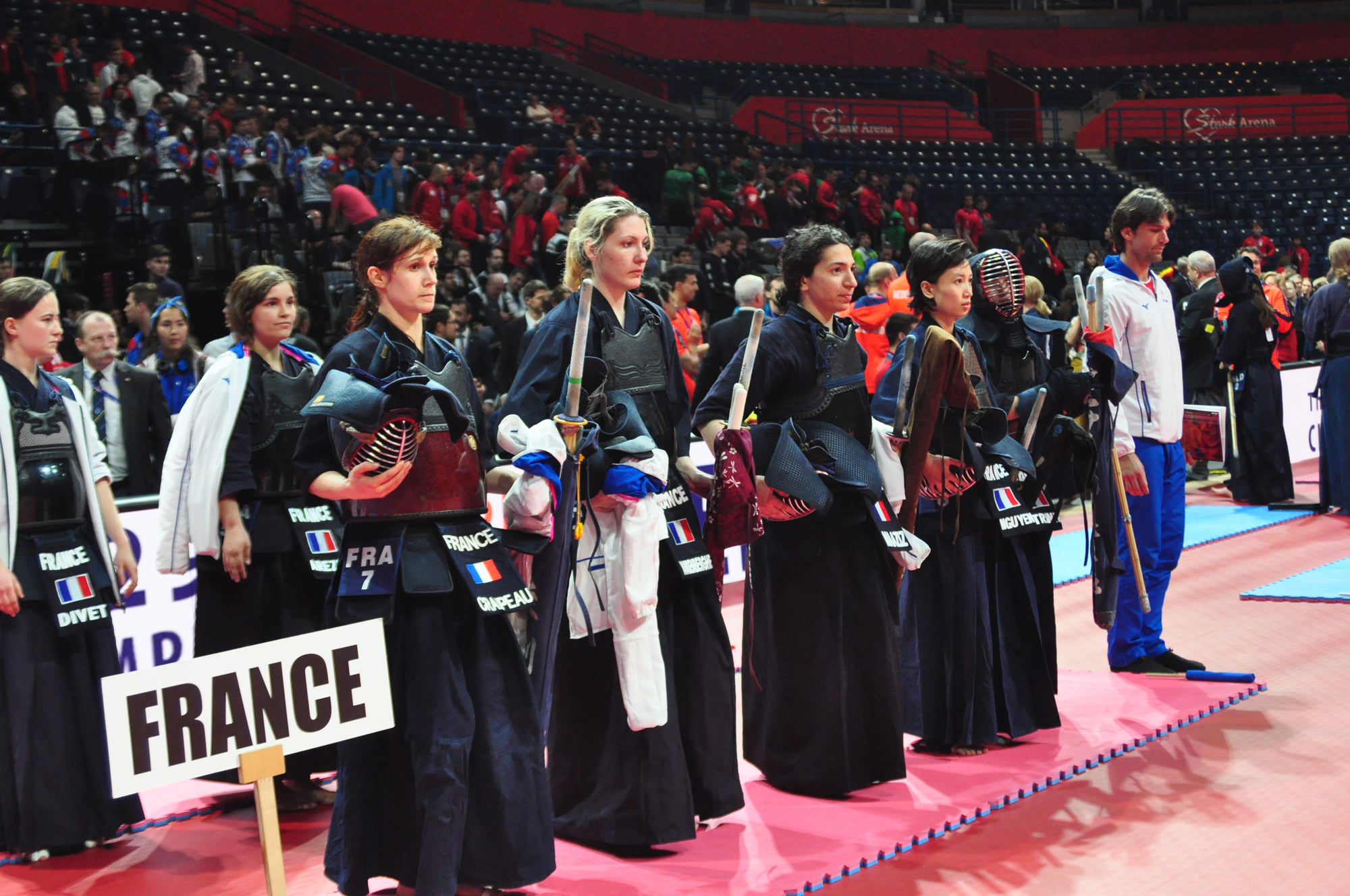 The women's team, which came in second place this time, has been replaced entirely since last year's world tournament and has rejuvenated. There are a lot of members with little competition experience, but they feel a positive impact to have achieved second place in such a situation. In addition, the men left a double title result in the individual and team categories. K. Nakabayashi, who is at the core of the team, took the individual title and J. Bertout came in third. Furthermore, W. Olivier, who is anticipated as the young future, was chosen for the daihyo-sen and contributes to the victory, showing his usual strength. The junior team was stoic about being third place, but their fights did not reflect this and their ability steadily take shape.
"Everybody loves kendo. They are actively practicing. This time too, they did not lose to pressure and they were able to play matches one by one intensively. The team members have quite a hard time because you have to get selected for the strengthening team and from there, selections for the team competitions and expeditions are made. Now, the level of the whole French team is rising. I am looking forward to the future." Says coach Diebold.
All off the competitors look like they are looking forward to the WKC in 2 years in their home country of France.
French Ace wins the individual title
K. Nakabayashi (France)
"My goal has been to win this individual championship for many years. I was not able to do it competing many times, but finally I got it. I took second place the first time I participated in 2013, but from then on wasn't able to get results until now."
Nakabayashi's parents are Japanese. Born and raised in France. He started kendo at a young age, and is the ace of France, with a track record of having won the French National Championship 3 years in a row. One goal has been achieved by finally winning this championship. Next is the WKC.
"The French team's results have not gotten past the best of eight. We want to prove that France is strong."
Two years from now, the WKC will be held in France. He will look forward to that tournament.