FREE ARTICLE
Last July, I travelled to Japan for the first time in my life. But the excitement of being in this country of my dreams was overwhelmed with the excitement of being a selected participant of one of the most exclusive kendo seminars of the world, Kitamoto seminar.
The 46th Foreign Kendo Leaders' Summer Seminar 2019, Kitamoto
All Japan Kendo Federation is organising this seminar every year for kendoka from all around the world who are aiming to be a kendo teacher or already teaching in their county. The curriculum of the seminar was designed to teach and help participants to promote proper Kendo and encourage them to give better instructions to their students after they get back to their countries.
Every country/region can recommend up to three candidates (3rd-6th Dan) and AJKF makes a selection according to the situation of Kendo promotion in each country/region, the Dan grade of the applicants, the records of participation from each country/region to keep the number of participants at a level. This year 63 kendoka were selected and consisting of 47 men and 14 women, 61 kendoka from 45 countries/regions were there for the seminar.
The Schedule and the Delegation
The seminar was from the afternoon of the 19th of July to the morning of the 26th. In this period, we were hosted in the facilities of Gedatsu-Kai Training Centre in Kitamoto, with a very nice dojo and a big guest house with everything we needed. We had 33 hours of training for several methods, such as Training Method for Fundamental Kendo Techniques with Bokuto: 4 hours, Nippon Kendo Kata: 7 hours, Instruction Method: 5 hours, Shinpan Method: 7,5 hours, Kihon Keiko + Shido-geiko: 9,5 hours; every day starting at 6:30 and ending at 17:00. Also, in four of the mornings, there was an unannounced asa-geiko between 5:30 and 6:30.
The main instructors were
HAMASAKI Mitsuru Sensei (Hanshi Hachidan)
TANI Katsuhiko Sensei (Hanshi Hachidan)
NAGAO Susumu Sensei (Kyoshi Hachidan)
TANAKA Hiroaki Sensei (Kyoshi Hachidan)
But every evening in shido-geiko, there were many more sensei from AJKF and FIK joining the keiko. The President of AJKF and FIK, CHO Fujio Sensei, AJKR Vice President INAGAWA Yasuhiro Sensei were there in the opening and closing the seminar, the Vice President of AJKF and FIK, FUKUMOTO Shuji Sensei (Hanshi Hachidan) was always there to observe the seminar and to join the shido-geiko. FIK directors FUNAKI Takashi Sensei, MIYASAKA Masayuki Sensei, KATO Junichi Sensei, FIK Assistant Secretary-General TAKAMORI Takeshi Sensei, FIK staff members KIKKAWA Shoichi Sensei, OKUURA Ayako Sensei, and the interpreters HAYASHI Tatsuo Sensei, BENNETT Alexander Sensei, TSURUNAGA Ryowa Sensei were with us all day, including shido-geiko. Every day there were many more sensei joining the shido-geiko, including some women sensei such as KAMIURA Kanae Sensei, TAKIZAWA Akemi Sensei, ARAKAWA Fumie Sensei, TERACHI Satomi Sensei and ODA Yoshiko Sensei. On the second evening of the seminar, I counted 13 male and 4 female sensei on the instructors' side; it was really amazing! And I still feel like I must have forgotten some names introduced from AJKF or FIK delegation, almost every day one or two more sensei visited the seminar.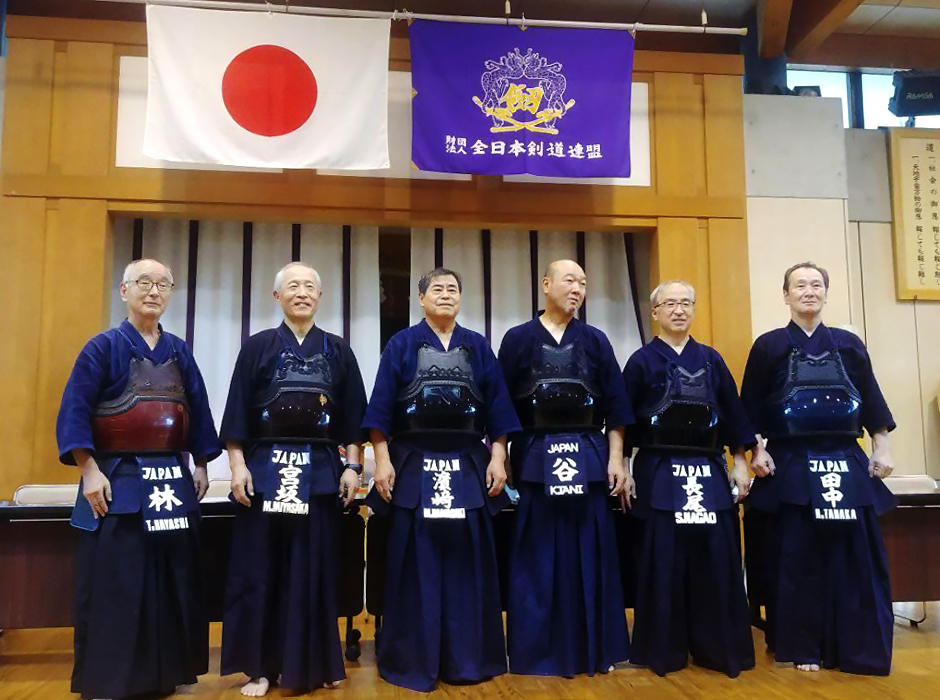 Among the instructors, there were Kendo scholars, professors as well. We had three lectures in three evenings. The Anti-Doping lecture was given by the Anti-Doping Committee of AJKF and FIK, Dr. MIYASAKA Masayuki Sensei. The Kendo History lecture was given by Prof. NAGAO Susumu Sensei. It was a nice lecture and when he started his lecture with Shinkage Ryu family, I cannot deny that I felt a bit proud with my ryuha. FIK lecture was given by FIK Assistant Secretary-General TAKAMORI Takeshi Sensei. Also during the dojo training, Tani Sensei and Nagao Sensei gave us much verbal education about how to teach. I wish we had more time to go through Tani Sensei's notebook, full of his experience and thoughts on teaching!
They made two surveys, one before the seminar, a survey included in the application, asking what do we want /expect from the seminar; and one at the end, asking how did we find it, what would be changed. I suggested to have some women sensei in the instructors when I apply, and it is the first time that there were five sensei visited; only for shido-geiko but better than none. And at the end, although I know many people who commented on the excessive hours of bokuto training; my personal opinion was that with this schedule, it would be possible to have two more days to go deeper in advanced techniques, such as some oji waza techniques that are difficult to perform and teach. Well, I will do my best to visit Tani Sensei in Italy next year!
A Turk from Turkey, A Turk from Italy, A Turk from The Netherlands
I was the only participant from The Netherlands and one of the three Turkish participants; it was nice to reunite with old friends Mert Ozyilmaz from Istanbul and Tugce Belin Stinchi from Ravenna. In January, when I heard about the invitation for the seminar, I was hesitant about applying, being just sandan, being a Turkish in Dutch land, being an expat trying to survive in the art field; I was not able to make my mind up. But the president of NKR (Nederlandse Kendo Renmei) Koos van Hattum Sensei encouraged me to apply by reminding me that this great seminar and everything comes with it was totally free! I only needed to buy my flight to Japan. It was still a matter of concern, but then my awesome dojo Yushinkan Iaido & Kendo and its board members helped me by starting a crowd-funding campaign to cover the flight cost. I've never felt this much supported by anyone other than my parents; their blessing made me realise more deeply that Yushinkan is my family. I was not going to Kitamoto for my own sake only, but I needed to do my best to learn as much as I can and become a better teacher for the zealous kendoka of Yushinkan.
Beyond Hospitality
I felt very special and privileged. All those great kendo instructors were gathered there to teach us proper kendo in the middle of the holiday season, in this small town. You could smell the dedication and intensity in the air. There was no single moment I spaced out, let my mind wander; they were there, so I was. There was nothing else to do but Kendo, concentrated and purified. On the third day of the seminar, after the morning training, while walking from the dojo to the guest house for breakfast, I looked at the woods next to the Gedatsu-Kai and to the thin grey clouds, I felt the chilly dew and I told one of my roommates that it feels like, this is it, there is no other place out of Kitamoto, the world consists of this town and there is no past or future, I was born here three days ago, to practise kendo every day.
It was the first time in my ten years of kendo experience that I practiced kendo eight days in a row. There were hard times that I felt so weak and hopeless; but to think of my kohai in Utrecht, to focus on learning, making my kendo better for their sake, gave me the power to continue. In the end, there was no single injury; although I've just recovered from a year-long tennis elbow injury; there I did not have any problem. The schedule was made very carefully. There was always enough time between practices to rest, to stretch, to sleep or to reflect; whichever is needed. Also enough time before and after the meals; there was nothing to be stressed about; on the contrary, we were taken care of professionally.
Gedatsu-Kai Training Centre was a perfect facility for a summer camp like this. The crew was very kind and their service was flawless. And the food! Oh, the food! I am far from being an expert on Japanese food, but every single meal we've been served seemed to me like a masterpiece. Because we had to start altogether with Kikkawa Sensei's announcement "ittadakimasu!"; there was always plenty of time to enjoy the beauty of those delicious meals and to take pictures.
We were always at the same table with the same group of people, because the tables were set for rooms. There were 6 rooms for men, 2 rooms for women, each for 7-8 people. This set up was made on the purpose of creating a team spirit and planting the seeds of life-long friendships, I believe. We ate, slept, relaxed and also fought together as a team in Shinpan Method training. And in the end, for the sayonara party, each room prepared a performance, which was too embarrassing (but fun) to reveal here. We will definitely stay friends forever.
The Amazing Children of Japan and Gedatsu Renshinkan Dojo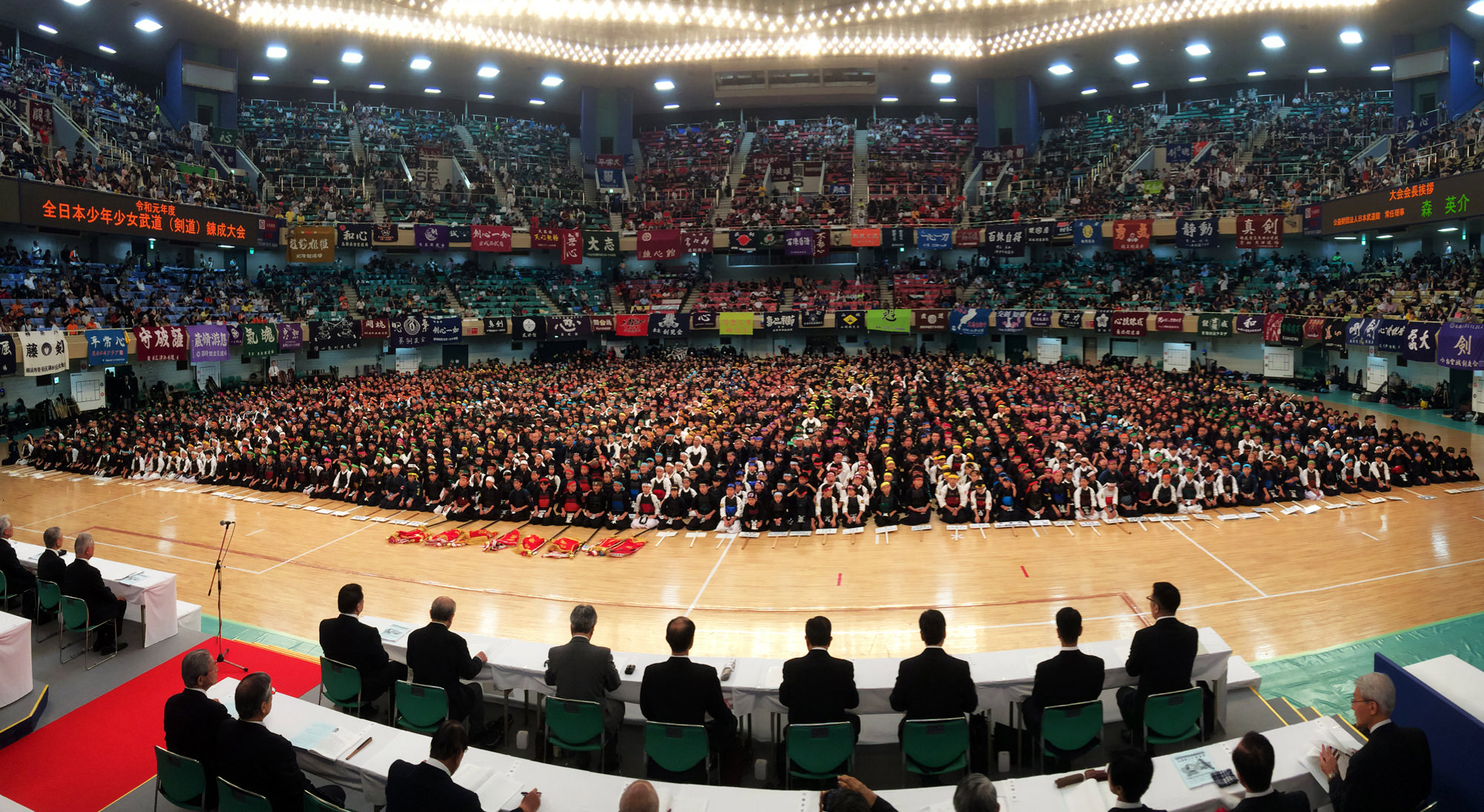 On Sunday morning, we visited the Nippon-Budokan in Tokyo to watch the All Japan Boys and Girls Budo (Kendo) Rensei Taikai. It was the second day of the taikai, there were more than two thousand children between 10 and 12 years old, their coaches, and maybe another thousand people in the tribunes to watch and support them. Watching the teams marching in and warming up altogether made my heart race. All those children were the best kendo kids of their region and so of Japan. Their spirit was so strong, their faces were so calm but determined, they were definitely training very hard to be there on the floor of Nippon Budokan, and they were going to fight to be the best of Japan; I was almost crying. Just when I was feeling so small and insignificant in this world (not necessarily a bad thing); we were asked to stand-up and they made an announcement to introduce us, the Foreign Kendo Leaders as the guests of AJKF. All of a sudden, thousands of curious gaze turned to us, my tears got frozen on my eyelashes, before I could give any command to my back muscles, I found myself bent 30 degrees in front of those future sensei and champions.
The fighters of Gedatsu Renshinkan Dojo came home with first and second place prizes that day. So we were using the dojo of champions indeed. And on the last day of the seminar, they came to help us in Shinpan Method training. After three days of practising shinpan method, we were supposed to judge the shiai of the best kids of Japan; the pressure was high. Knowing that they are so good and fast, it was inevitable that we were going to fail more than once. But the set up was made to help us; the difference between teams was obvious, the points were very clear; the losing team was not even upset but trying hard against their sempai team… And yet, we managed to fail on giving correct ippons several times; Nagao sensei had to apologise for us. The relaxed smiles of the kids were a bit biting, almost as if they did not expect any better from a "baka gaijin".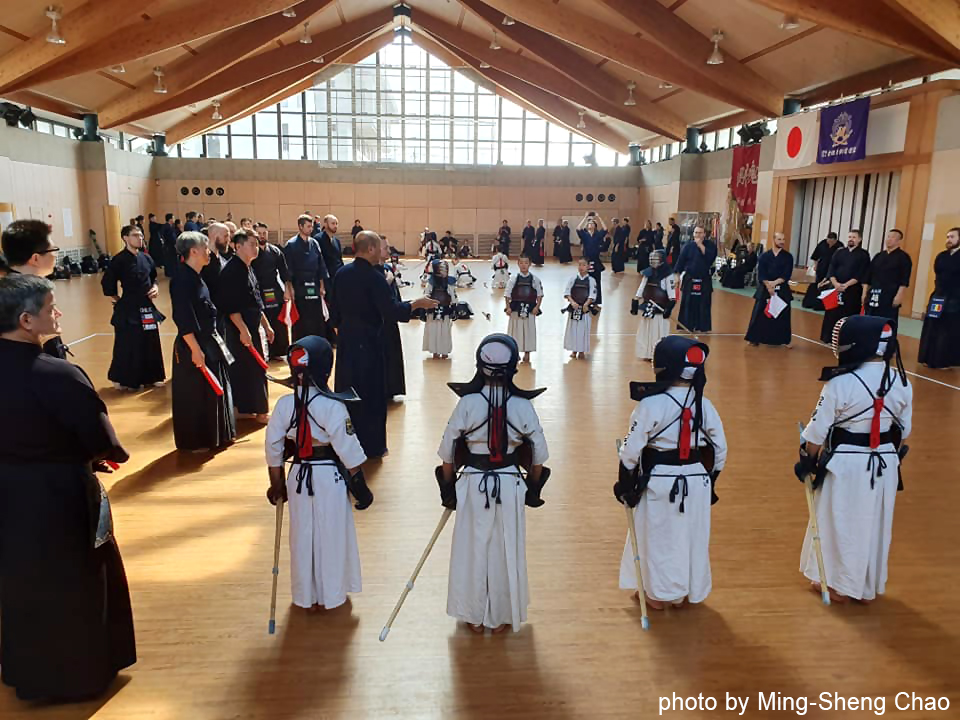 Dan Examinations
After a generous and fun sayonara party followed by a warm gathering in sensei room, on the 26th Friday morning, after breakfast, all the participants had to clean the rooms and check-out of the guest house. I checked out around six in the morning and moved to the dojo to practise before my yondan examination. The children of Gedatsu Renshinkan were training already. Their instructor was a young lady I was greeting every morning in the dining room when she was serving our meals; I never thought that she would be a sempai. Watching their training encouraged me before my exam.
At 9 o'clock, the jury group came to the hall. I was in the first group. There were 30 examinees for yondan, godan and rokudan grading. It went very quickly and then the passing numbers were hanged without mine among them. All the sensei left quickly without any comment. I had to tell my dojo friends that I failed (another first time in my life) and then we said goodbye to Gedatsu Kai Training Centre.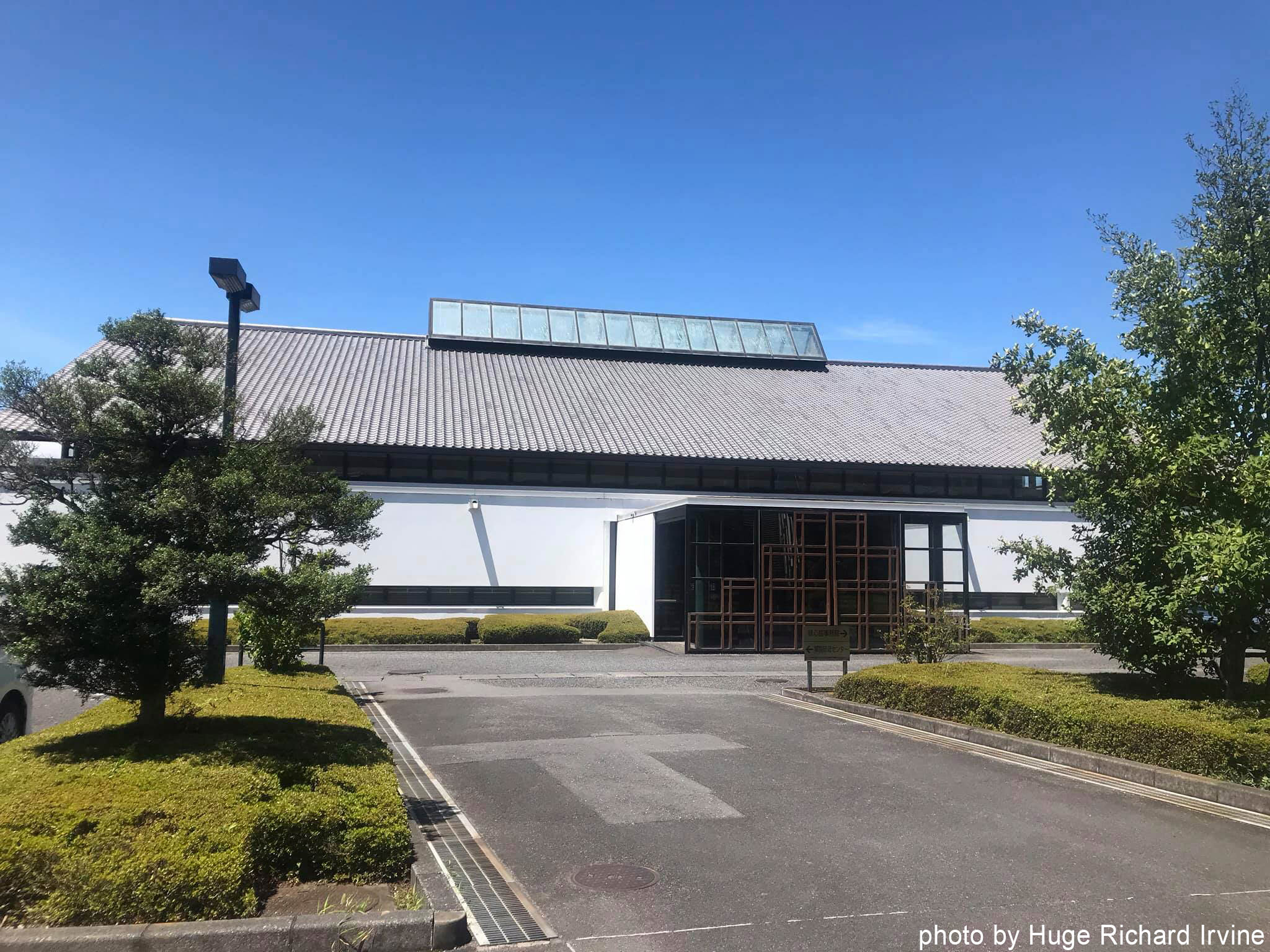 Life Changing Experience
It was not only a seminar to practise kendo; it was unlike any other kendo seminar I've attended before. Maybe it was me, maybe it was the air of Japan; but it felt very special. It is hard to describe with words, but I felt very strongly that it changed me, and it will continue to change me as I digest the teaching I received.
I am an old fashion person; not because I am about to hit 40; but I am simply fond of "legacy". Understanding the old is more interesting to me than changing it to a new. No matter how basic the kendo they taught to us, no matter how long we trained with bokuto just not to forget that shinai is a sword; I am very grateful for their endeavour to spread good kendo and for this generous seminar I was selected to participate. These instructors have been practising kendo even before I was born; I have no words to describe their seniority. Of course, they showed amazing kendo mastery in every instruction and shido-geiko and my kendo improved a lot in just one week. But their attitude towards every person around them, their attention and patience, their kindness and respect to everybody was the best lesson they gave. 10 years old mudan child, 28 years old sandan girl or a 46 years old rokudan man from the other side of the world was not different to them; they were showing the utmost respect and care to all of us.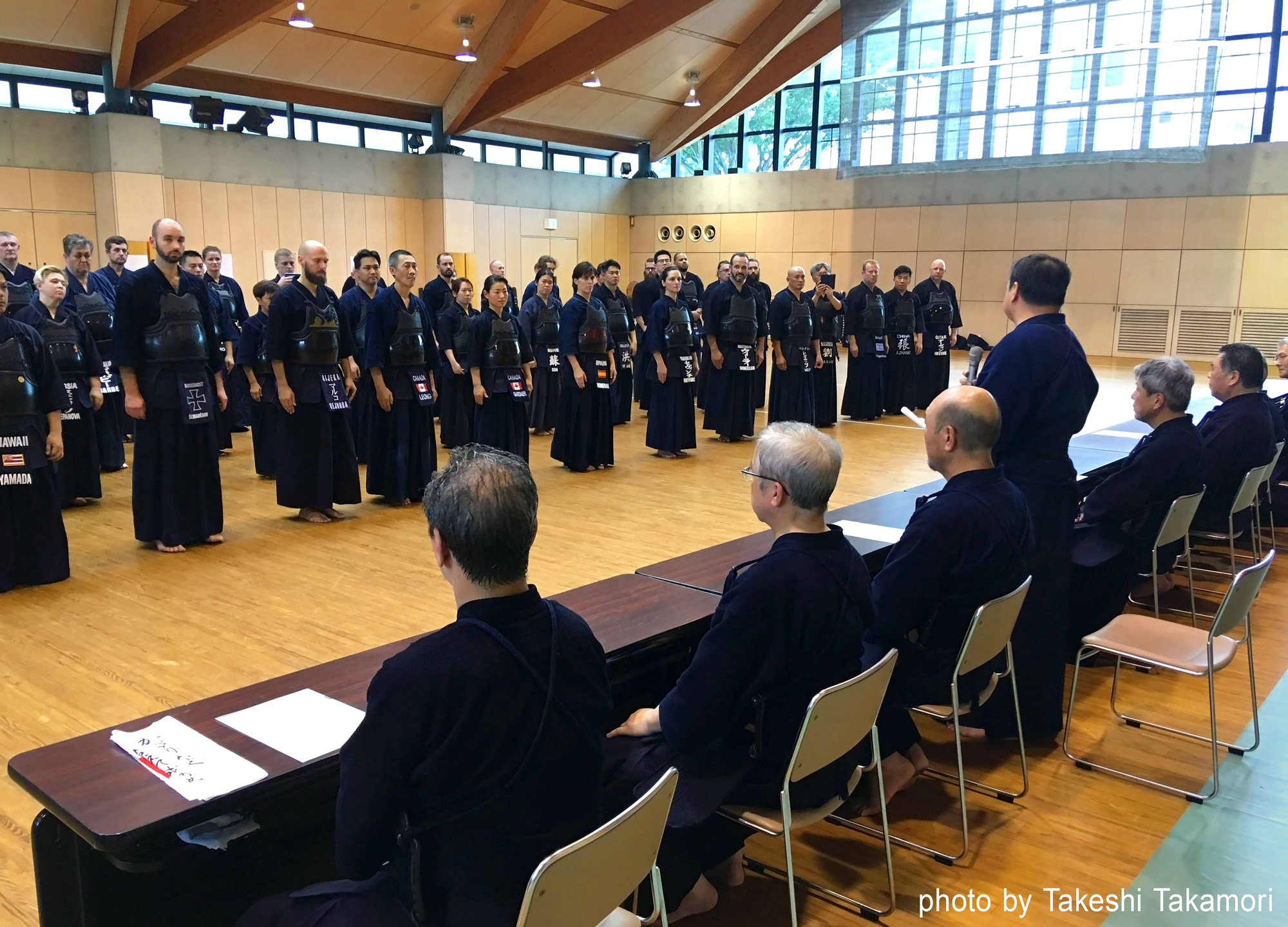 I think, in addition to everything I learned in terms of kendo techniques, I have splendid examples of an instructor to try hard to imitate for the rest of my life. Thanks a lot for all those people who gave their moral and material support to get me there; especially David Smits Sensei for putting all his faith in me; I took one more step to become a better person.
Taciser Sevinc, September 2019, Utrecht