2012.2 KENDOJIDAI
Why is kendo all about men? To attain the ultimate men-strike, we bring the expert views of Teramoto Shoji, Takanabe Susumu, Hojo Masaomi and Sato Hiromitsu to you.
Profile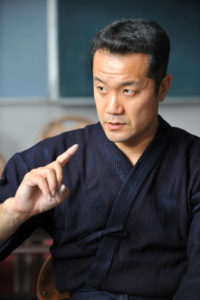 Teramoto Shoji
Born in Kumamoto prefecture in 1975. Started kendo at the Shiratsubo Kendo Aiiku Kai, and advanced to Karyo Junior High, Kumamoto University of Technology High School and International Budo University. Although Teramoto Shoji was not blessed with big titles during his student days, his talent bloomed at the Osaka Prefectural Police where he advanced after college graduation. Teramoto played as the center player of the team and was elected to the Japan national team for the World Championships. During the 55th All-Japan Championships tournament he became the best of Japan and in the 14th World Championships tournament held in Brazil in 2009, he achieved an individual and team victory as a captain. Currently, as Osaka Prefectural Police Kendo Teacher, Teramoto sensei is teaching Kendo at Osaka Prefecture Police School. 7th Dan Kyoshi.
The rest of this article is only available for Kendo Jidai International subscribers!