2019.05 KENDOJIDAI
Takanabe Susumu, Kyoshi 7th Dan
Born in Kumamoto Prefecture in 1976, age 42. Studied at PL Gakuen High School and Tsukuba University. After graduating, he joined the Kanagawa Prefectural Police Department. Takanabe Susumu won the All Japan Championship, WKC, first division of the National Police Championships individual category and the Yokohama 7th Dan Tournament individual category several times.
Discarding the desire to win and committing to the true self
In Shiai, there are moments when "this is where you have to win". This is where Takanabe shows his unrivalled competitive prowess. Once in the spotlight, he is able to display his overwhelming strength to the audience. At the 6th Yokohama 7th Dan Championship, Takanabe won his third title, the last one being three years ago. After winning the 2nd and 3rd championship, he didn't make it to the top in the 4th and 5th.
"In the past two tournaments, I got caught up in the mindset that I had to get Ippons and that I couldn't lose in the league stage. This time, I let go of those feelings and tried to take my natural stance", he said.
This may have been the reason why Takanabe was able to overcome his obstacles. In the first round of the league stage, he lost to Higashinaga Yukihiro by a Hiki-men and put himself into trouble. In the preliminary league, one win or one loss can have a big impact on your chances of advancing. With one loss, Takanabe had to win his remaining two matches to advance to the next round. This is where Takanabe's spirit was ignited. "I didn't have a lot of Shiai experience in the last few years", he said.
"I wasn't unfocused, but I couldn't respond. It's a good thing that after this Shiai I felt that I had to win, which in hindsight has had a positive effect on me." He was in a place where he had to win. Normally, the pressure to win would create unnecessary tension, but Takanabe didn't need to worry about that.
He defeated Toyama Hiroki and Matsuwaki Shinsuke by two Ippon and advanced to the finals leading in his league, defeating Furukawa Kosuke in the quarterfinals and Wako Daisuke in the semifinals. The "naturalness" that Takanabe had been trying to achieve this time was put to good use at the last minute. "You can't defend against any opponent if that is your aim, and if you try to take an Ippon first and get struck instead, you'll regret it." His opponent in the final was his teammate at the WKC, Uchimura Ryoichi.
Based on the lessons learned from the last two fights, Takanabe said that he has been trying to take a more natural stance and break free from his obsession with "wanting to win". His mind-set of serenity led to his last-minute all-in Ippon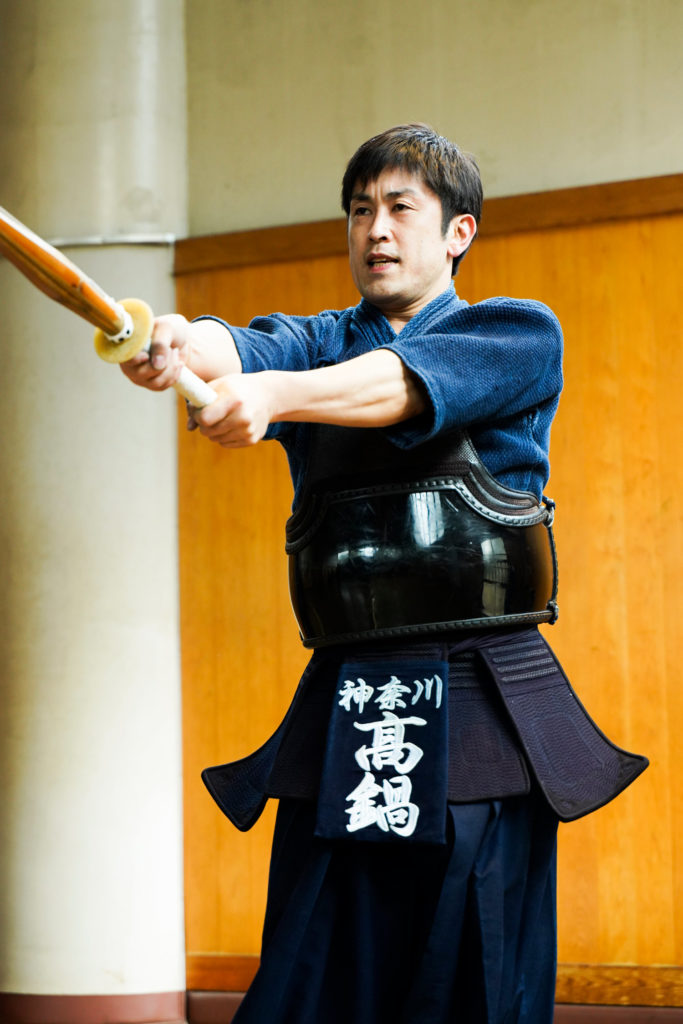 "Even after retiring from the Tokuren, Uchimura still made it to the finals of the All-Japan and National Police Championships. It would be a lie to claim you aren't aware of what a great competitor he is. It's been seven years since I left the Tokuren program, and rather than competing against a Kohai, it was more of a challenge to see how well I could do against Uchimura, who is still active at the moment. Of course, once we were in Kamae, I didn't feel that way anymore and we confronted each other as competitors."
Unfortunately, it didn't turn out to be an Ippon, but the audience was mesmerized by the all-in techniques: "In the quarter-finals and semifinals, Uchimura scored Kaeshi-do. Normally I would be cautious and wouldn't move out for Men, but my body moved on it's own."
The Shiai picked up the pace about 2 minutes in. Uchimura tried to counter pressure Takanabe, who was moving forward and applying Seme relentlessly, and at that very moment Takanabe performed a lightning-quick Kote.
"It was a subconscious move. Even if you ask me to strike it again, I don't think I can do it. Maybe I just happened to strike when he was expecting Men… It is a good thing that I was able to have that kind of attitude."
Takanabe's effort to keep a naturalistic stance has paid off.
Taking the lessons from past championships


The rest of this article is only available for Kendo Jidai International subscribers!