FREE ARTICLE
KENDOJIDAI 2021.1
The year 2020 is almost over. How are you kendo lovers doing? As the end of the year draws near, the city seems to be coming back to life. Although we can't get too fancy with Corona this year, all the stores are decorated with Halloween decorations, and when they're done, they'll be redecorated for Christmas in an instant. Maybe that's because this is the time of year when human emotions are in full swing, as well as the enthusiasm that drives the economy. Christmas is the season when people communicate their "feelings" from one person to another. Adults to children, husbands to wives, friends to friends, and lovers to lovers. The desire to convey one's feelings is everywhere, and it brings towns to life.
Abe Akihito
Born in Osaka in 1974. He created what is said to be the world's first Kendo website (www.isenokami.com) when he was enrolled at Keio University. After working at Dentsu Inc. and OgilvyOne Japan, he is currently working at Kayac. Engaged in creative development and campaign planning, mainly for Internet purposes. He has been a member of the Information System Committee of the All Japan Kendo Federation since 1997. His Twitter account is Akihito_ABE.
Kendo, similar to love?!
During this season, love is in the air. The famous swordsman, Miyamoto Musashi, wrote in his book "Dokkodo" that "there is no need to think about the path of love". He may mean that love is irrelevant for a person who aspires to the sword. It is true that if you only think about the person you love while practicing, you will be struck immediately. However, in this season of warmth, I often find myself thinking "Kendo and love are similar, aren't they? With all due respect to Miyamoto Musashi who tells later generations to keep love and Kendo separated, in this article I would like to introduce the similarities between Kendo and romance, and in the second half, I would like to introduce kendo-related Christmas gifts.
Both stare at each other incessantly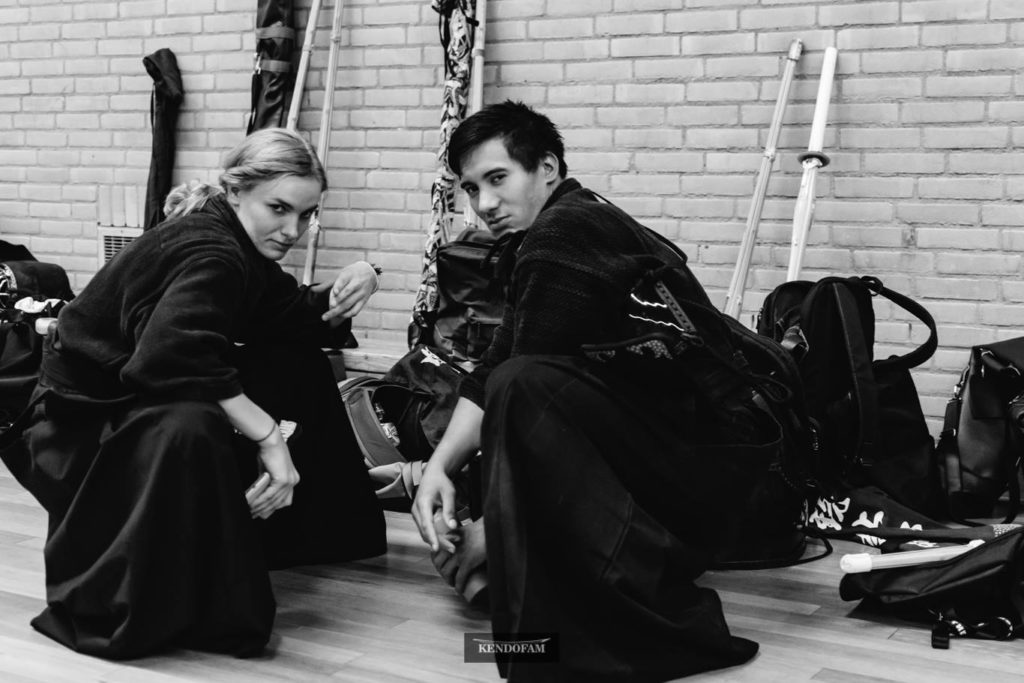 As it is often said that "love doesn't need words," love is an emotional exchange that goes beyond language. Although Kendo also vocalizes, it is basically to stare at the opponent and read his or her intention not with words but with the Shinai and signs of the mind. It is the same in the sense of gathering information about the opponent through non-verbal communication and deciding the next action, isn't it? I even entertain the thought that the act of staring into the eyes of the other in this way may be exclusive to Kendo and love.
In both cases, you lose sight of your surroundings
It's also known that love can be blind. When you have your heart set on someone, you don't care about anything else. In Kendo too, while seriously facing an opponent you won't care at all if there are 10,000 spectators around you, or none at all. Kendo and romance are similar in the sense that they are not influenced by their surroundings and enjoy a world between two people.
Both require patience
A relationship is, in another way, communication with a person whose living environment from the outset is completely different from yours. Therefore, it is natural that there will be differences in values and behavior. When you are in such a situation, it is important not to lose your temper, but to be patient and find the good points in the other person. Kendo, too, should not be done carelessly. It is important to have the patience to make it work.
Hard work pays off in both
Musashi Sensei once said, "do Keiko for a thousand days to be able to do Keiko for ten thousand days", which emphasizes the importance of hard work. All kendo enthusiasts know the importance of acquiring skills in a thousand days of Keiko, and then perfecting them in ten thousand days of Keiko. Kendo and love are the same in the sense that devoting oneself to a path will make it work.
They both hit hard
In both love and Kendo, there are times we look at each other quietly and still, but sometimes it is important to clash with each other vehemently. We should not spend our time with each other with isolated thoughts and differences, but rather we should understand each other by confronting each other's emotions to move on to the next stage. Like kendo, which is a change of pace from the quiet, mutual Seme between Kensaki to a fierce exchange of techniques, both sides have various ways of approaching one another.
There are many approaches in both cases
It's important to convey your thoughts straightforwardly, like swinging down for a basic Men strike in a big motion. It is necessary to approach in various ways, such as tapping the Shinai a little to see how it reacts, moving with your legs, and applying Katsugi to make the other react. On the other hand, when you are struck by smooth Seme, this can be surprisingly satisfying.
In neither of them should you miss the right moment
At times we are open to love, other times we are not. It is important to know whether the other is open to love in order to make it work. Similarly in Kendo, there must be an opening for a strike to land. Recognizing the right moment is crucial.
Both bridge gaps
An important thing in love is whether it is real. It is Can we respect each other as human beings and not just for income, family background, or status? Can you accept the good and the bad parts as well? If a couple can continue to form such a deep bond in their relationship, they will be surrounded by love. On the other hand, in Kendo, spending as much time as possible on Kendo with others requires us to see past sociological differences.
No such things should matter, and we should cross those bridges in pursuit of polishing one's way of the sword.
Kendo gifts that deepen your Love
I have brought you the case for the similarities between Kendo and love. Perhaps, for those who love each other may find even more strength in the pursuit of their goals in Kendo.
Love is something unobservable to the eye, but at Christmas, we often give it in a visible form (i.e., a Christmas gift). So, lastly, I would like to introduce some goodies for Kendo lovers. If you love Kendo, you might very well appreciate a Kendo gift. I created a variety of Kendo-related merchandise using illustrations drawn by illustrator Yokoyama Chihiro and watercolor artist Yano Motoharu, both of whom have been featured in my blog for some time. You can find some photos of them in this article. Many of the merchandise is simple in design without much words written on them to make them useful in everyday life. In fact, there are about 200 other products in different colors and sizes. From mugs to sweatshirts, smartphone cases, tote bags, notepads and more. There are a variety of products that are easy to use in your daily life, so they make for good gifts for your loved ones or your favorite Kendo Sensei. May they be fulfilling in both your love- and Kendo life.
For more information, please visit https://suzuri.jp/isenokami
Good news is that the All Japan Kendo Championship, which has been postponed, will be held next spring. The championship will be held in Nagano Prefecture, and the date will be March 14, which is White Day. White Day is the day when a man who received chocolates from a woman on Valentine's Day gives back a gift of sweets in return. Oh, I guess love and Kendo really do have something in common!
With love,
Abe Akihito
Photo Shooting = KENDOFAM