FREE ARTICLE
2016.10 KENDOJIDAI
Yagisawa Makoto, 8th Dan Kyoshi
Born in Akita Prefecture in 1961, 55 years old. Graduated from Akita Commercial High School and went on to study at Nippon Sport Science University. After graduation, he continued his research activities at the university as an assistant. Currently, he is a professor at the Nippon Sport Science University and head of the Kendo club.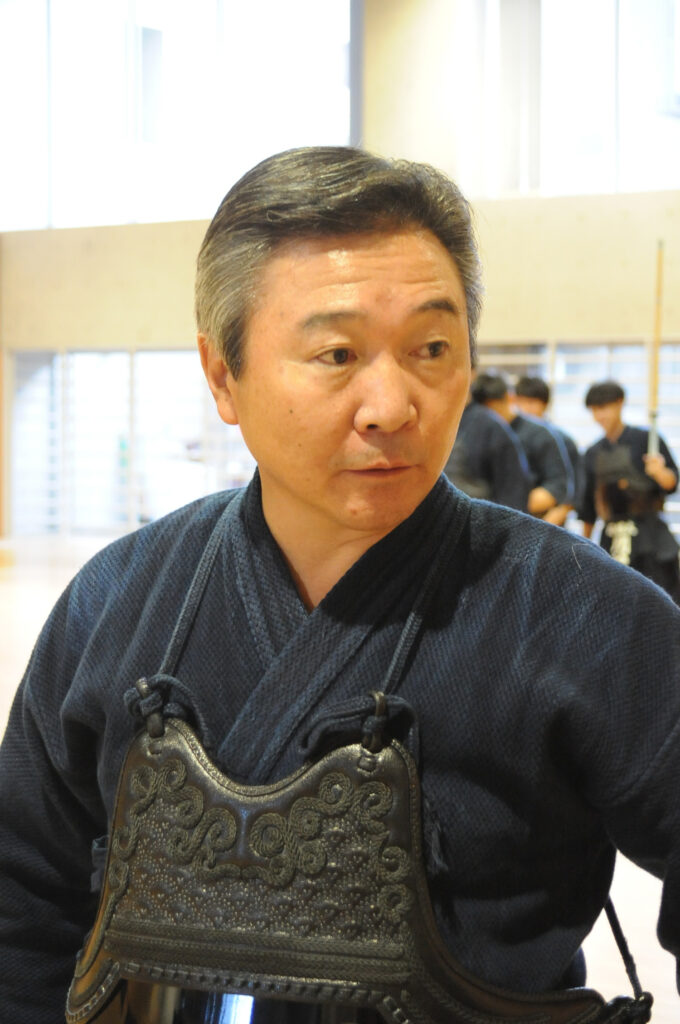 Kendo is about catching openings
Kendo is fundamentally a combative form of exercise, a one-on-one competition of skills. The techniques are based on the interaction with the opponent. It cannot be done based solely on the practitioners movements without an opponent.
Furthermore, since the main focus is on offense and defense at close range, the opponent's adjustments determine one's own adjustments, and these changes are extremely complex and diverse in both form and movement, making interaction with the opponent seemingly endless. This is where the difficulty of Kendo lies, as it cannot be solved by simply treating Kendo techniques on an individual level.
The All Japan Kendo Federation (hereafter referred to as "AJKF") theoretically organizes the structure of the technical movements, and explains the "technical elements of basic striking" as follows: "From a physical point of view, the striking action in Kendo is valued as an effective strike when the series of actions from Kamae to Seme to striking and Zanshin are completed.
In reality, in order to ensure a successful strike with this series of actions, it is necessary to seize even the slightest opening (or predict it) and strike at a moment's notice as the offense and defense unfold. Therefore, it is necessary to accurately grasp the opponent's physical and mental state before executing a strike, rather than just thinking (or feeling) that you have made a strike.
In other words, in addition to the four physical elements mentioned by the AJKF, the psychological elements such as catching an opportunity when moving from Seme to striking must be understood to allow an important role for it in the construction of striking techniques. Furthermore, it is well known that during that process, one must be able to handle the Shinai freely.
Seme and Shinai manipulation
It is very difficult to describe Seme in a few words, but for the sake of convenience, I will define it as "an action to create an opportunity to set up the conditions for an effective strike, or an action to create an opening by disrupting the opponent's mental or physical balance through spirit, Shinai manipulation, or body movement for an opportunity to strike".
Although there is no fixed form of Seme and it varies from one person to the next, there are lessons from the past such as "Sansappo" (three killing methods), which are being used to a great extent in modern Kendo.
There are many different ways to kill a sword. In other words, to break the opponent's Kamae.
Kill the sword: To nullify the opponent's sword, in other words do disrupt their
Kamae
Kill the technique: To nullify the opponent's trademark techniques.
Kill the spirit: To nullify the opponent's spirit by pressuring him with plenty of spirit.
Sansappo is explained as shown above. The three principles should not be performed separately but in unison.
In general, the Kensaki can be said to be essential to Shikake (initiation). as in "his Kensaki is effective", "his Kensaki is strong," and "Seme through the Kensaki". Sasamori Junzo Sensei states that there are several ways to use the Kensaki and the Shinai.
(1) Attaching (Tsukeru): Put the Shinai to each other about three inches from the Kensaki and learn how the opponent's mind is transmitted through the Shinai. Try attaching from both the left and right.
(2) Touching (Fureru): Lightly touch the opponent's Kensaki and move it from side to side to touch upon the opponent's mind.
(3) Suppressing (Osaeru): Attach and force sideways or diagonally down.
(4) Striking (Utsu): Strike the opponent's target area with the Shinai.
(5) Thrust (Haru): Make a strong, short thrust to the opponent's center with the Kensaki.
(6) Repel (Hajiku): Make contact a little longer than (5) for a deflecting effect.
(7) Sweep (Harau): Longer than (6) results in a Harai technique
(8) Strike down (Uchi-otoshi): To strike down the opponent's Shinai with force from above
(9) Overwhelm (Noru): Smothering the opponent's Shinai from above.
(10) Swirl (Maku): Swirl the opponent's Shinai around. There are two types: Clock- and counterclockwise.
(11) Turn (Mawasu): Turn around the opponent's Shinai.
In addition to this, there are many other ways to use the Kensaki to avoid contact with the opponent's Shinai, such as placing it high or low.
This way of operating and working the Kensaki and the Shinai is Shinai manipulation. First of all, it is important to practice repeatedly so as to understand and acquire this usage.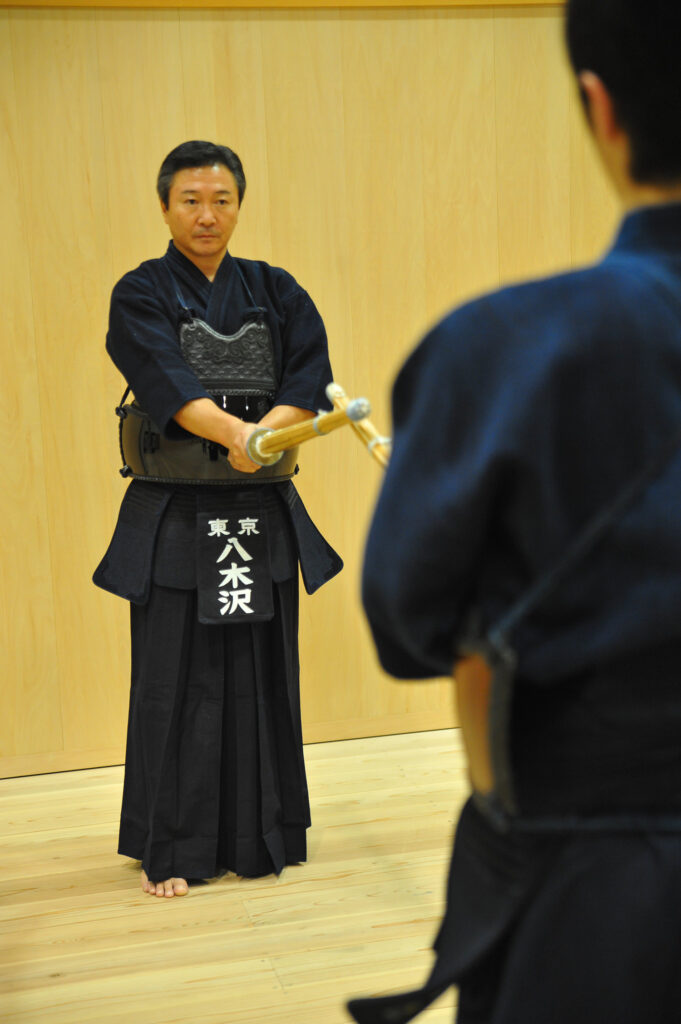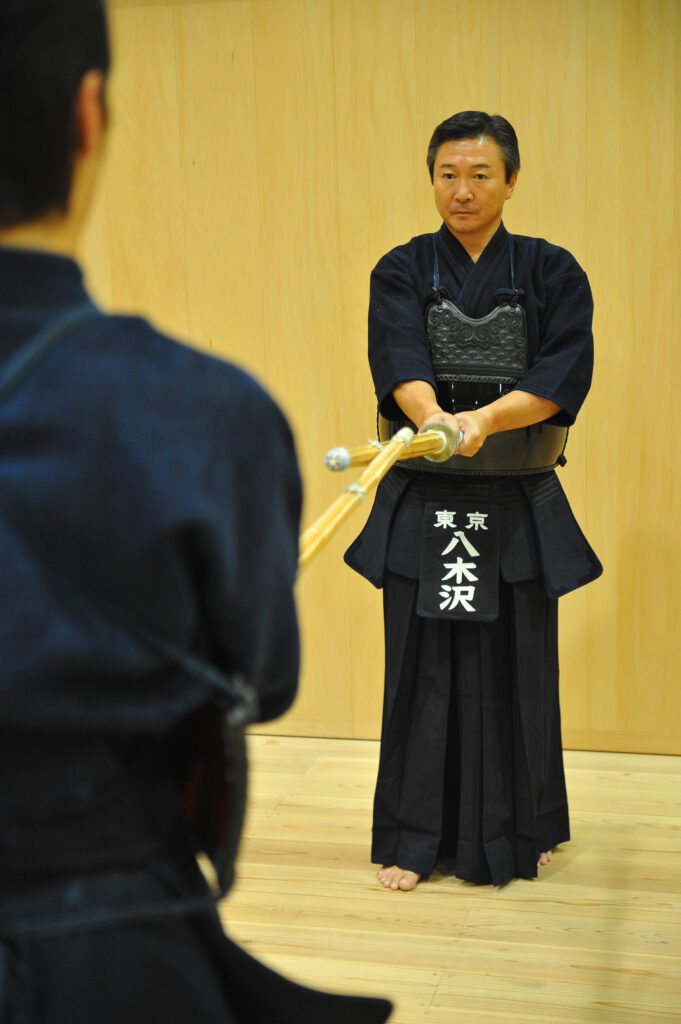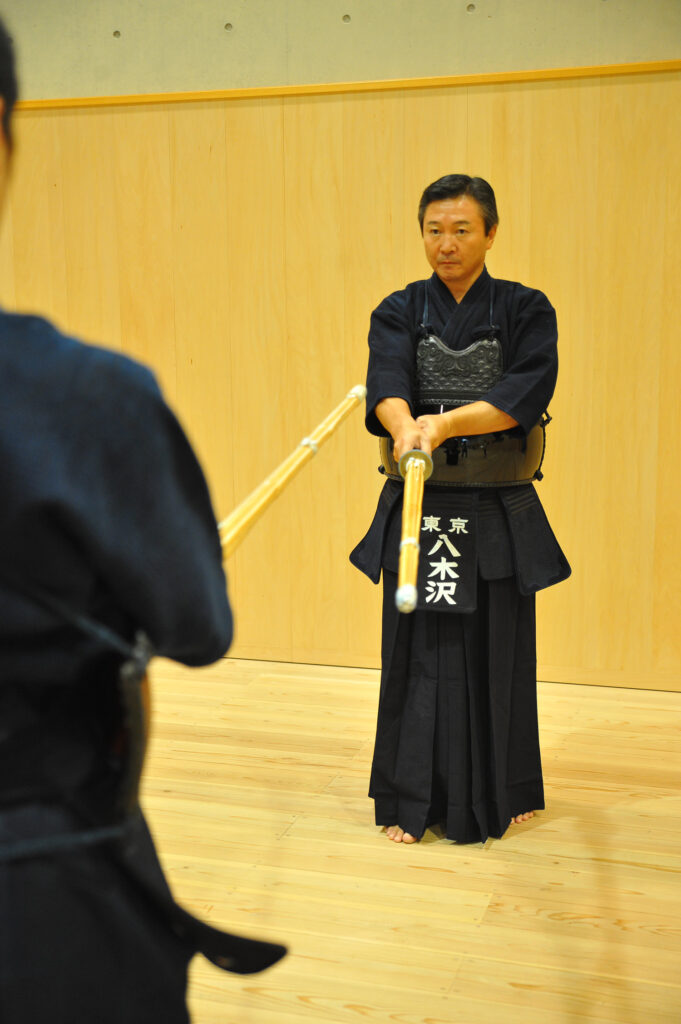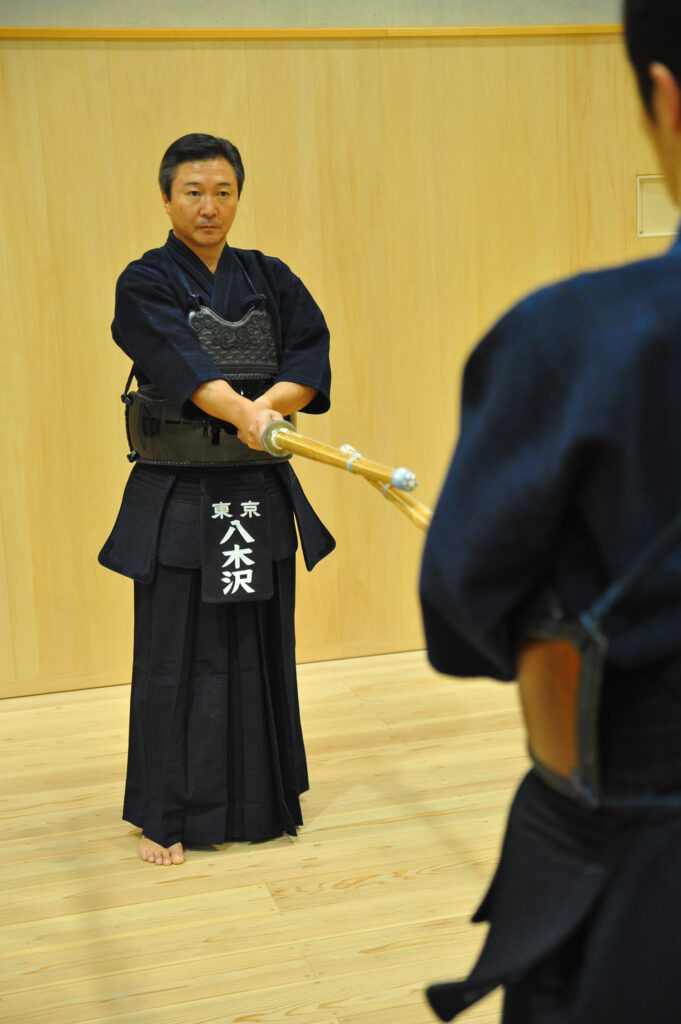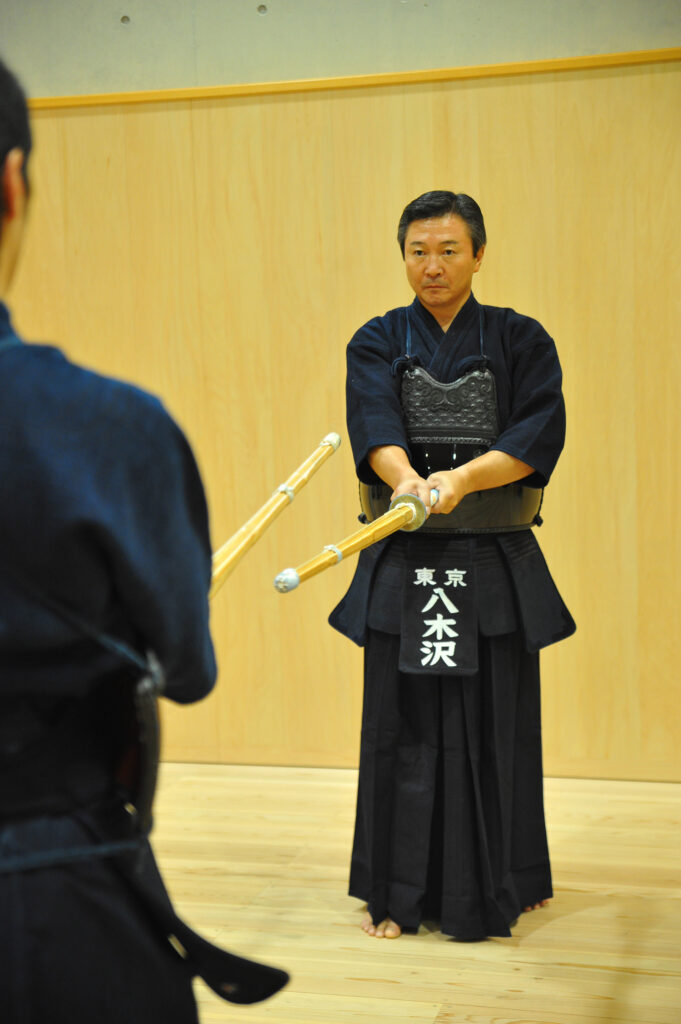 Striking opportunities and Shinai manipulation
In Kendo, Maai means the distance, either in space or time. From a technical point of view, people who are good at competing are often said to be good at Maai tactics. Also, in relation to Kamae, it is clear that the opportunity to strike is created by the tactics of Maai, so Maai must be utilized as an important element of Seme. In Shiai and Keiko, it is important to know when you can strike and when you cannot, and when your opponent will strike and when he will not. In offensive and defensive situations, it is important to take measure of the Maai not only with your hands, but also with your body movement (footwork). Mentally, it is important to have a proactive attitude toward attacking, and to be ready to apply Seme to your opponent even if it is only over a centimeter, which can lead to disrupting your opponent.
I also mentioned that in the process from Seme to striking, there is a psychological element of "catching the opportunity". This is about perceiving the change in Kamae caused by various physical and mental movements and disruptions as openings and recognizing it as an opportunity that lead to strikes
(please refer to the figure "Structure of catching opportunity").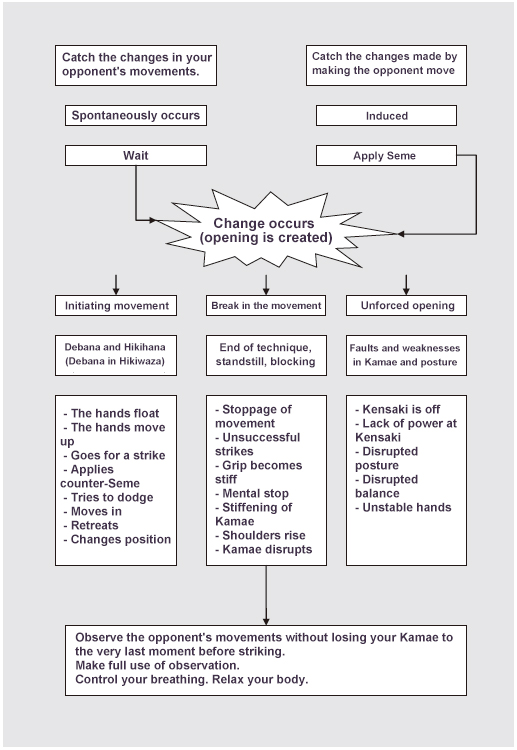 However, since the opponent's changes are extremely fluid and instantaneous, it is not enough to simply observe the opponent's situation. It is necessary to use your ability to discern, read, and predict the opponent's movements, while at the same time keeping in mind that you must be able to see and respond to the opponent's situation at a moment's notice.
If you see a change in the opponent's movement as an opening and take it as an opportunity to strike, then your Kamae is in a state of winning the Seme exchange. Maintaining this state to the very last moment leads to securing a successful strike.
When you enter Issoku-itto no Maai, you may mistakenly think that you have applied Seme or that you have an opportunity to strike, and you may easily launch a technique. I've experienced this first hand.
This is a way of executing a technique that can only be seen as rushing, being drawn out, or losing the exchange of Seme. I think it is important to be more aware of the interaction with the opponent and to devise the most appropriate Seme for yourself. In order to do this, it is important to create opportunities to strike, and I believe that using skillful shinai manipulation and being able to use Shikake-waza and Oji-waza in a flexible manner will give you an advantage over your opponent and help you win.
translation = Jouke van der Woude