2021.6 KENDOJIDAI
When Onda was a Tokuren Member of the Metropolitan Police Department, he was told to "Perform strikes in such a way that an observer wouldn't be able to tell which one is the Motodachi or Kakarite". He now stresses that the quality of Keiko is enhanced by a sense of immersion and that it is especially important for general practitioners with limited Keiko time to keep seeking the right way, and adjust and manifest their ability.
Photo: Nishiguchi Kunihiko
In cooperation with: Tokyo Shudokan
Translation: Jouke van der Woude
Onda Koji, 8th Dan Kyoshi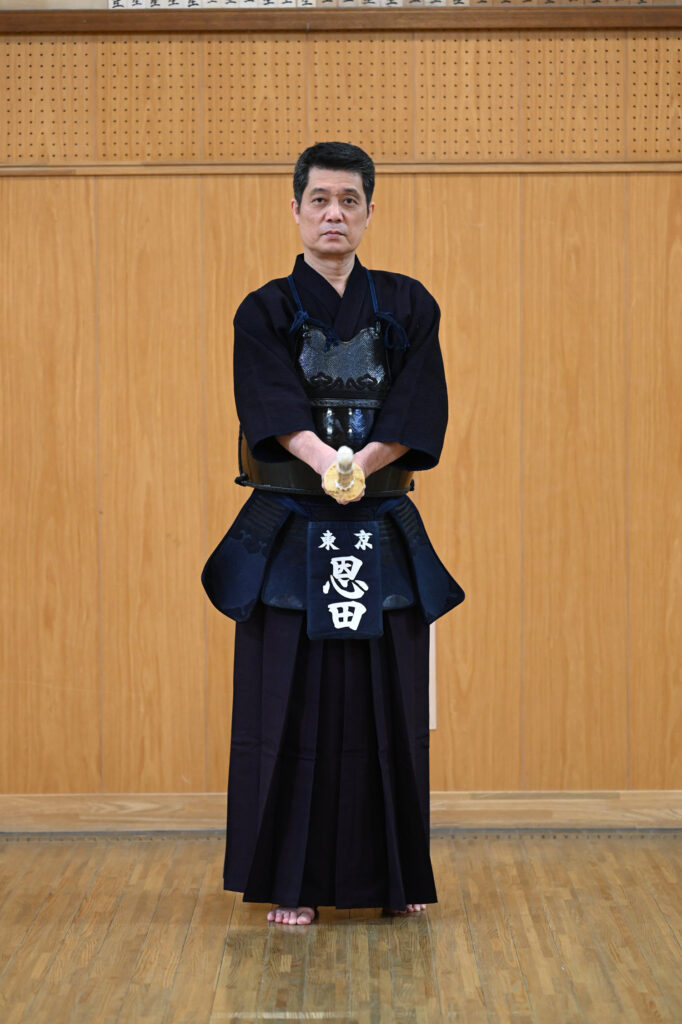 I retired from the Metropolitan Police Department on March 31, 2021. After graduating from the police academy at the age of 19, I began participating in Tokuren Kendo training, and today I am grateful that I was able to spend 41 years of my life at the Metropolitan Police Department focusing on Kendo, ending my career as Deputy Chief Instructor.
The Metropolitan Police Department's Kendo practitioners do Keiko daily in order to win various tournaments. However, most time in Keiko is spent on mastering the basics, since actual Shiai is an application of the basics. We used to start with Suburi, and went on to do Kirikaeshi, Uchikomi, Kakarigeiko, and Waza Keiko every day.
I think that non-professional practitioners who continue to do Keiko in their spare time tend to focus on Jigeiko. However, Jigeiko is an application of the basics to test what you have learned, so it is important to do Keiko on the basics such as Kirikaeshi and Uchikomi to improve.
Through my relationship with Nakamura Fukuyoshi, I have been appointed as an instructor at the Tokyo Shudokan, and have had the opportunity to cross Shinai with non-professional practitioners. At Shudokan, we always do Keiko on the basics such as footwork, Suburi, Kirikaeshi, and Uchikomi before we begin instructional Jigeiko. The results of this Keiko are reflected in the Dan examinations.
When it comes to Suburi, Kirikaeshi, Uchikomi-keiko, Kakarigeiko, Jigeiko and instructional Jigeiko, there is almost no difference in the Keiko methods of the Metropolitan Police Department and the Keiko of young Kenshi who have just started Kendo.
However, what you are looking and aiming for will change depending on your level of training, so it is important to pursue high quality and correctness of practice in your regular Keiko.
A good indicator for the correctness is a valid strike. Article 12 of the Regulation of Kendo Shiai and Shinpan states that "Yuko-datotsu is defined as an accurate strike or thrust made onto the Datotsu-bui of the opponent's Kendo-gu with Shinai at its Datotsu-bu in high spirits and correct posture, being followed by Zanshin". If you always keep these conditions in mind during Keiko in every single swing, your sense of immersion will change.
There is a limit to the number of times you can go to the Dojo to practice, but Suburi and footwork can be practiced on your own. If you try to practice in the Dojo what you have devised and researched in your solo Keiko, you will be able to shed light on your challenges and enjoy doing so.
The subtleties of Reiho (etiquette)


The rest of this article is only available for Kendo Jidai International subscribers!