FREE ARTICLE
Text = Sato Mariko
Translation: Anne Zwart
Reunited with friends: the true gentle face of kendo royalty France
France has undoubtedly left its mark on European Kendo, boasting the most EKC medals and wins. Its strength is truly overwhelming, so I assumed France takes their wins for granted. However, French team captain Ito says on this matter: "We feel great pressure every time."
Ito's looks are Japanese, but being born and raised in France, he is a pure Frenchman. He placed first in Men's individuals in the 28th EKC, and although he lost this title at this year's EKC, the French team got the gold. His sharp Kote on exact Debana timing was especially impressive.
During the day, Ito works for a bank. He combines his job with tough and frequent team practice. Ito explains his mindset for competitions: "I go to competitions because I can be with friends." An unexpected answer.
"The French male team get along very well. We do things with each other outside of Kendo as well. It's thanks to my teammates that I can continue practicing, because we're like family. Time spent with them is a happy place for me, so I keep going to practice to see them and practice with them. I would love for the junior team members to feel this atmosphere and fall in love with it once they enter the adult team as well.
We understand well that our level is not equal to Japan or South Korea and other really major players yet. But looking back on When we achieved 2-3 against South Korea at the last World Championships, I think we got those results because of the warm atmosphere we have in our team. I want to aim for top 4 of the world while keeping my teammate friends close.''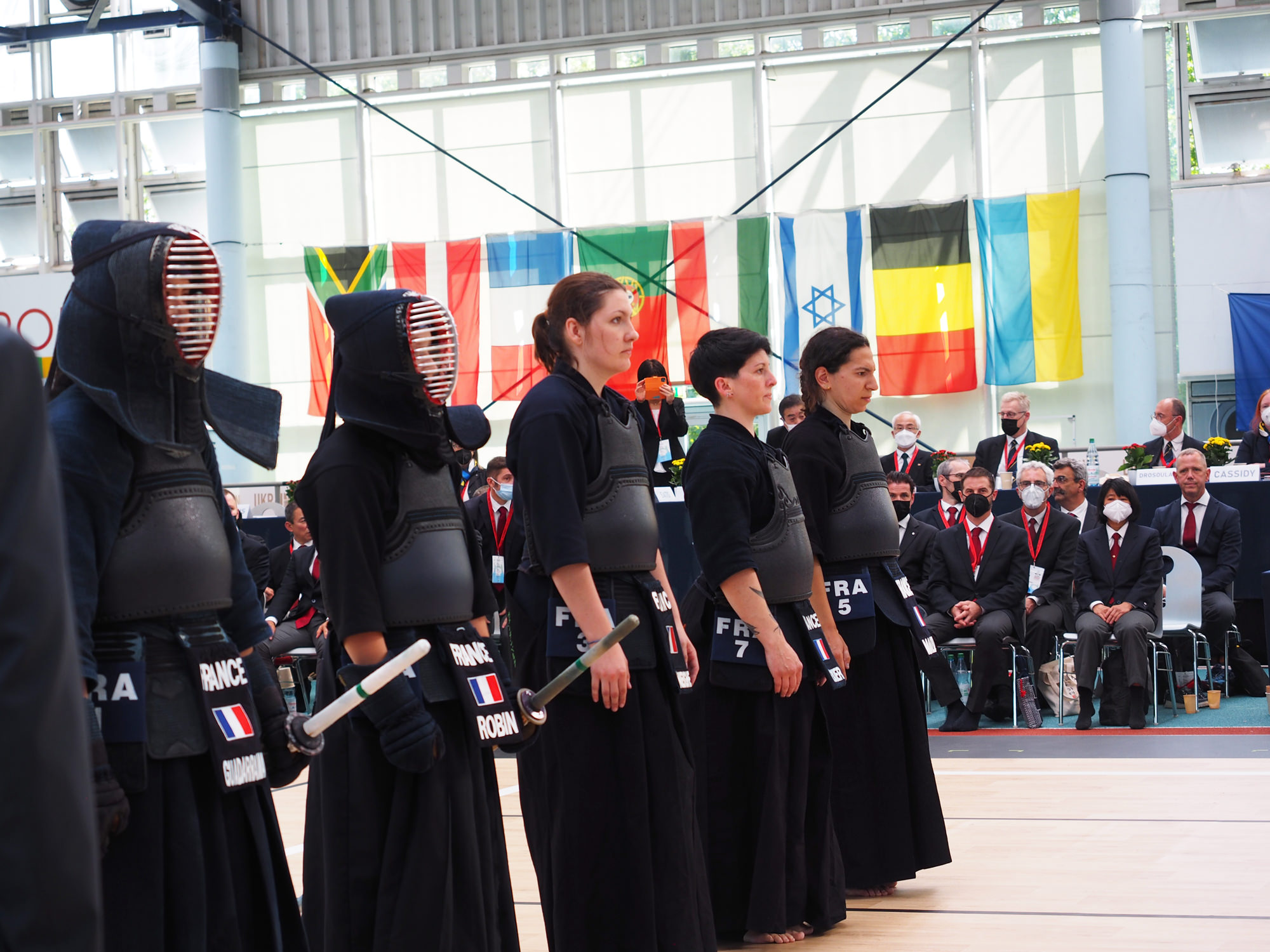 The French ladies' team, who regrettably placed second last EKC, is a varied mix of new members, young Kenshi and veteran players. This EKC, the young Kenshi brought passion to the team and got the points while the veterans maintained a good group atmosphere.
They played a remarkable final, winning 4-1. This result shows their uniquely high level. Team manager L. Hounnou says about their team building:
"We were unable to practice because of COVID for three years. We would practice Suburi among others over video, and we had a sports camp once lockdown ended, but we had to consider risks like members testing positive, so organizing these things was not straightforward. We started preparing for this EKC a year in advance, but we were only able to do proper Keiko from January.
Regardless, I think we did a great job polishing our physical and mental Kendo skills and our efforts bore fruit. Our current ladies' team has two young Kenshi and a veteran player who had to leave the team for a while after delivering her child. Everyone gets along well in the team. There was a burst of fighting spirit after the Chuken match against Switzerland, which allowed the members to face the rest of the competition with a positive attitude."
Both teams consciously kept building their team and interpersonal relations during COVID, and I feel like nurturing their relationships is a part of what led to the tandem team victory this year. Although France can pride itself in its overwhelming presence, strength and abundance of wins in the European Kendo scene, during this EKC we saw a glimpse of France's true, gentle nature: they were above all grateful for time spent with friends.
Strength through adversity: budding leadership in COVID times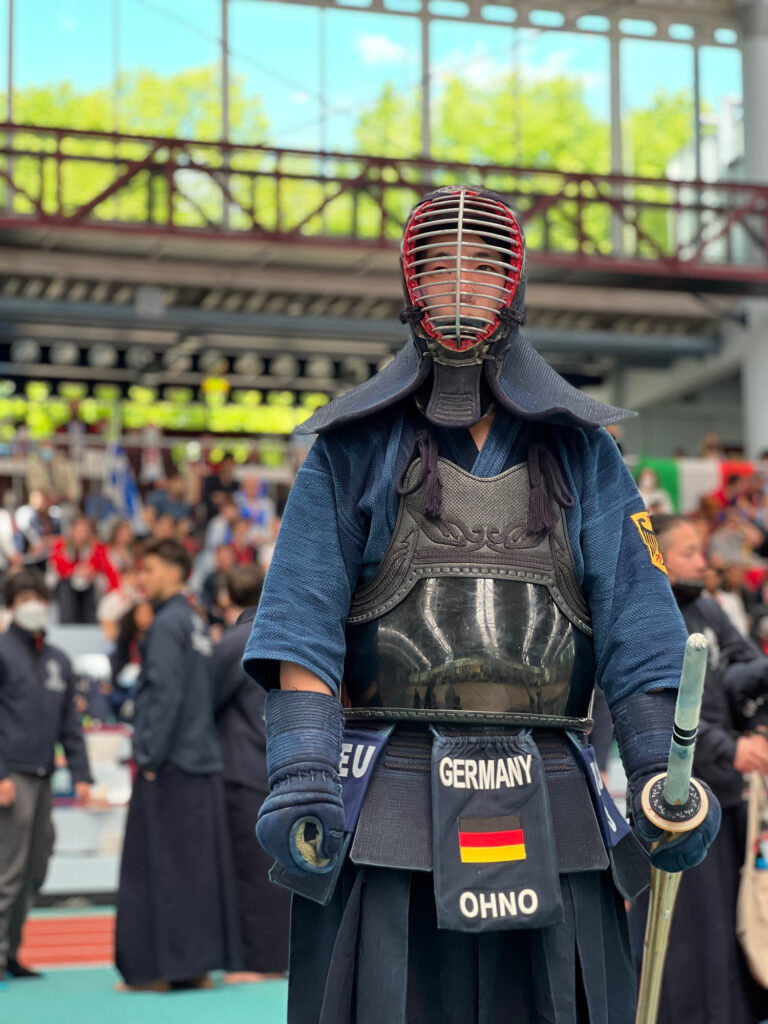 Germany was one of the teams to watch this EKC: their legacy as a formidable Kendo country backs their passionate teamwork. Seasoned Kenshi H. Ohno seemed to be at the heart of it all this year. Coach Morisaki says that "he grew as a leader throughout the COVID crisis." I saw Ohno at international competitions plenty of times, and I could always sense a quiet but strong will to fight.
Ohno sadly lost his individual semifinale against L. Przewlocki (France) when both men bet it all on a head-on Men to Men.
Ohno's parents are both Japanese, but Ohno himself was born and raised in Germany. You may find him interpreting at seminars. People who know him well praise him for his way with words: "Ohno isn't somebody who talks a lot, but he had some very quick translations for difficult Japanese when he was interpreting at a seminar. I think he is very bright, with a lot of language knowledge to draw from."
COVID took a lot from many people, but there are some who turned it into a change for the better: Ohno took this adversity as an opportunity to grow stronger and nurture their leadership skills. With the arrival of some young members, the German team has been born anew. I am expecting good results from them.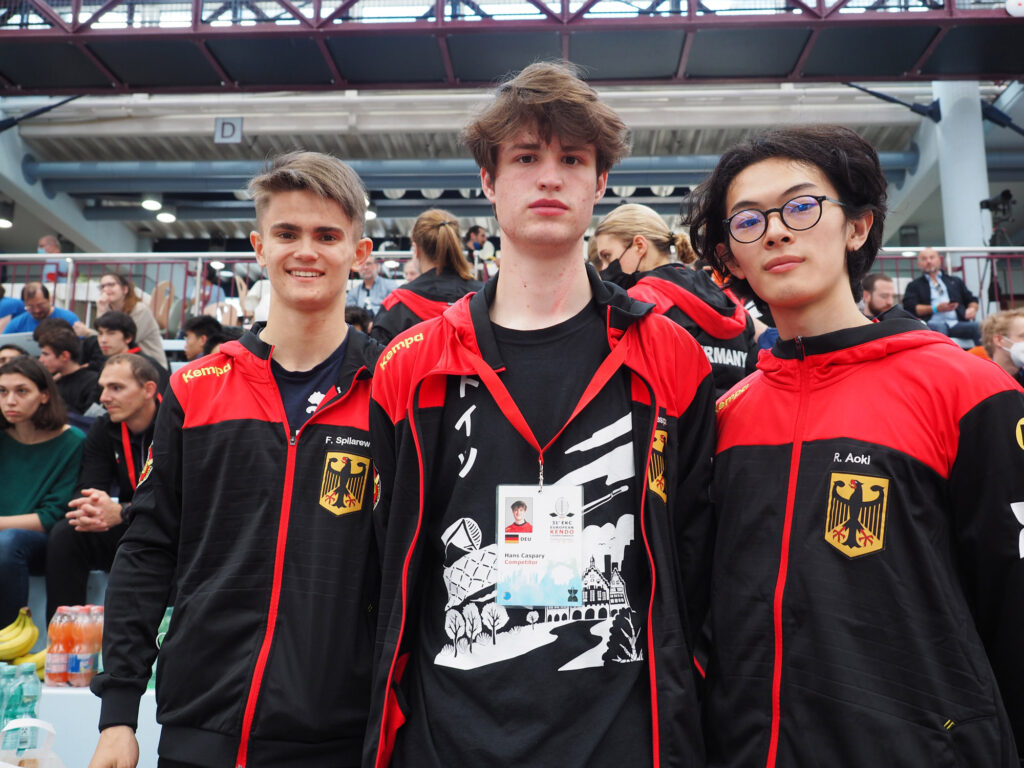 Junior team members also participated in this year's EKC.
European junior Kenshi get far fewer competitions than Japanese junior Kenshi. Because of this, some Kenshi can lose motivation and quit competing; this makes the good performance of the German juniors, who have kept on practicing even with COVID, something to be especially happy about. I am very curious to see how the juniors develop and perform in the future.
Like a rainstorm to a desert: the United Kingdom's eyes on the international stage
Although the United Kingdom was not able to get a prize for their team performances, it got second place in both the ladies' and men's individuals. The United Kingdom is known as a historically strong Kendo country, with Wakaba Kendo and Mumeishi Kendo Club as especially famous Dojo. From 2016, the team has been strengthening itself in weekly team practice under coach Hiyama, who has been working as a coach since 2016.
J. Wright came in second in last EKC's junior's individuals, and has been the object of much interest since. Wright is a passionate Kenshi, and would watch Nihon Kendo videos at home and practice by himself. K. Rukas, also from Wakaba Kendo, made his first appearance at EKC this year, but already got the silver in the men's individuals.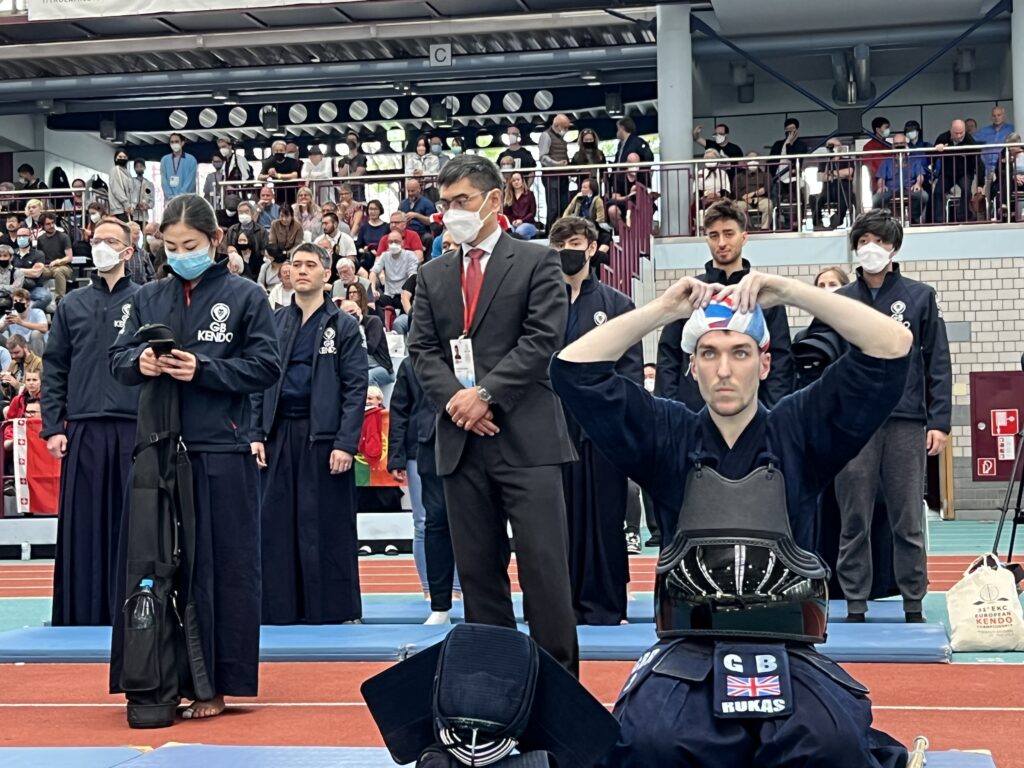 A team full of love and its virtuous cycle of support
The Belgian team felt like a big family this year to observers.
As I was collecting data this EKC, I noticed that the question of quitting or continuing Kendo was a recurring subject in interviews. There are many players who quit Kendo, especially in the junior league.
In contrast, the Belgian team is made up almost entirely of Kenshi who have been practicing Kendo from a young age. Wakakoma Kenshinkai and Kojika Club are at the heart of Belgian efforts to train young Kenshi for the national team. Both Dojo regularly hold international youth competitions to provide their and other junior Kenshi with chances to compete. Highly ranked Sensei and young Kenshi come together to train the juniors, and those juniors grow up to raise the next generation and so forth: this self-recreating environment feels ideal for Kendo.
Reigning ladies' champion F. D'Hont says: "I looked over to Yano sensei (she didn't know but I did this before every shiai) and I stepped into the shiaijo.
When I made the first ippon. That feeling… I can not put it into words. Unbelievable. I had my team behind me and my family supporting for me. Everybody I know has supported me to this moment and believed in me to do this. A day to never forget in my life."
Before COVID, the Wakakoma juniors would have their own cheerleading squad of their youngest Dojo members directly behind them every match. This impactful image shows a clear unity in Belgian Kendo, born from love for the art and their Kendo friends. This feeling of unity surely contributed to their great results this year: first and third place in ladies' individuals and third place in men's teams.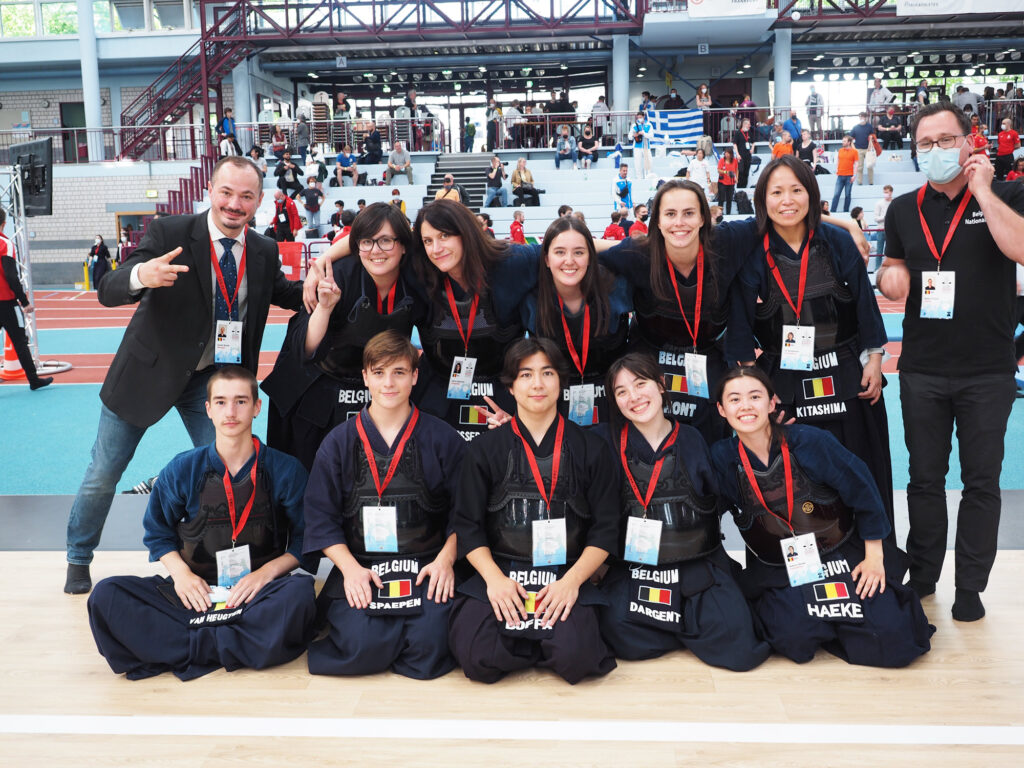 Medina Wolpert: a young Kenshi from the heavenly Canary Islands
N. Medina Wolpert, who came in third in the junior's individuals, is from the Canary Islands. From this little slice of heaven on earth, he discovered Kendo through videos of The All Japan KENDO Championship. He went looking for a Dojo nearby straight away to observe a training there: "I was moved, there were such impressive matches." He has been training for four years since then. He says about his history with Kendo: "After I got into Kendo, I have been training hard every day and made it to the EKC. This is also my first EKC, so I was very nervous before my matches." He sadly lost against T. Adeyinka (United Kingdom) in the semifinals, but I am following his progress with interest.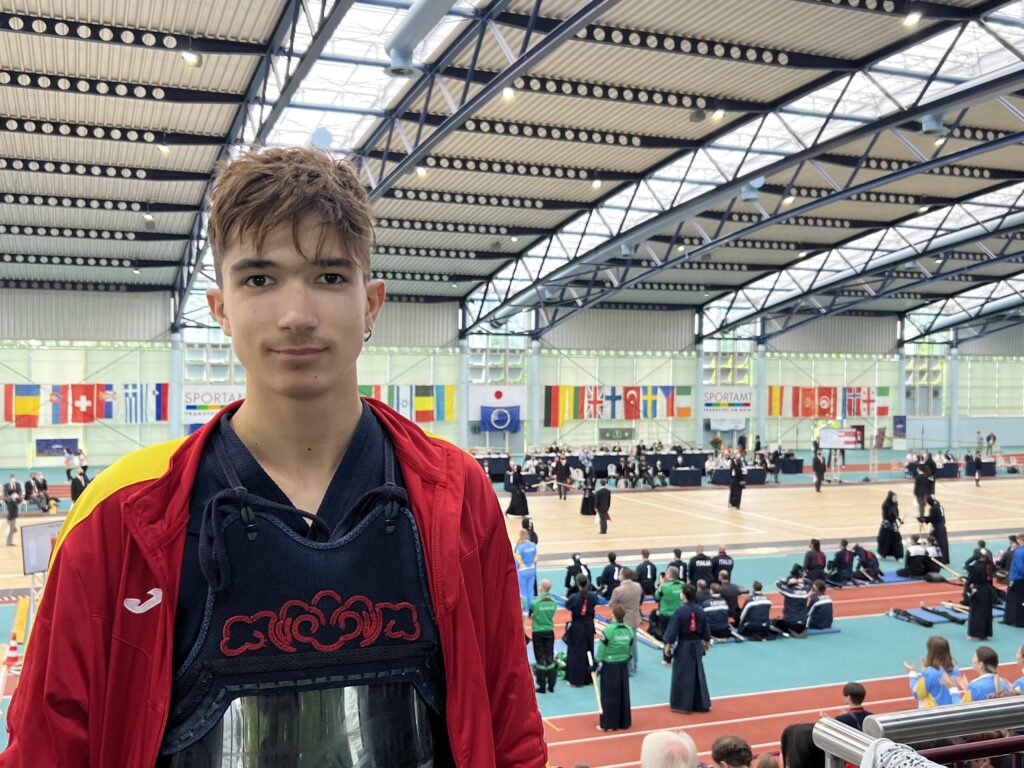 Powerhouse Poland, even through COVID
The Polish juniors got the bronze in junior teams. During COVID lockdown, they trained with each other over video, and they resumed regular practice with the adult team members after training with Men on was allowed again. They also attended as many international competitions as they could.
T. Boroń is the oldest of the Polish juniors at 18, and regularly makes appearances at EKC. He has been practicing for 11 years. Of those 11 years, he has spent two silently but diligently preparing for this year's EKC.
S. Wiążewski fought his first EKC this year. He is 16 years old, and has been practicing Kendo for 4 years. A friend of his father knew of his interest in Japanese culture,and introduced Kendo to Wiążewski.
D. Żak is also 16, and has been practicing Kendo for 10 years. He says about his performance this EKC: "I gave it my all."
Poland has a strong presence among European Kendo youth and this has continued even through COVID, showing their strength in their unflappable attitude and thorough preparation for this EKC.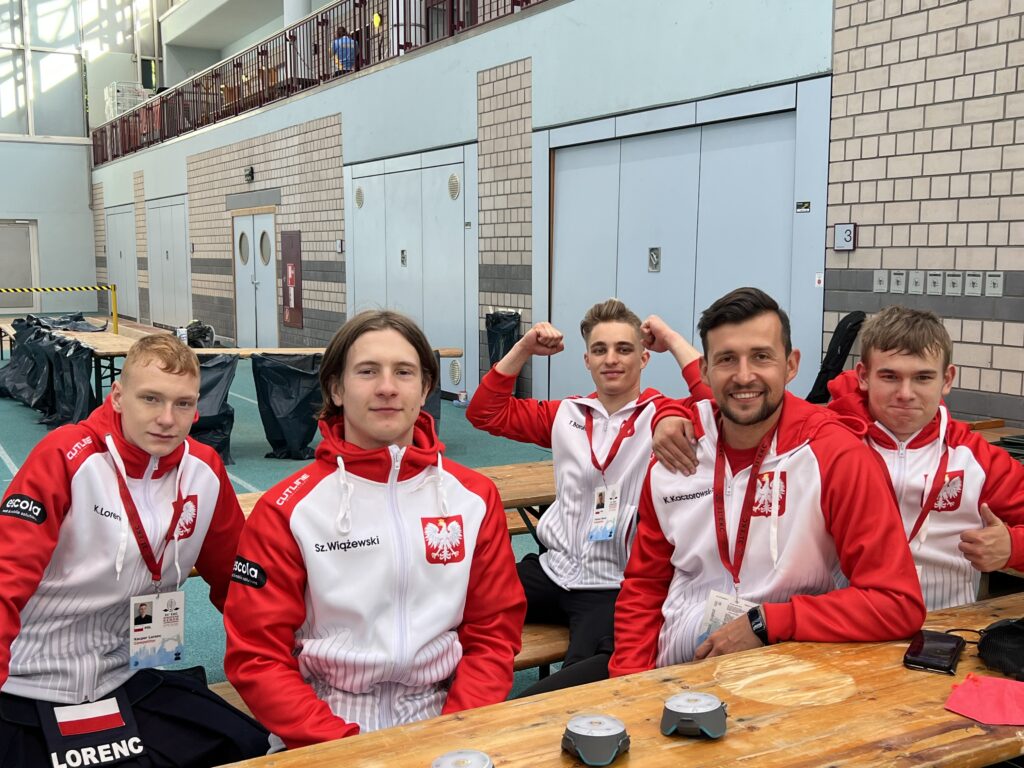 Ukraine: crowdfunding to make EKC happen
Ukraine is currently the center of international attention. Some might wonder whether a country under attack should even be thinking about Kendo, but despite the circumstances, Evgeny Andreev set up crowdfunding to help Ukraine participate in this EKC. Andreev, who currently lives in Paris, gathered enough to cover all costs for the team members, who came to Frankfurt from the many different places they are currently staying. Even with their lives and hometowns at risk, the Ukrainian team did not succumb to fear or pressure: to them, picking up their Shinai and practicing their art may have been a great way to process the current situation.
Head of the Ukrainian Kendo Federation Kostyantyn Stryzhychenko says: "it would be great if our participation in this EKC can plant a seed of hope. Many European and Japanese Kenshi donated to our crowd funding and supported us in other ways, and we are very grateful for that." Some Ukrainian refugees had been staying close to the venue before EKC, so this created extra support for Ukraine.
Although their governments are at war, the Russian and Ukrainian team members have deepened their friendship through Kendo. The small glimpse we can see of Kendo contributing to peace has me full of hope.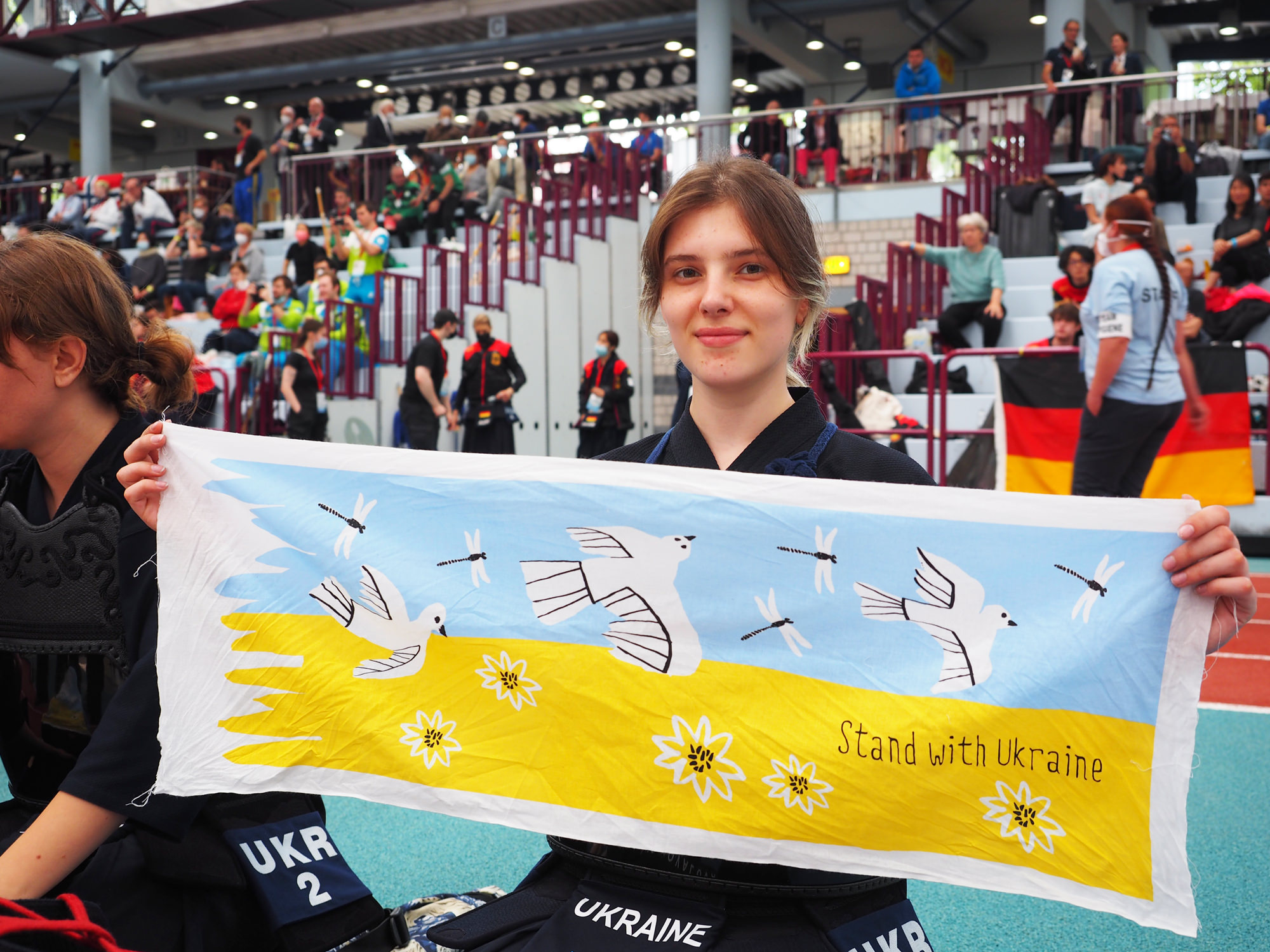 First international Kendo competition post-COVID
Europe as a whole experienced a very long lockdown. Although every country is doing so at their own pace, everything has been slowly but slowly reopening; in the Netherlands, where I have been residing for a long time, most Kenshi are now training without a mask or face shield.
Considering all the different countries and their differing COVID rules, this EKC enforced masks at the venue and a face shield during matches. After the matches were done, players were obligated to put their mask on.
The COVID rules for Kendo as decided in Japan were swiftly adopted by some countries, while others were later in their response. These countries also have differing COVID policies, and different social circumstances regarding COVID. In that sense, it may not be strange that different countries responded to the Japanese COVID rules differently.
EKC's junior division is open to Kenshi up until 18 years old. However, since there were junior Kenshi who were not able to compete during this time frame due to COVID, the junior teams' Taisho was allowed to be up until 20 years old as the oldest member this year.
Some mentioned that they thought that this EKC was able to place specifically because it was in Germany. Germany's Kendo federation was able to use its organizational power and the formidable effort of its competition management staff to the fullest and organize this EKC.
Many Kenshi this year told me that they go to EKC to meet their friends from other countries. Because Europe is a connected landmass, the Kenshi here go to different countries to cross swords and make friendships. This EKC was the light at the end of the tunnel, marking the end of a long and dark period of awaiting the end of a worldwide crisis.