2023.1 KENDOJIDAI
photo= Sasai Takamasa
translation= Pepijn Boomgaard
The 64th All Japan Corporate Tournament was won by Mitsui Sumitomo Insurance (head office). It was the first time in 13 years that the company managed to seize the title. The company won the tournament for the seventh time. Honma Sho was the team's captain, and he was awarded the best player award for his performances in the semifinals and finals. During his time at Chuo University, he helped his team win the All Japan Student Championship twice. He has been with the company for three years.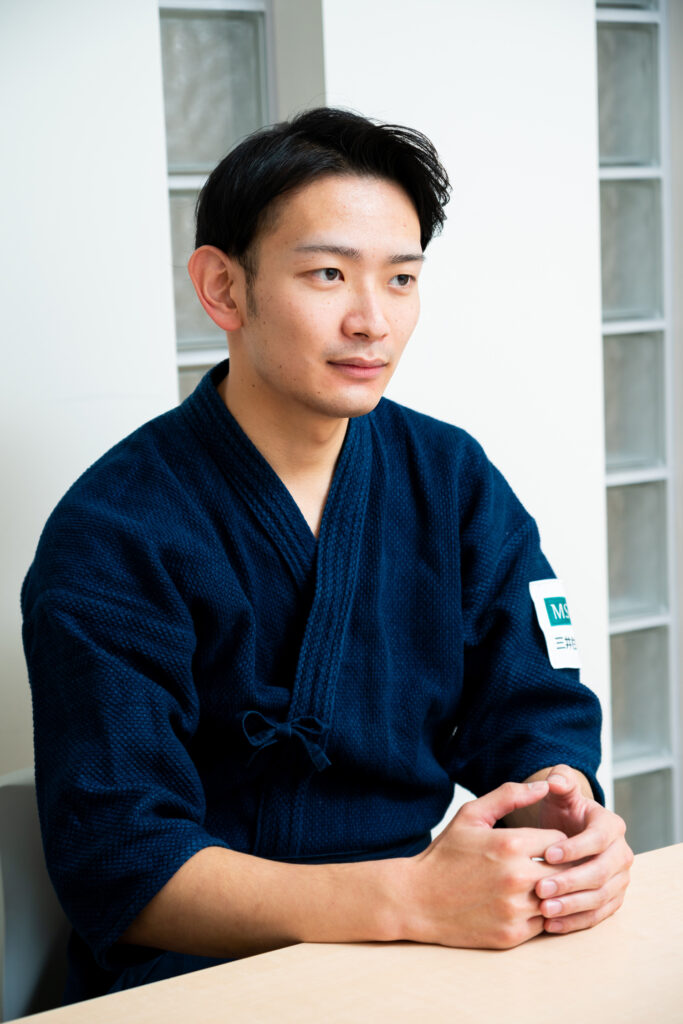 Winning through preparation and ingenuity led to receiving the best player award
"It was my first All Japan Corporate Tournament. In both my first and second years in the company, I was unable to participate because of the corona pandemic. I'm very happy that I was able to win this time." This year, he also participated in the Kanto Corporate Tournament. In his first corporate competition, Honma placed third, showing his ability. "Coach Tonouchi often said, 'Always be prepared and ingenuitive.' Us corporate players have to give top priority to our work. So we focus on high quality training and training diligently." This year's All Japan Corporate Tournament attracted 302 teams, far more than the 79 teams that participated in the previous tournament. In this reinvigorated tournament, many teams were eager to win. However, it was Mitsui Sumitomo Insurance that came out on top. In the semifinals, Honma scored a memorable Men in the Daihyo-sen against the Nishi-Nippon City Bank team. "My coach asked me if I could do it. I asked him what he thought. He gave me some pointers and I went into the match."
In the finals they faced the NTT headquarters team, the winners of the Kanto Tournament. The first two matches ended in draws, but Mitsui Sumitomo Insurance's Morimoto managed to win his Chuken match with one Ippon. The team was in the lead when it was time for Honma's Taisho match. His opponent was Hyodo Hironori, his senior at Chuo University.
"Hyodo is also a member of the Chiba Kendo Federation, so we often do warming up together during the All Japan preliminaries. We also give each other advice on matches.
Normally they are good friends, but they had to face each other in this important match. Honma ended up winning with two Ippon. "Since we both knew each other well, I think that because his team was behind, he was at a disadvantage. If the roles had been reversed, I would have lost." Honma quickly analyzed the match. Why did he win? We also asked him what drove him to victory.
"I have always taken the stance of giving it my all each and every match without worrying about how I'm feeling. This time, I was able to win the best player award for my performances in the semifinals and final match, but other players did well in other matches. I think that everyone demonstrated their abilities and we won through teamwork. Everyone is the MVP. Also, we were able to practice with the support of many of our seniors, including the director and coach. Some of our seniors showed up to practice even though they were busy. It was also these seniors who prepared us for training while dealing with the pandemic. It must have been hard negotiating with the company."
This was Honma's first All Japan Corporate Tournament. He was simply happy to win, but what left the biggest impression on him was the sight of his seniors crying tears of joy. "I think that the past 13 years have been hard for my seniors. I once again felt how wonderful it is to have a club with so much tradition and support. I also believe that it was everyone's support that gave me the final push required to score that last Ippon."
Raised awareness of Motodachi led to improvements in training


The rest of this article is only available for Kendo Jidai International subscribers!