2023.3 KENDOJIDAI
Composition: Teraoka Tomoyuki
Photography: Nishiguchi Kunihiko
Translation: Pepijn Boomgaard
The famous University of Tsukuba achieved its first national title in a long time. The team was led by four seniors: Ohira Shoshi, Kurokawa Yudai, Jukurogi Yusuke, and Abe Soki. They came to Tsukuba with the aim of becoming the best in Japan. In this article, they reflect on their four years at the University of Tsukuba and discuss how they were able to achieve their goal of being number one.
Kurokawa Yudai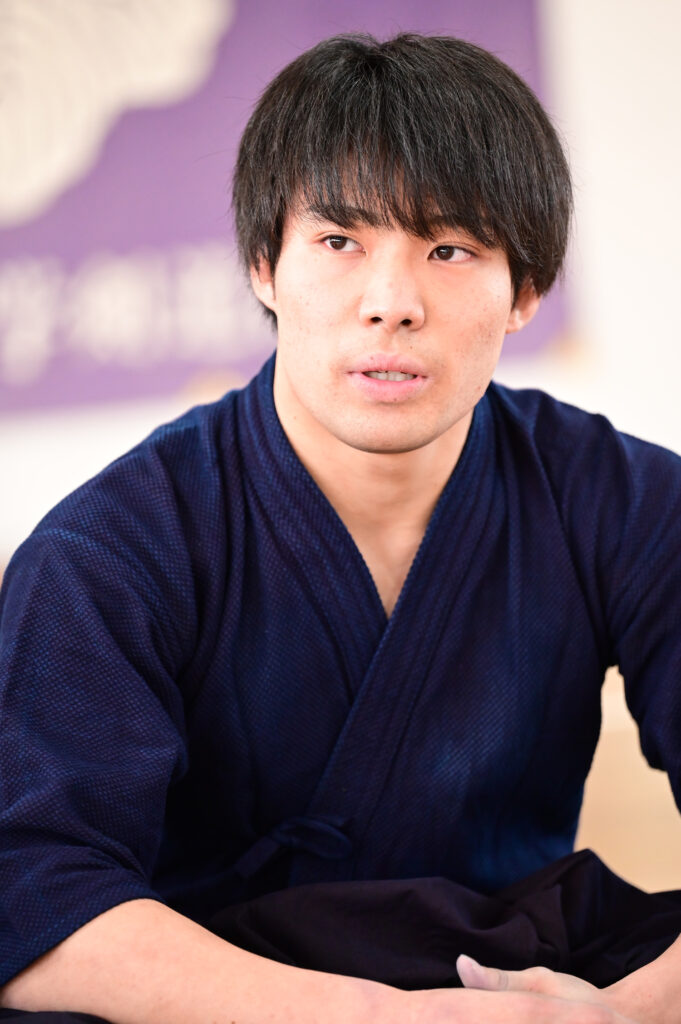 Born in 2000 in Fukuoka prefecture. Started Kendo at age 6 at Sue Kenyukai. Went to Sue Junior High School and Shimabara High School.
Abe Soki
Born in 2000 in Hyogo prefecture. Started Kendo at age 6 at Innami Kendojo. Went to Kakogawa Junior High School and Ikuei High School.
Jukurogi Yusuke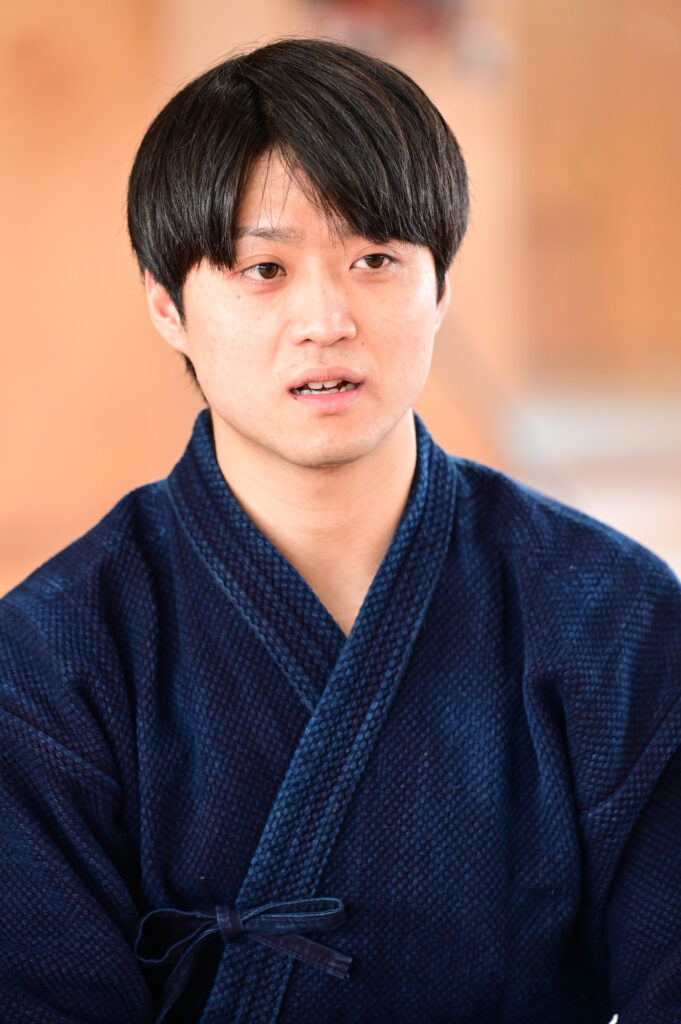 Born in 2000 in Kanagawa prefecture. Started Kendo at age 4 at Yako Kenyukai. Went to Ushioda Junior High School and Kyushu Gakuin High School.
Ohira Shoshi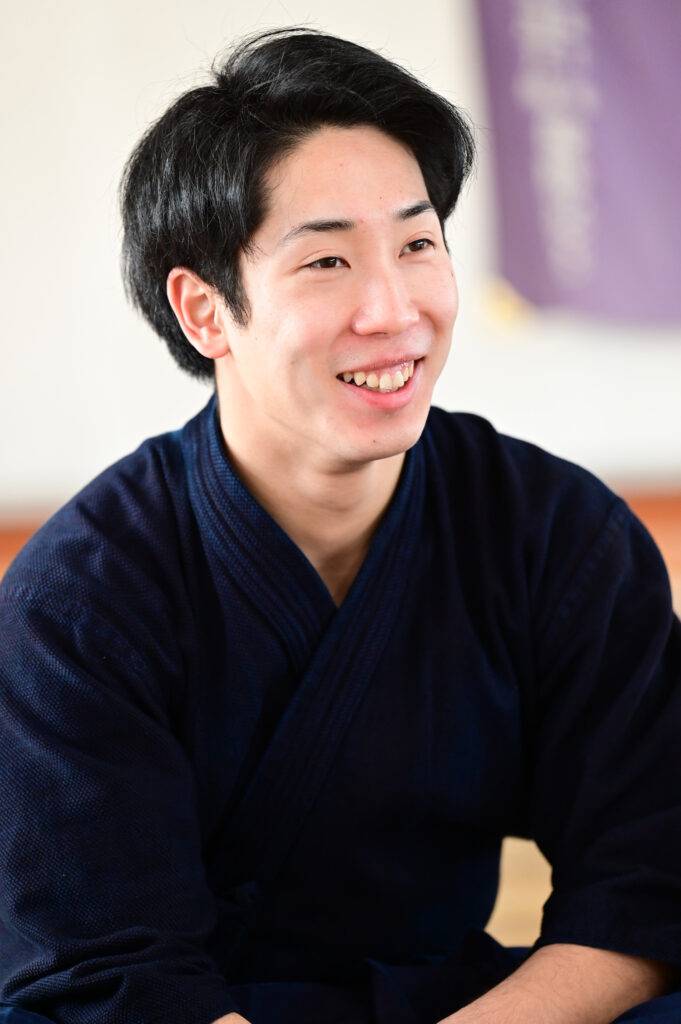 Born in 2000 in Tokyo. Started Kendo at age 4 at Toshokan Dojo. Went to Seki Junior High School and Sano Nihon University High School.
The friendships formed at at the spring training camp
Following in the footsteps of Hoshiko and Matsuzaki
Congratulations on regaining the title last year. Today I would like to ask the four of you to reflect on your four years at Tsukuba.
Everyone: Yoroshiku Onegaishimasu!
First of all, I would like to ask you what your first impressions were of each other when you first enrolled.
Ohira: When I was in high school, I didn't really speak to people from other schools. However, all three were captains of strong schools, so I knew them and had even played some matches against them. I was excited to hear that we would be on the same team in Tsukuba.
Abe: Me too. I had never talked to them, but I was excited.
Jukurogi: In high school, I had fought them at national tournaments, sometimes winning and sometimes losing. I felt that by being on the same team as them, Tsukuba could become the best in Japan.
Kurogawa: In high school, I often fought Jukurogi at practice matches, but I had never faced Ohira and Abe. Of course, I knew that they were strong, so I was happy to learn that I would be able to practice with them in university.
So you prefer to think of each other as friends rather than rivals?
Jukurogi: We all wanted to be the best in Japan, so I think that we were happy to have each other as teammates.
Abe: Ohira, Jukurogi and Kurokawa were the strongest in our year. I was outclassed by them. Of course, I felt frustrated, but I was determined to work hard and get good results to make up for it.
Kurokawa: There isn't actually much of a skill gap between us. I've also lost when we did Keiko. When someone else got good results, I didn't want to fall behind. I think we were able to stimulate each other for four years.
Why did all of you originally want to enter the University of Tsukuba?
Jukurogi: Of course I wanted to learn from the teachers at the University of Tsukuba, but I also had a strong admiration for the senior students, especially Hoshiko Keita. He was also my senior at high school, and I wanted to compete on the same team as him again at university.
Kurokawa: For me, Matsuzaki Kenshiro, who graduated from the same high school as me, was a great influence. My coach at Shimabara High School, Watanabe Takatsune, also graduated from the University of Tsukuba, so I naturally felt attracted to Tsukuba.
Abe: Since starting Kendo, I had never experienced what it was like to be number one in Japan. In my third year of high school, I came second at the All Japan High School Tournament. I absolutely wanted to become the best in Japan in university, so I felt like the University of Tsukuba was my only option. I was worried whether I would be able to get in, as I didn't have that many achievements, but fortunately I was able to enroll.
Ohira: I thought that this generation's best players were at Tsukuba, and as such it is one of the best environments to train in Japan. I wanted to know how well I could do at such a place, so I decided to go to the University of Tsukuba.
So you all entered the University of Tsukuba with the goal of becoming the best in Japan. It sounds like you hadn't really talked to each other before entering university. Were you able to get to know each other quickly?
Jukurogi: We became friends at the first spring training camp. I feel like we bonded there immediately.
Abe: That camp was really tough. It's a bit embarrassing to talk about, but it was so hard that as we were walking back to our accommodation, our legs started cramping and we were stumbling. I think we naturally became friends because of that. It was interesting to talk to them and realize how different they were from the image I had of them. Ohira looks rigid but can be easy going. Jukurogi looks intimidating but he is very friendly. Kurokawa doesn't speak ill of others and is a very gentle person at heart.
Jukurogi already was given a spot in the team during the first year, right?
Jukurogi: I was not confident at all, but I was able to win at the selection matches and I was awarded a spot in the team. I think it was a good thing that I studied the players who would be participating in the selections during everyday Keiko.
Kurokawa: I honestly thought that Jukurogi was amazing, but I felt defeated for not being selected myself.
Abe: I felt like I was not yet able to compete at the same level as they were, so this result was understandable to me. When I entered my third year, I was hoping to be selected.
Jukurogi: I think this goes for everyone, but during my first year, just keeping up with the seniors was hard enough. I was able to join Hoshiko and Matsuzaki's physical training sessions. When I saw how strong they were yet never neglected to work hard, I felt like I had no choice but to give everything I had.
Abe: I think that the first-year students felt that giving everything was expected of them, or that it would be embarrassing not to.
Ohira: Everyone felt that way, and we all worked on our Keiko and physical training accordingly.
Strictly looking at the length of Keiko, I know that for many people high school Keiko was more rigorous. What was your experience?
Ohira: If we only look at the training hours, practice in high school was longer and intense. However, the quality of Keiko at Tsukuba is very high, and you are always able to cross Shinai with some of the strongest people in Japan. I think this is the main reason why the University of Tsukuba is so strong.
Abe:If you are a third or fourth-year student, the first-year students will all come to you to do Jigeiko. It's like Tachikiri. There was always a long line for Hoshiko and Matsuzaki.
After having trained at Tsukuba for a year, did you feel like you had become stronger than you were in high school?
Abe: I absolutely felt that way. I was able to visit my alma mater, Ikuei, with confidence. After all, I was able to learn from the attitude with which my seniors engaged in their Kendo.
Jukurogi: In high school, I was the Taisho of the team, so during Shiai I mostly thought about not getting hit. However, I felt like this way of doing Kendo would not work at the collegiate level. I consciously changed my Kendo, and I feel like I was able to adjust well to the differences between high school and university.
Kurogawa: In high school, my Kendo lacked a solid basis. I think I was able to gradually change to a more solid Kendo.
You placed second at the All Japan Student Championship in your first year of university. How did you feel about that result?
Jukurogi: I was the Senpo of the team. In the finals, my match ended in a draw. I felt very defeated when we lost.
Abe: I had seen my seniors go at their Keiko extremely hard leading up to the tournament, but even that was not enough to win. I felt that I had to practice even harder.
Ohira: I realized that it was tremendously difficult to be the best in Japan. When I was watching the matches, I felt that I wanted to join the team as soon as possible.
2 years of tournament cancellations due to COVID-19
Ohira debuts in the All Japan Kendo Championship


The rest of this article is only available for Kendo Jidai International subscribers!