2021.4 KENDOJIDAI
Photography: Sasai Takamasa
Interview: Yanagida Naoko
Translation: Anne Zwart
Takenaka Kentaro, Kyoshi 8-Dan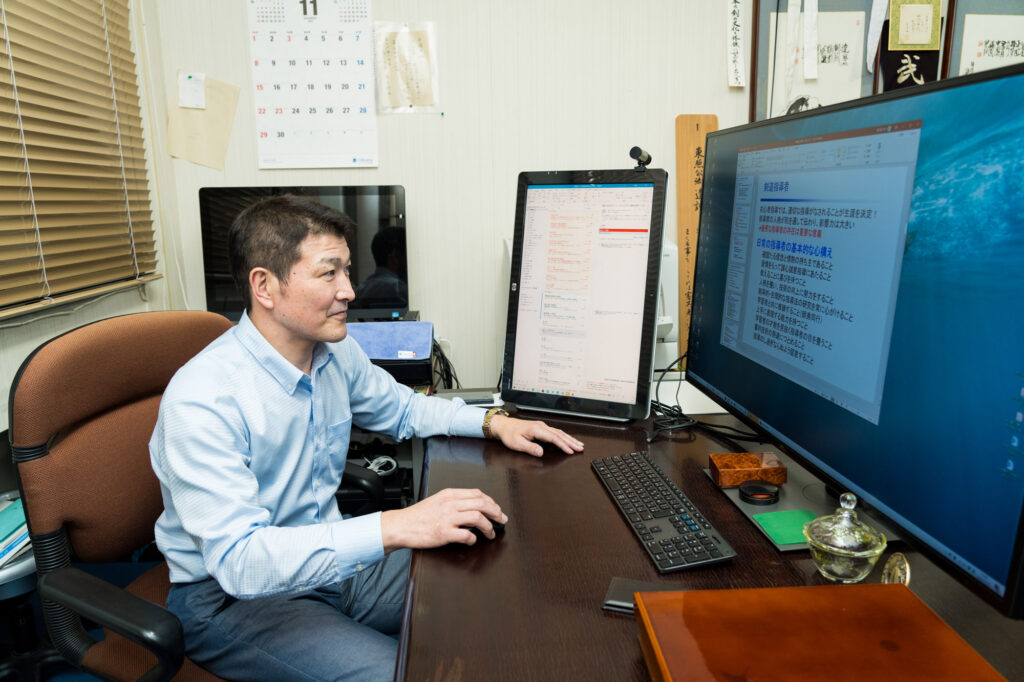 Since his appointment at NIFS in April 2008, Takenaka has led its men's teams to the national top twice. In 2010, he joined the national Kendo team as coach to train the national women's team. Although Takenaka was living a busy life, the spread of COVID-19 changed his life completely.
"After the All Japan Kendo Federation issued the Guidelines for Preventing the Spread of Infections with the Resumption of Interpersonal Keiko, I obliged. Now these guidelines have been lifted, we have established detailed rules for Keiko within our Kendo club and have taken strict measures to prevent the spread of COVID-19."
In 2020 the All Japan KENDO Students' Individual and Team Championship were cancelled, removing an important goal and milestone for student Kenshi that year. The Kyushu Student Kendo Federation held the All-Kyushu Student Kendo Championships in October, allowing Kenshi to close that chapter. However, they still must have felt a sense of unfulfillment.
"We originally had over 100 members, and only about 10% of the students were able to participate in the tournament. Since these students are in the martial arts program, tournaments of course play an important role in their education, but it's just as important to view Kendo as an academic discipline. I also feel that in recent years, the students' awareness of the rules of Kendo has declined considerably. Of course, I accept that this is due to my lack of leadership skills, but that is why I have always emphasized that I want students to see Kendo as a way to shape their future. Nevertheless, if the top students lose motivation due to the cancellation of a tournament, it will affect the morale of the entire team. Although only about 30% of the club activities could be carried out, I believe that the students were able to change their mindset and be ready to tackle the tournament."
Prior to COVID-19, NIFS held morning Keiko twice a week and Keiko for about two hours every evening. All 100 members of the club would gather together to train Uchikomi in their traditional Sandan-geiko form (three-step Keiko.)
"The advantage of being able to have Keiko together in a large group is that the students with excellent skills raise the level of Keiko, and the rest of the students assimilate. By having Keiko in the same environment, the students will learn Kendo by watching, learning, and crossing swords with each other without much detailed explanation. Nowadays, the maximum number of students during Keiko is limited to 25, so we cannot have Keiko in the same way as before COVID-19. Similar to the famous Kendo expression Hyakuren Jitoku (roughly: practice makes perfect), there are many things in Kendo that cannot be acquired without repeated Keiko over a long period of time. We are now considering how we should manage Keiko after the spread of COVID-19, including the amount of Keiko and time required."
Japan's national women's team coach
Lessons from coaching top teams


The rest of this article is only available for Kendo Jidai International subscribers!