2015.4 KENDOJIDAI
Part 1: Suburi, Kirikaeshi, Yakusoku Keiko
It had been 5 years since their last title when in 2014, Kanoya Physical Education University took the national title for the 4th time.
It is the only public physical education university nationwide, and prodigies gathered from all over the country to Kanoya in the Peninsula of Osumi. What kind of keiko have they been doing to rise to the top?
We introduce the traditional practice method that Kanoka University of Physical Education is undergoing through videos and articles.
Contents
Part 1: Suburi, Kirikaeshi, Yakusoku Keiko
Watch the videos about the training here:
Part 4 is available for paying subscribers

Kanoya Physical Education University kendo club men's coach:
Takenaka Kentaro
"If you would describe Kanoya University kendo in one phrase, it would be "offensive kendo". Members practice daily with their respective goals while keeping in mind that they should prioritize seme over defense.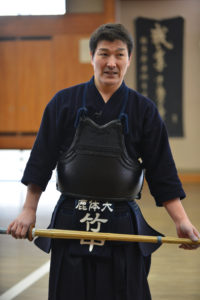 Takenaka Kentaro, born in 1972 in Hyogo Prefecture. From PL Gakuen High School, he went to Tsukuba University and after graduation he walks the path of a teacher. Teaching at Kanoya Physical Education University since 2008 and currently Associate Professor of the University. Major achievements include World Championship Individual 2nd, All Japan Invitational 7th Dan Championship 2nd, National Teachers' Championship 1st, All Japan Kendo Championship best 8 etc.
The rest of this article is only available for Kendo Jidai International subscribers!