FREE ARTICLE
Ladies Champion: L. Meinberg (Germany)
Tears for the coveted title
Meinberg has a German father and Japanese mother. This time, she was determined to participate in the EKC. However, the fact that she was able to win the tournament was beyond her imagination.
"I have participated several times so far, but I was not able to make it to the top 3. This time I fought like it was my last time."
Unable to win at the EKC, she has also studied mentality in the last few years. "Regarding mental training, I just kept concentrating on my opponent through the matches one by one."
In the finals, she won by a kote and a men. It seems that her mental training has bore fruit. I usually practice twice a week while working in product management. There was no better souvenir for my mother, Chie.
Junior team title: Serbia
Excited about their first title: A visible positive impact
This EKC, Serbia has won its first title in the junior division. We have participated from the very 1st EKC, but across all categories this is the first time they take a title. In addition, in the men's team category they came in second, an unprecedented result. It caused quite an uproar, the local serbian tournament staff included.
"We are very happy to win our first title and I think it is an important victory. We have been working towards this tournament from 2017. All representatives have given their efforts in their local dojos" says M. Milosevic
Kendo started in Serbia in 1972, but there was a war in the 1990s, and there were times where it was not a priority. However, since 2010 people who restart kendo have increased. With this good news as the spearhead, they are hopeful for the future.
Junior players go to the local dojo while going to school. There is also support from the federation, but they basically prepare everything by yourself. In particular, the competitor's parents have to bear the burden of expenses of kendo equipment and car transport but they are understanding
"The momentum of Japan, Korea and Europe is strong, but we want to do our best and keep the Serbian spirit alive" says coach Milosevic. Officials and staff members are eager to boost Serbian Kendo.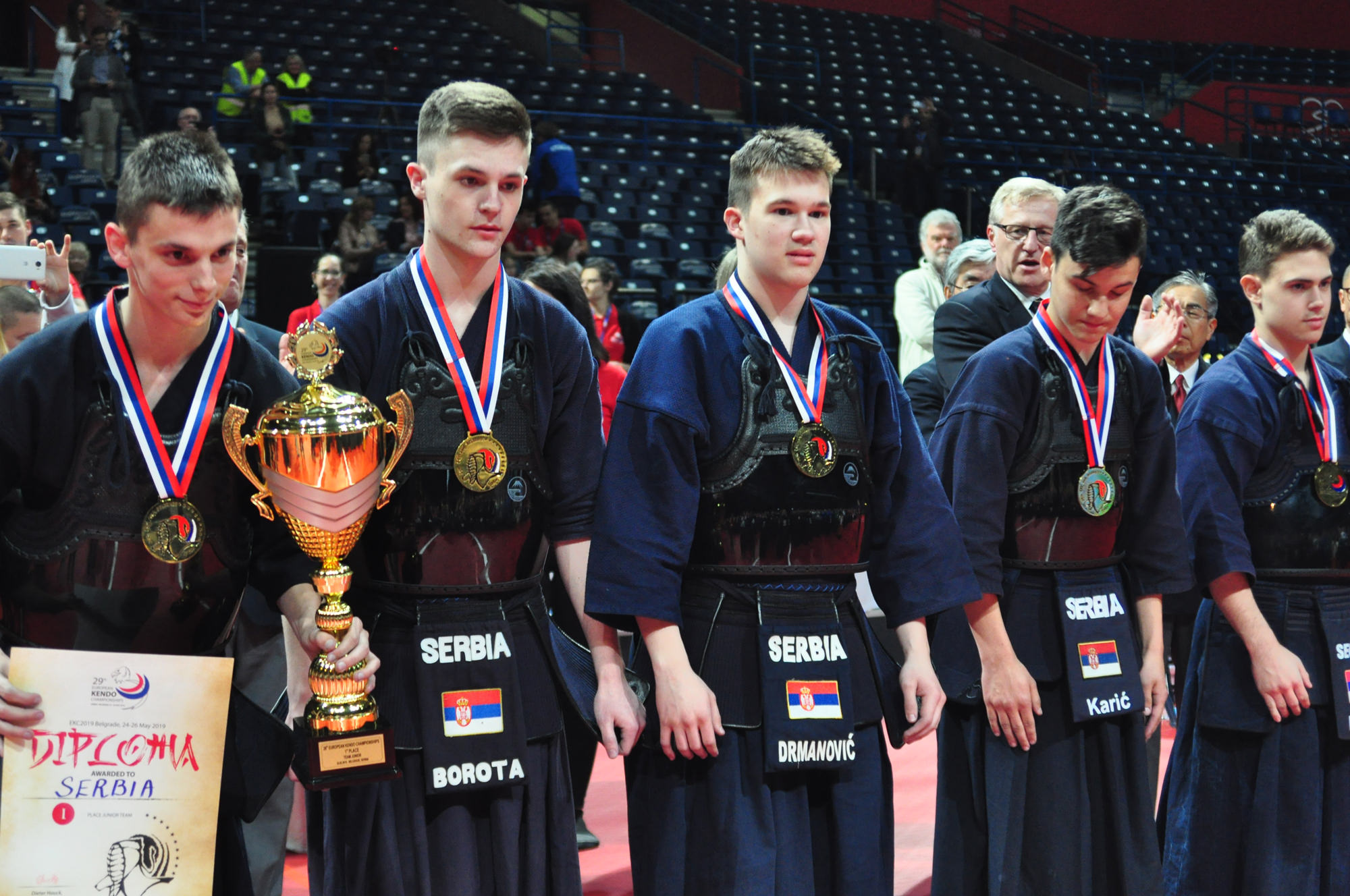 Junior Individual victory: L. Klyuev (Russia)
Unintentionall tears at the anthem performance
Klyuev who started Kendo seven years ago, said that his goal was to win the tournament from the start.
"Because it was my goal to win this tournament, I practiced every day before the championship. I would be happy if I could put Russia on the map of the kendo world because I was able to win this tournament."
I was also happy that I could fight my teammate R. Kusurgashev in the semi-finals because he is a rival practice partner with whom I hone skills. After that, he defeated the British J.K. Wright with two men strikes and solid kendo the final and achieved his first title.
The Russian national anthem was played at the time of the results presentation. He made a big effort and won, and must have been uplifted by the Russian anthem in front of everyone. This day will probably remain etched in his mind.