KENDOJIDAI 2022.12
It has been 9 years since Suenaga Mari achieved her notable consecutive double win in the All Japan KENDO Women's Championship. This year, she received her third championship title.
In this interview, Suenaga Mari tells us about her thoughts on Kendo, leaving the police force, her changing environment and her future.
Suenaga Mari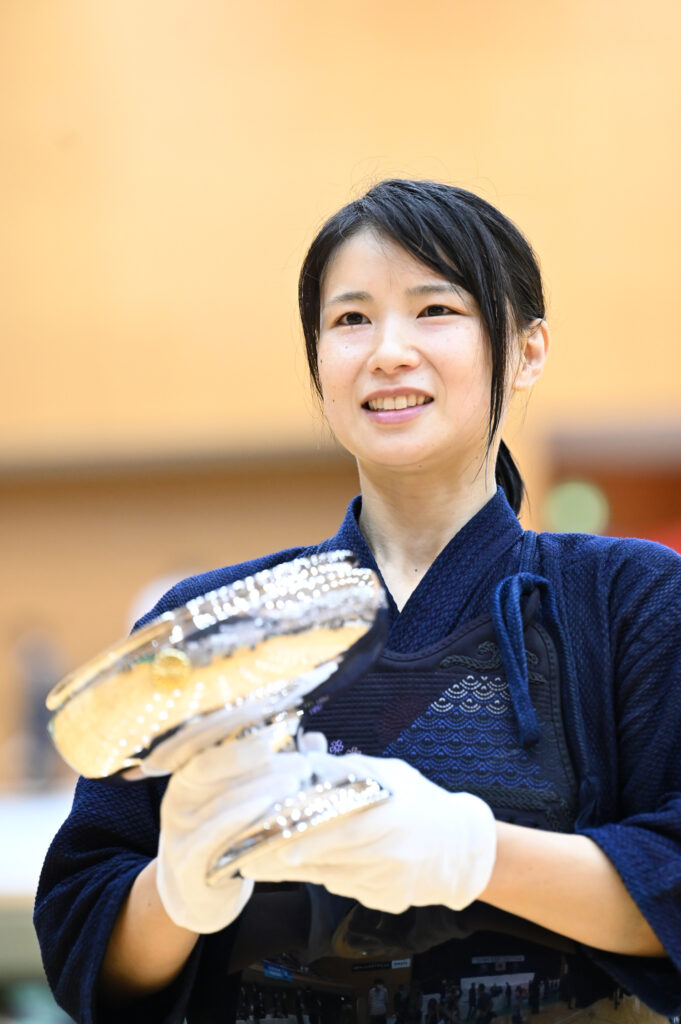 I wanted to become the best version of myself one more time
"That's nine years ago now isn't it… It doesn't feel that long ago."
Suenaga thinks back to her consecutive double victory nine years ago. In those nine years, many things have happened; six more medals, the World Championships, leaving her job, marriage and much more.
With all these big changes, how did Suenaga feel going into this year's All Japan?
"To be honest, I was busy with work at the time as well and my approach to Kendo had changed a lot. I was a little nervous of course, but I didn't really have time to waste on worrying so I was able to relax and feel at ease in the competition. I had no way to go but ahead."
Suenaga left the Osaka police force last year and married her husband Suenaga Shota. Afterwards, Suenaga started working for the disabled care and employment association Mi Yuji, of which Suenaga Shota is a representative.
Although many things changed drastically in Suenaga's life, she kept practicing Kendo.
This is Suenaga's first time in the finals in three years. She usually keeps some track of the matches and wins during the competition, but this year she was only concentrating on herself.
"During Shiai, all I thought about was the Kenshi in front of me. I took the matches one at a time."
This year's championship was tumultuous, with Kenshi who were expected to do well falling from the roster one after another. Suenaga stayed focused and only thought about the match in front of her. She faced off against tough opponents: Tamaki Mayu, her Kohai from the Osaka police, Onishi Nanami, one-time national runner-up, and Kawai Kanna who placed third last year among others. Defeating these strong Kenshi, Suenaga made her way to the finals.
In the finals, Suenaga fought against Seno Maika, last year's winner and 2018 national team member. Suenaga wins with a Hiki-kote in Encho, earning her a third champion's title.
"I knew I would get punished for the smallest mistake. I was cautious, watching for any hints of Waza from Taiatari for example. However, she had strong Seme from her Shinai as well.
I didn't let myself get intimidated by it; I knew my chance to do something had to come up at some point.
I hit the final Hiki-kote on automatic pilot so I can't tell you why I went for it, but people have told me the timing was good."
Her friends, family and even her colleagues from Osaka were supporting Suenaga in this year's competition.
"I finally got the win I wanted to show to everyone who has supported me throughout the years. That was the best part for me. Also, to finally win again after all these years… I wanted to shine brighter than before."
Suenaga has continued her fight for 9 years, regardless of what changed in her life. She is grateful for the many great memories with everyone who supported her Kendo, and her Sensei from Osaka.


The rest of this article is only available for Kendo Jidai International subscribers!