FREE ARTICLE
Profile
Nikol Eichlerová
Nikol was born in the Czech Republic in 2001. She started Kendo at Nozomi Dojo at age 7. She joined the Czech national team when she was 15 years old. Her first European Kendo Championships (EKC) were those held in 2016 in Macedonia, where she got the 3rd prize in the junior team category. She won the individual championship at the 2023 EKC held in Beauvais.
1. Why, when, and where did you start Kendo?
I started Kendo when I was 7 years old (in 2008) at Nozomi Dojo in Hradec Králové, together with my younger sister and my father. My father was the one who introduced us to Kendo. He had heard about Kendo at an Iaijutsu seminar. As he was a Budo enthusiast, he wanted me and my sister to try it. The Dojo was in a different city, so we had to commute to every Keiko. At first it was difficult for us and we were not really interested in Kendo. But it changed when we started participating in tournaments and seminars. We met new people, made new friends and Kendo became very interesting for us. When I was 15 years old, I joined the national team practice. I then participated in the 2016 EKC in Macedonia, where I got 3rd place with the Czech junior team.
2. How was the EKC?
This year was my fifth time participating in the EKC, and the third time participating in the ladies category. The result of this year's EKC was totally above my expectations.
For me, the EKC was a great opportunity to test my skills against strong opponents and to push my kendo to a higher level. The matches with this year's opponents were challenging, but I enjoyed them all the more.
At this year's EKC there was a very friendly atmosphere among the Czech national team. Everybody was very supportive and for me this was the team I had always wanted to be part of. The whole event was very emotional for everyone, especially after my victory in the final. This was the first gold medal for the Czech Republic in Kendo, so everybody from the Czech team was crying. For myself, the result was such a big surprise that it took me a long time to realize and absorb it.
Last year, I set a goal: "Within the next five years, we will listen to the Czech national anthem at the EKC." I didn't expect it would happen so early. When we heard it at the ceremony it was an unbelievable experience. It gave me goosebumps.
3. What kind of training did you do in preparation for the EKC ? How did you prepare both mentally and psychically?
My preparation for this year's EKC was nothing special. I practiced two or three times a week at Nozomi Dojo under Martin Fritz's leadership. I also attended seminars and tournaments on weekends. I tried to use every opportunity to gain new experience from other people. Because there is a very limited number of Kendoka in the Czech Republic, this was mainly abroad. During our regular Keiko, I tried to focus and push myself to my limits everytime. It did not always go well. I could not focus my mind on Keiko properly due to stress and work from my school. I knew I had limited time to prepare for the EKC, so I aimed for good and beautiful Kendo, which would also help me with my mental preparation. Therefore, I went to EKC with a calm and clear mind, and I was able to enjoy every moment in the matches.
4. Have you ever trained Kendo in Japan? What differences did you find between European Kendo and Japanese Kendo?
I went to Japan once for three weeks in 2016, together with five young kendoka from our Dojo and our coach Martin Fritz. Thanks to Martin, we were able to practice in Ozawa Sensei's Dojo Kobukan, in Tokyo. I remember that in comparison to European Kendoka, the Japanese have better footwork, a better Kamae and stronger Seme.
5. What do you value and keep in mind in your daily practice?
Sometimes it's just about surviving the Keiko. Sometimes I am fully focused and I am able to work on my Waza and Jigeiko. I always keep in mind that I must have a strong spirit, because it helps to develop a great atmosphere in the Dojo. This makes everyone do their best so we can all enjoy training together.
6. What do you aim for at the WKC and EKC?
I would like to be able to use more Waza and be more flexible in Shiai, while still doing good Kendo.
7. What is your goal in Kendo?
My goal is to constantly improve and pass on rich experiences.
I would like to motivate other people. I want them to know that hard work pays off and that Kendo develops body and soul. Its influence extends to personal life and individual abilities. I would like to spread awareness about Kendo in the Czech Republic.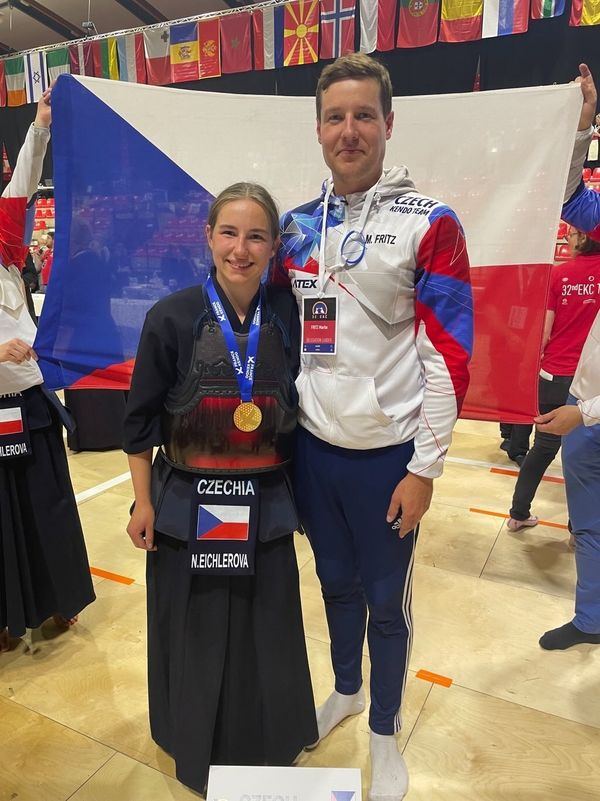 Profile
Martin Fritz
Martin was born in the Czech Republic in 1988. He started kendo in Nozomi Dojo at age 6. When he was 12 years old, he went to Japan for a month. This experience greatly motivated him. Ozawa Hiroshi Sensei from Kobukan visited the Czech Republic when Martin was 15 years old, after which Martin visited Japan more than 10 times. He joined the Czech national team when he was 16 years old. Martin won the individual 2nd prize at the 2017 European Kendo Championships.
1. The Kendo population in the Czech Republic is about 350, and you used to say that it was especially hard to keep up motivation during the Corona season. In such a situation, how were you able to create enough teamwork for the women to win the championship this time?
My goal was to help people stay in touch with each other during the hard times (covid). We practiced online three or four times a week. Despite all government restrictions, we could overcome that period together. After that, we really enjoyed practicing together in the Dojo again.
Nikol is such a hard worker. She never complained, even when she was exhausted from Keiko or school. She attended every Keiko, seminar or tournament. She was always doing her best. Sometimes she had problems focusing or trusting herself. My goal was to focus on her footwork, basics and Seme. In the end, I just had to make her feel good about herself and her kendo so she can trust herself and enjoy every moment of the match. I think she did the best she could. I am very proud of her.
2. How did you prepare for the EKC?
As the coach of several national team members, I tried to work with them on basics, footwork, seme, and their mindset. I want them to feel good about themselves so they can do their best in the match. Our main goal was to show nice kendo, in order to motivate other Czech Kendoka and also to get the best experience from it and share it with others. Nikol's result is something that every Kendoka dreams about. I believe everyone will take something good from Nikol's story. I am very happy to see such a strong new generation in Kendo.
3. This time, Nicol achieved her long-cherished dream of winning the individual championship. What is your next goal?
My goal is to share Nikol's story and show her exemplary approach to other people in the Czech Kendo community. I hope this will motivate them so that we can raise the level of Czech Kendo together.
4. What are your aspirations for the WKC?
Of course it is very difficult to get a medal at the WKC, but we will do our best for Nikol to enjoy next year's championship.
5. What is your ideal "Czech kendo"?
For me, the ideal "Czech kendo" will be us expanding the Czech Kendo community in the long term and constantly improving together. To achieve this, I think it is very important to strengthen relations with Japanese and other Sensei and to work together with Kendo federations across Europe. Also, focusing on young people is crucial for future development.