KENDOJIDAI 2023.10
Photography: Sasai Takamasa
Translation: Anne Zwart
The winner of the Shiai that would decide Japan's next top individual student Kenshi was Kimura Keito, who is also a candidate for Japan's national team at the 19th World Kendo Championships next July. He had been a runner-up before but wasn't able to achieve the championship title until this year.
Kimura Keito, 4-Dan
Born in Gunma Prefecture, 2001. After graduating from Mito Kiryo High School he enrolled in National Institute of Sport and Fitness in Kanoya (NIFS), where he is currently in his fourth year. In high school, he placed second in the All Japan High School Championships and second in the The All Japan Interprefecture KENDO Championship. In July of this year, he won the All Japan Student Championship for the first time. He has been selected as a candidate for the Japan national team. 4-Dan.
All in due time
Unwavering concentration and dedication
"Two years ago, I was able to make it to the finals. Ever since I was in high school I had a strong desire to become the national champion, but that didn't quite happen for me until now. My family was incredibly happy for me, and it feels like I have finally lived up to their expectations."
 As previously reported, Kimura won the 71st All Japan Student Kendo Championship. He is the fourth student from NIFS to win, the first in six years since Makishima Rintaro (now with the Fukuoka Prefectural Police). He is the second Mito Kiryo High School graduate to reach the top, following previous champion Iwabu Hikaru (currently teaching assistant at Kokushikan University).
"I had several chances to become the best in Japan, including the Kumamoto High School Championship four years ago, the All Japan Student KENDO Championship, and the All Japan Interprefecture Championship, but I would lose in the finals and finish as the runner-up. Looking back on it now, I think I let myself be too satisfied with just getting to the finals. I think it showed in the results. This time, rather than just wanting to win, I felt that I needed to win.
 The All Japan Kendo Federation is currently holding a selection camp to determine Japan's representatives for the World Kendo Championships next July. Twenty elite athletes are competing, including Ando Sho (Kokushikan University faculty member), a two-time participant in the World Kendo Championship. Among the students the third place winner Ikeda Toranosuke (University of Tsukuba, 4th year student) and Kimura have been selected.
"Japan's national team coach Higashi Yoshimi-sensei visited this year's tournament to observe the competition. When I went to greet him, he encouraged me to fight like my life depended on it. Iwabu, who was also a candidate for the championship last time won this tournament as well, so I was determined to win at all costs. I think that shows in my results this time."
Kimura got off to a good start in his second Shiai, scoring two Men on Tanji (Juntendo University, 4th year). He then won all five Shiai from the third round to the semifinals, all within the five-minute time limit.
"The Kendo I learned at Mito Kiryo and at NIFS is an aggressive style. I am conscious of this in my daily practice. I was happy that I was able to express what I had been working on a little in the final match, which I won due to my opponent's withdrawal from the match. Kimishima Norichika-sensei, who coaches at Mito Kiryo, came to cheer us on, and we were able to win the tournament with him watching us."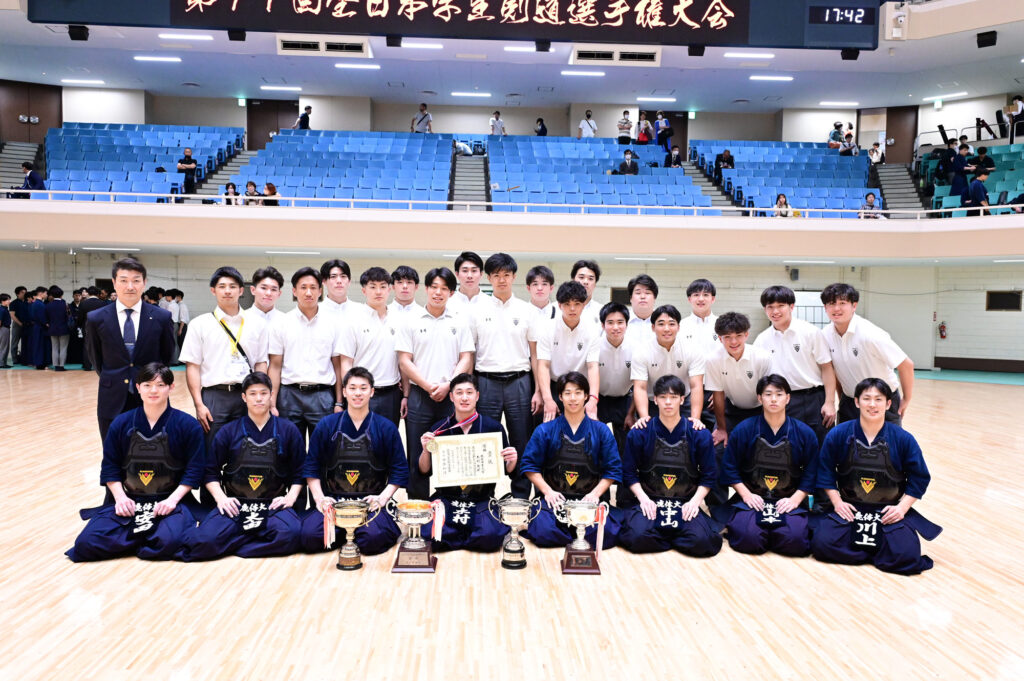 Gunma Yabuzuka Junior Kendo Club
Introduction to Kendo from the age of 5 by Kimura's father


The rest of this article is only available for Kendo Jidai International subscribers!