KENDOJIDAI 2020.4
This year's 7th Dan Tournament had 18 invited competitors and welcomed 2 players from Korea, a country which is competing ever rigorously at the WKC. The finalists were first time participant Nakano Takahiro (Kyoto) and Iwashita Tomohisa (Chiba) for his third attempt. Nakano's Men-strike took the match in extension time. A warm hearted applause erupted naturally, including from the rivals he crossed swords with, in the face of this comeback play after he suffered a serious injury in 2012 which was said to be unrecoverable. Uchimura Ryoichi (Tokyo) and Yoneya Yuichi (Saitama) finished third. With the efforts of Korean competitors and the introduction of Shiai between Japan and Korea, this year's event has ushered in a new stage for the 7th Dan Tournament.
Great Earthquake Reconstruction Support
The 7th edition of the All Japan Invitational 7th Dan Championship
February 2nd, 2020
Kanagawa Prefectural Budokan
Organizer: Kanagawa Prefectural Kendo Federation Co-organizer / Kendo Jidai (Physical Education and Sports Publisher)
Cooperation: Japan Kendo Promotion Association / Kanagawa Prefecture / Kanagawa Newspaper
"Even though I was told I couldn't do Kendo anymore,
I love Kendo so I didn't give up"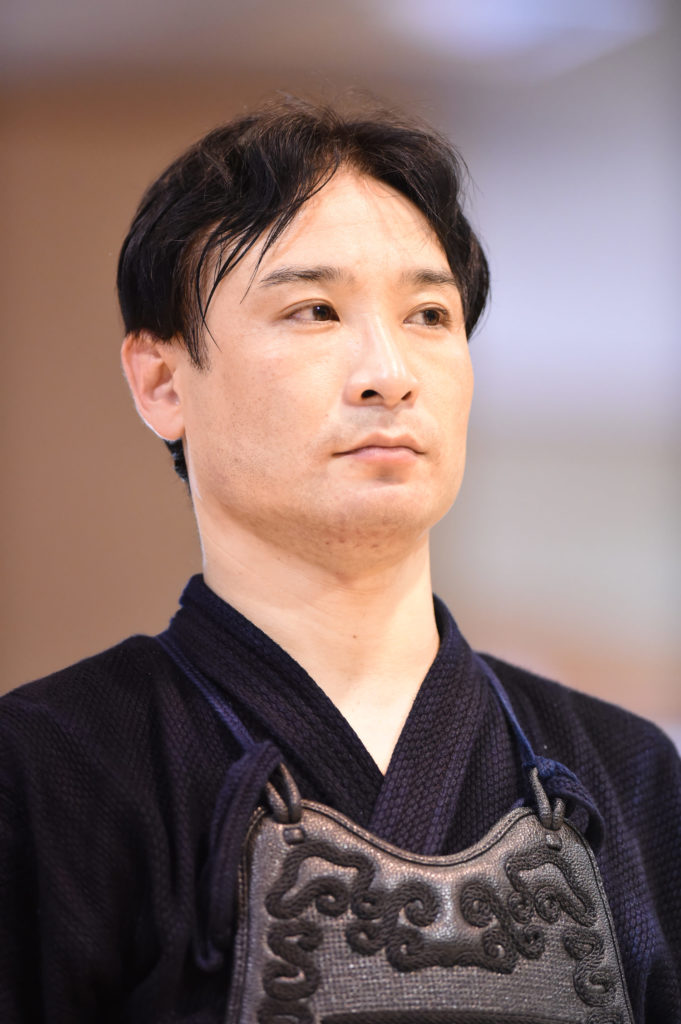 – Please tell us your honest experience about winning the title at your first participation.
Nakano: I'm very happy to be invited to this prestigious tournament and even winning the championship.
– Can you reflect on the league phase for us?
Nakano: I felt a bit stiff in my first match but the more I fought, the readier I felt and it was going better for me.
– What is "readiness" to you?
Nakano: I suppose it's the courage to apply Seme while entering your opponents Maai. I'm not very tall so I thought it would be crucial to what extent I would advance my own Maai.
– How did it feel to enter the knockout phase?
Nakano: Since all matches are fought one by one, I only thought about fighting with readiness and without retreat.
– The final match was against Iwashita, a Senpai of yours at Hosei University.
Nakano: Not only the finalists, but all who are participating in the tournament are brilliant people, so I faced them with the intent of learning from them.
– What was the biggest reason which enabled you to win?
Nakano: Before the final match Kiwada told me "don't hesitate, go as usual" and those words really calmed me down. Until now, I often ended in 2nd place so I had a strong desire to win the title.
– How does it feel to have attained your first title?
Nakano: I haven't truly realized it yet, so I'd like to feel the taste in the future (laughs).
– You've suffered a serious injury in 2012. Did you recover from it?
Nakano: The pain is still there. The doctor who did the surgery came to support me today, so it was really good being able to win. When I was injured, I was told I couldn't recover so I'm really happy to be able to do Kendo now. I wanted to do Shiai that would give courage and hope to seriously injured practitioners.
– What do you think is the main reason for winning the championship?


The rest of this article is only available for Kendo Jidai International subscribers!