2018.9 KENDOJIDAI
The decline in the number of children and the increase in the number of teachers in club activities in the world of Kendo are having a major impact. What should be done in order to increase the number of children who continue to practise Kendo in the future?
After the 2020 Tokyo Olympic and Paralympic Games, there is a growing interest in comprehensive regional sports clubs that will serve as an engine to promote regional sports.
We asked Enoki Toshihiro (7th Dan, Director of the Regional Sports System Research Institute and Representative of Colorful Kanazawa) about the possibility of a restructured Kendo environment. If we can create an environment where people can easily continue to do Kendo, more children may start and continue their Keiko.
Profile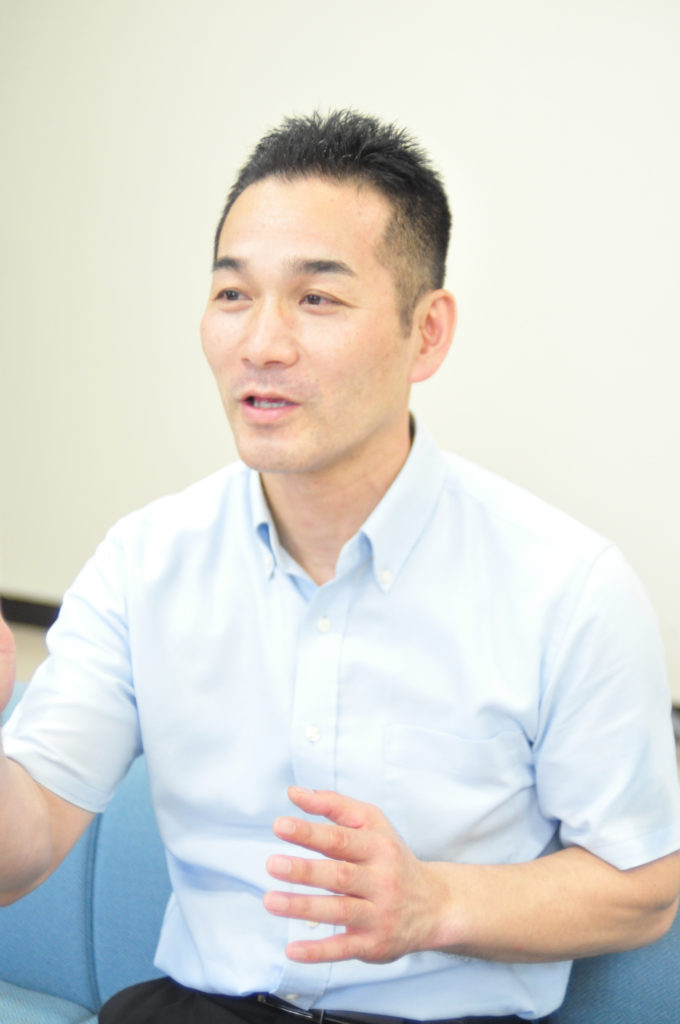 Enoki Toshihiro, Kyoshi 7th Dan
Born in Hakui, Ishikawa Prefecture in 1963. After graduating from Hakui High School, he went on to the University of Toyama and became a teacher. He later completed his graduate studies at Kanazawa University. Currently, he is the director of the Regional Sports System Research Institute, the representative of Colorful Kanazawa, a business school for the disabled, and an external instructor at Unoki Junior High School.
New Kendo environment system, comprehensive regional sports clubs
In recent years, the burden on teachers regarding club activities in middle and high schools has become a major topic of conversation.
With the growing concern that the system of school club activities needs to be improved, the system of comprehensive community sports clubs is gaining attention.
This is not the traditional free public service provided by the government, but an NPO-type community sports club that is voluntarily operated by local residents with membership fees, donations, and business income to create a regional sports environment.
There is great hope that this will lead to an environment that encourages people of all ages to become more familiar with sports or to become more competitive.
For junior and senior high school students who want to get stronger but don't have an instructor at their school and aren't enthusiastic about club activities, this will be a step in the direction of solving the problems that are essential for their progress. These include securing an instructor with good knowledge and leadership skills, a place to practice, more time, and club member recruitment.
A good Keiko environment is attractive and naturally gathers people. And if there is a place to accept not only junior and senior high school students but all generations, they will be able to continue their Kendo with a natural flow.
Professor Enoki Toshihiro established the Regional Sports System Research Institute and the Business School for the Disabled, Colorful Kanazawa, by utilizing the system of a "Comprehensive Regional Sports Club".
At present, the "Join Us", a comprehensive regional sports club, offers about 20 classes in Kanazawa City for baseball, volleyball, basketball, and other sports (Kendo is scheduled to be included).
Originally, Enoki was a middle school teacher in Ishikawa Prefecture. During his time at Unoki Junior High School, he led the team to the national championships. The turning point came in 2000, when he was appointed to the Prefectural Board of Education after working at Unoki Junior High School for 11 years.
"I've had an opportunity to work in educational administration (lifelong learning and lifelong sports) as a dispatched social education supervisor and guidance supervisor. I've only ever been involved in coaching club activities, but as I've been involved in educational administration, I've come to feel the limitations of school club activities. Then, in 2002, I volunteered to establish an NPO, Club Palette, to offer classes in athletics, football, kendo, etc."
As the general manager of Club Palette, he developed the organization with about 3,000 members and a business scale of 100 million yen. In order to create a new sports environment, he resigned from teaching in 2013 and established the Regional Sports System Research Institute and Colorful Kanazawa in 2016. Both are general corporate associations. What makes it different from a traditional sports school is that it is an intermediate sports support organization with a strong sense of community.
"I wanted to make the 21st century a brighter and richer place for children's future, and I felt guilty being a stable civil servant while the young people of Club Palette were putting their lives on the line as full-time staff of a non-profit organization. That's why I decided to quit teaching, thinking that a representative should be a leader on the frontline, and I got involved in developing regional sports environments. When I was in third grade, my father became disabled due to a car accident, so I became interested in sports for the disabled and got involved."
It's not that the population of Kendo is decreasing because there are fewer children, it's that people are more attracted to other sports.
"I don't think Kendo should be unattractive just because Kendo is an expensive martial art. I personally think that Kendo has a great deal of appeal compared to other sports. It is because of these times that the spirit of Kendo is required. I think it's just a matter of getting people to understand what the appeal is," said Professor Toshihiro Enoki.
Training professional Kendo instructors who make sports their job
– There are two major challenges for a sports club to be well run: securing quality instructors and conveying the appeal of Kendo to children.
"First of all, I think the key will be leadership development. Currently, most of the people who are involved in teaching kendo are volunteers. It is sustained by the goodwill and efforts of good people.
Especially in boys' Kendo the vast majority are volunteers, and there is no system to train professionals. The reason for this is that the entire Kendo world has not developed a mindset of managing people, goods and money.
There is an unspoken understanding in the Kendo world that you should not make a profit. It's probably because there is a subconscious sense of guilt, such as "I'm getting paid to do what I've been taught by my Sensei with good intentions," and a sense of aversion to "cheating money out of Kendo, which is supposed to be about honest battle".
There is not enough time to develop the necessary skills and knowledge to teach Kendo in one's spare time while working. As you know, Kendo is a martial art that requires a high degree of precision, and each movement is not something that can be mastered in a short period of time.
Other things like coaching skills, knowledge of Kendo and child development are hard to acquire if you don't put effort into learning them."
– Enoki believes that it is important to create an environment in which instructors can be trained and to provide them with a place to work.
"To make a living doing Kendo is a dream for every Kendo practitioner. Nowadays, that image would be that of the police, teachers, Bogu shop and Dojo management. Running a dojo is particularly difficult, and in addition to securing members, there are other issues such as the cost of maintaining the dojo and inheritance taxes.
So, I thought, what about teaching professionals? Currently we have full time instructors with professional skills in baseball, volleyball and basketball. They've been active in competition professionally and they've learned the coaching skills they need to be instructors.
In the future, I would like to develop Kendo classes and I also want to train instructors who can make a living off Kendo.


The rest of this article is only available for Kendo Jidai International subscribers!