2019.10 KENDOJIDAI
Hoshiko Keita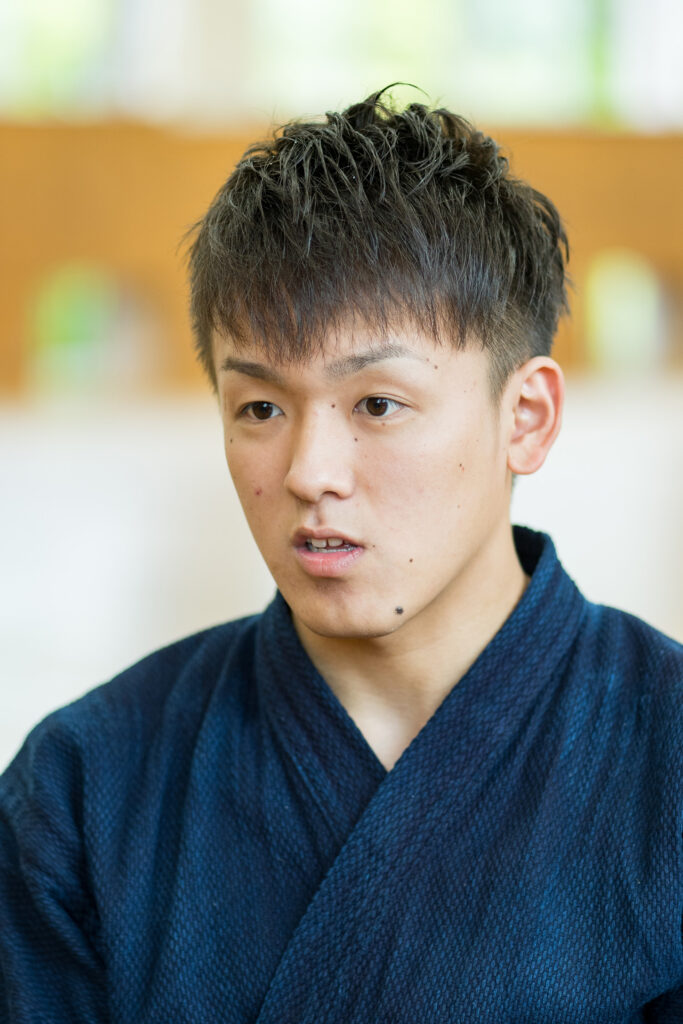 Born in Kagoshima Prefecture in 1998. After graduating from Shigetomi Junior High School in Kagoshima and Kyushu Gakuin High School, he entered the Faculty of Physical Education at Tsukuba University. He has won the team championship at the World Championships, the title and 2nd place at the All Japan Student Team Championships, the title and 3rd place (two times) at the All Japan Student Individual Championships, and the title at the Kanto Student Team Championships and 3rd place at the Kanto Student Individual Championships.
A year of strengthening through self confrontation
Hoshiko Keita, a third-year student at Tsukuba University, won the All-Japan Student Championship in July 2019. This is the third year in a row that he was the favorite, and he took the All Japan Student Title for the first time.
He had competed in the championship in his freshman and sophomore years, finishing third in each of them. This year, he had set a clear goal of winning the championship, but things didn't go so well as he finished in the top 16 in the Kanto Student Individual Championship which is the qualifier to the All Japan Student Championship.
"I came in third two years in a row as a freshman and sophomore, and I was always so close to losing. I have been doing Keiko while asking myself why, but I ended in the best 16 in this year's Kanto Student Individual Championships as well even though I wasn't in bad shape at all".
He can say with pride that he does more Keiko than anyone else. So why did he lose? After thinking about it, he wondered if it was a mental problem.
"I wondered if the reason why I had lost so close in my first and second year was because I was not as persistent as I should have been. My mentor from high school, Yoneda Toshiro, also told me that I lacked persistence, so I told myself that this might be my first and last chance. Thinking about it now, I think I was unconsciously concerned about how the Shiai would go and what people thought of me".
He just had to do his best to win the Shiai in front of him. In the fourth round (vs. Niina Keisuke, Hosei University), he had the lead taken away but he went on to take solid wins thereafter. In the quarterfinals, he defeated Maruyama Daisuke, whom he had played against in last year's Kanto Tournament.
By the time he reached the semifinals, there were still three Tsukuba players in the tournament. And they were all in the same year, Matsuzaki Kenshiro and Shiratori Yuya.
"I think Tsukuba is the strongest team in Japan. The fact that three of them were able to advance was expected".
He defeated Shiratori in the semifinals and Matsuzaki in the final. "They are my friends, and I've seen them work hard for a long time. That's why I didn't want to lose. In the final, my leg got cramped which I felt bad about but I was happy to be able to compete".
It was a long tournament for the students. From the semifinals, he had some discomfort in my legs. In the final, he even had to suspend the match, and while he was unable to use his legs to his satisfaction, he found a way out about five minutes into extra time. Sensing Matsuzaki's Men, he drew him in and delivered a brilliant Kaeshi-do. He bet everything on that blow.
"I was able to confirm my current ability and understand what I need to do in the future. It was a very rewarding match.
It was a great achievement for him to take his first All Japan Student Championship title in Japan. However, this was only a milestone. He still has a long way to go.
World Kendo Championship training experience
A method to get selected


The rest of this article is only available for Kendo Jidai International subscribers!