FREE ARTICLE
Furusawa Nobuaki has had brilliant results in high school, university and at the police until now. Currently, he is fostering that experience and as the men's coach of the Japan Sports Education University Kendo Club he is making full use of his ability. We have asked Furusawa, who says that "Suburi is self confrontation" about the importance of Suburi and what he focuses on as an instructor.
Contents
1. How to face daily practice and Suburi
2. Master blade angle and Tenouchi with versatile Suburi
3. Interlink shoulder, elbow, wrist and Tenouchi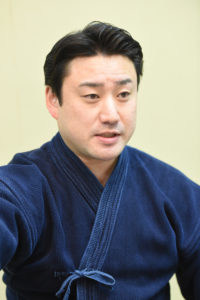 Furusawa Nobuaki, Renshi 6th dan
Born in Kumamoto Prefecture 1981, 36 years old. He went from Aso High School to Japan Sports Education University after which he was appointed to the Imperial Police. In high school, he won the Gyokuryuki Tournament and became 2nd in the All Japan High school Championship twice, and took back to back titles in the National Sports Tournament. In his university days he took 2nd place in the All Japan Student Championship, and won the Kanto Student Championship. In his days at the Imperial Police, he won the National Police Championship third prize. After retiring from the Imperial Police Department, he became a masters student at Japan Sports Education University, and currently he is Assistant Professor of Martial Arts Education, Faculty of Sports Culture at the Japan Sports Education University.
How do you connect your Suburi to duels? I think this is a very important question when learning Kendo. From the moment I started Kendo until now, I have been continuously doing Suburi but I haven't been able to answer that question straightforwardly. However, I would like to explain my own view regarding Suburi, what I have experienced and learned, and also what I want to teach as the men's coach of the Japan Sports Education University Kendo Club.
Confront yourself
Get yourself in order
I believe there are a lot of people who do Suburi as a warm up before Keiko and I have been instructed from a young age to do a lot of Suburi. Rather than warming up, I thoroughly do Suburi 1 by 1 and focused on teaching my body the correct way of swinging. I had not been doing Suburi in a highly aware manner of this kind until my junior high and high school days. My awareness truly changed when I enrolled in the Japan Sports Education University.
In my university days during training camp for example, I did at least one thousand Suburi in the morning and one thousand in the afternoon. Doing two thousand Suburi a day is quite hard on the body, and it is not possible to do it if you don't take it seriously. I was made painfully aware that it is important to make efforts in Suburi even during regular practice.
After I graduated, I was given service at the Imperial Police and around that time I was selected for the very first batch of a national invitational training camp also known as the "Futobone Kenshi" (Special training camp for promising competitors) which was organised by the All Japan Kendo Federation. Similar to the university training camps I think we did two thousand Suburi a day. Doing Suburi around famous Sensei turned out to be a spiritual strengthening rather than technical.
My norm had been to do Suburi every day, but after experiencing these kind of hard experiences, I deeply felt the importance of confronting myself in Suburi. How strict can you be towards yourself? The Suburi during group practice is important but the amount of Suburi you do alone, outside of group practice even more so.
In the Imperial Police Department, I was looking for free time to do Suburi. What I was conscious of that at that time is the goals of Suburi written in the "Kendo Instruction Guidelines".
· Learn the correct Shinai handling, movements and sword angles.
· Learn the Tenouchi that is necessary for striking.
· Learn the foundation of striking with synchronized footwork and body movement.
I am using a heavy Bokuto, a Bokuto which we use for Kata, and a Shinai to practice Suburi. I focus on doing the Suburi in the same manner regardless of what Bokuto I use. Because a Shinai is lighter than the heavy Bokuto it is hard to get the blade angle straight if you use too much strength. In order to prevent the blade angle from being skewed yet swing down sharp, the use of Tenouchi becomes very important.
By focusing on interlinking the shoulders, elbows, wrists and Tenouchi and tightening your Tenouchi at the last moment of your swings it is possible to swing down straight with good momentum.
By being aware of these kind of things and swinging one by one in a focused manner, and not just swinging on quantity I was able to strengthen myself.
To get yourself in order means to make sure if there are no bad habits, going back to basics and re-evaluating yourself. It is important to return to basics to master correct Kendo, and Suburi fulfills that role.
Text=Teraoka Tomoyuki
Photo=Nishiguchi Kunihiko
Kendo Jidai 2018.6