2019.11 KENDOJIDAI 
Standing victorious again after 4 years: Matsumoto Mizuki (Kanagawa Police)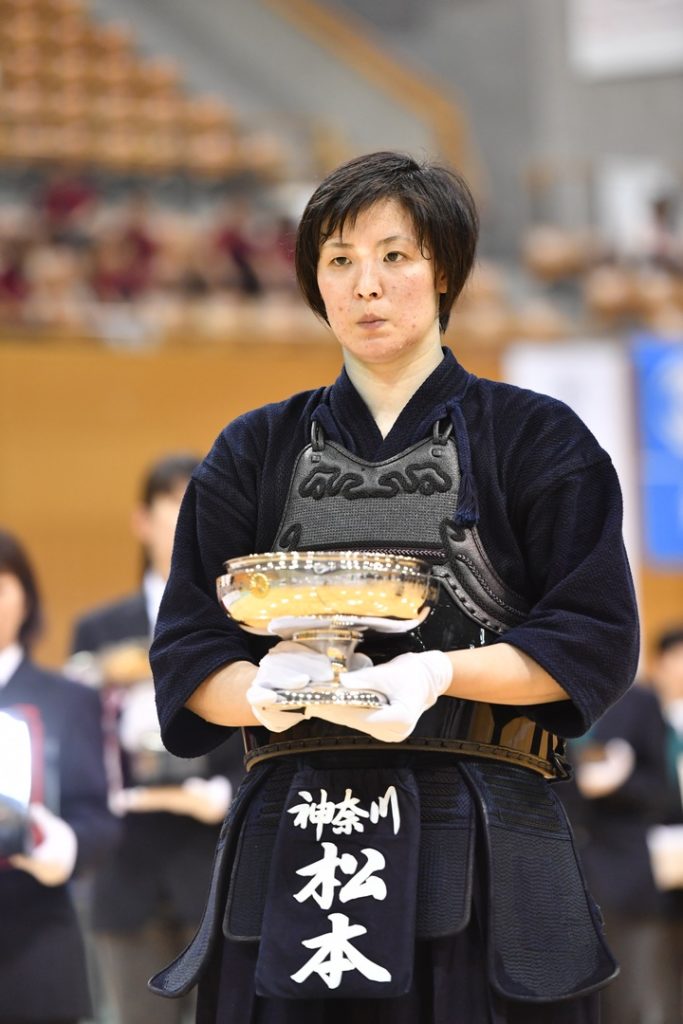 Yamamoto Mariko of Osaka, who hadn't reached the final in six years, and Matsumoto Mizuki, who hadn't reached the final in four years, competed for the Empress Cup. Matsumoto, who took a powerful Men in the beginning, overcame Yamamoto's fierce attempts to take the title. In third place were Watanabe Tai (Kumamoto) and Takenaka Miho (Ibaraki), a 4th year student at the University of Tsukuba, taking a podium spot for the first time.
The Japanese ace Matsumoto won the Empress Cup again, securing her second championship: "I'm very happy. For the past years, I've been struggling to figure out what I was doing wrong and why I couldn't win, trying to win this tournament for three years."
Although she had achieved outstanding results winning the WKC team and individual as well as police tournament titles, she hadn't been able to win any prizes in this championship. It was a problem that had been smouldering in Matsumoto's mind for three years.
"I went in thinking that if I didn't get it here, I would never get it again. I may have been underestimating the All Japan Women's Championships until now. I was too focused on the pinnacle and didn't see what was right in front of me. Today I was trying to grow in the tournament one Shiai at a time and was able to realize my dream."
Matsumoto said, she gave her all to the Shiai in front of her. Masahiro Miyazaki, 8th Dan, the chief instructor of Kendo at the Kanagawa Prefectural Police, commented on her fighting style: "She had good balance. She used a variety of techniques, such as Shikake-waza, Hiki-waza, and Debana-waza on various occasions. It was good she didn't stick to one technique. The final match was especially good. She was able to do initiating Kendo with Seme. Even in such a close game, she could go all-in with her techniques. The deciding technique was a Tobikomi-men (initiating, leaping Men). Yamamoto may have been aiming for the entering margin and Matsumoto applied Seme and struck when she moved slightly, but it felt like a counter attack. The finishing move was the best."
Thus he praised his student's courage and Matsumoto herself was determined to win the final. "My opponents included Senpai, so I was focused on winning the tournament no matter who my opponent was. I was happy when I won my first title but in this case, I had a hard time with the losses until I got it again, so I'm twice as happy."
Despite a positive result, next year, she will start from scratch. She is now ready to devote herself again to the All Japan Women's Championships and the WKC in two years' time.
A close 2nd place: Yamamoto Mariko (Osaka Police)


The rest of this article is only available for Kendo Jidai International subscribers!