2021.7 KENDOJIDAI
Hayashi Akito (Juntendo University Professor)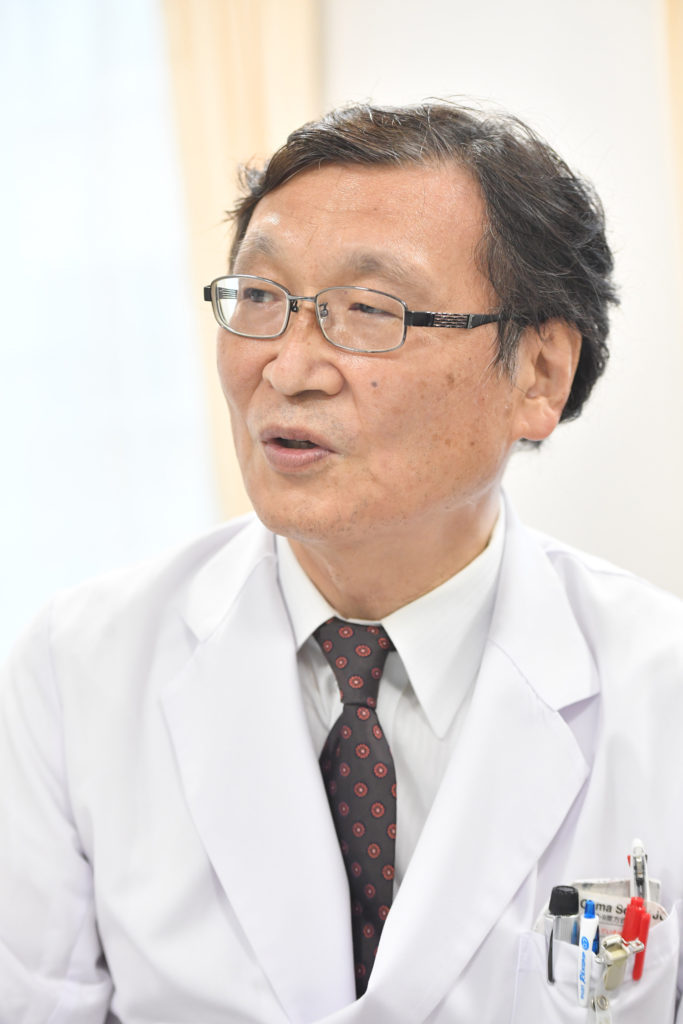 Hayashi Akito graduated from Juntendo University School of Medicine and was an Associate Professor of Neurology at Wisconsin State University. He worked at the University of Tsukuba, and is currently a professor in the Department of Rehabilitation and in the Department of Neurology in the School of Medicine at Juntendo University Urayasu Hospital. Dr. Hayashi holds 6th Dan in Kendo and is also the Director of the Juntendo University Kendo Club, Secretary General of the All Japan Medical Kendo Federation and Chairman of the Medical Committee of the Ibaraki Kendo Federation. He is also a sports instructor certified by the Japan Sports Association.
---
In April 2020, the Medical Committee of the Ibaraki Kendo Federation was set up to plan and conduct a questionnaire survey on health and safety in Kendo. The support of the President of the Ibaraki Kendo Federation Ogura Yasuo, Executive Director Suwa Fumio, Secretary General Saotome Yasuya and the understanding of Kendo organizations in the prefecture allowed us to carry out this survey.
First, I would like to introduce the Medical Committee of the Ibaraki Kendo Federation. It was established on April 1, 2020 with the purpose to ensure health and safety in Kendo. This also promotes lifelong Kendo practice and increase in the Kendo population. 
The Medical Committee consists of eight members: Hayashi Akito (Chairperson), Kuramochi Toshio (Vice-Chairperson), Ishihara Akira (Doctor), Kawashima Hisae (Doctor), Niizawa Gaku (Doctor), Fujita Satoshi (Doctor), Kitazawa Mariko (Nurse), Kusayama Miwako (Secretary), with Mizuta Shigenori Hanshi and Koda Kunihide Hanshi as advisors. Due to the COVID-19 pandemic, all discussions were held via the Zoom Conference.
The Medical Committee's first task was to send out guidelines on infection prevention measures at the beginning of April 2020, and in May 2020 we planned social media messages and videos from Matsuzaki Kenshiro (All Japan Kendo champion 2021), Mizuta Shigenori and Koda Kunihide, which were distributed on the Ibaraki Kendo Federation website. We also provided advice to each district in creating their own guidelines and plans for Kendo resumption, and the Ibaraki Kendo Federation conducted workshops to that end. Since the resumption of Dan examinations, the committee has been providing advice and first aid at those venues as well.
One of the important activities of the Medical Committee was to conduct a questionnaire survey on health and safety in Kendo in June and July 2020.
The questionnaire was mailed by the Ibaraki Kendo Federation to 34 presidents and 18 honorary presidents of their respective professional areas, 36 regional/professional offices, 16 vice presidents, etc., and also posted on the website of the Ibaraki Kendo Federation, asking for cooperation in the survey not only from within Ibaraki Prefecture, but also partially from outside the prefecture via the website.
The contents of the questionnaire were as follows.
1. Age and Kendo history of the respondents
There were 328 respondents (including 32 from outside Ibaraki Prefecture, 253 male, 73 female and 2 respondents without answers). There were 20 responses by mail, 74 by email, and the rest by fax etc,or other means. The average age of the respondents was 48.3 years (standard deviation: 19.1 years), with about half of the respondents in their 50's and 60's (Fig. 1).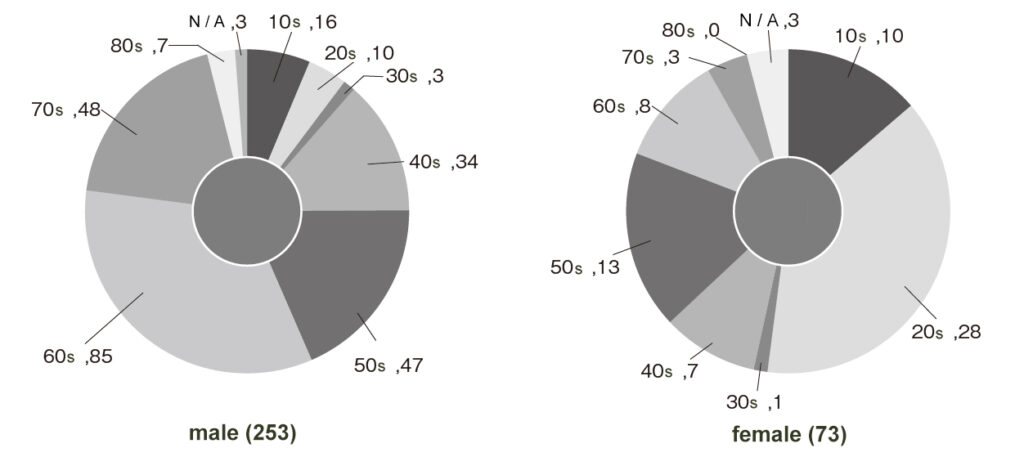 The average number of years of Kendo experience was 29.0 years, with 50% of the respondents having more than 40 years of Kendo experience. (Figures 2 and 3)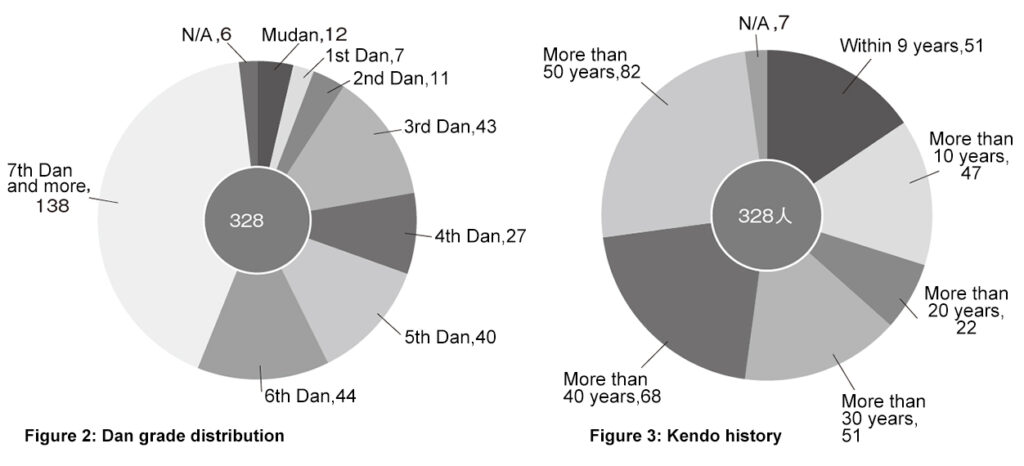 About one third of the 328 respondents (112) make up a group that restarted Kendo, with the inactive periods mostly between 5 and 20 years. Many of them were between 15 and 19 and 20 and 24 years old when they quit, suggesting that they stopped when they graduated from junior high school, senior high school or university. As for the reason for resuming Kendo, about one third of the respondents said that their children had started Kendo, which was in line with the fact that most of the respondents were in their 30's to 40's when they did resume. (Figures 4, 5 and 6)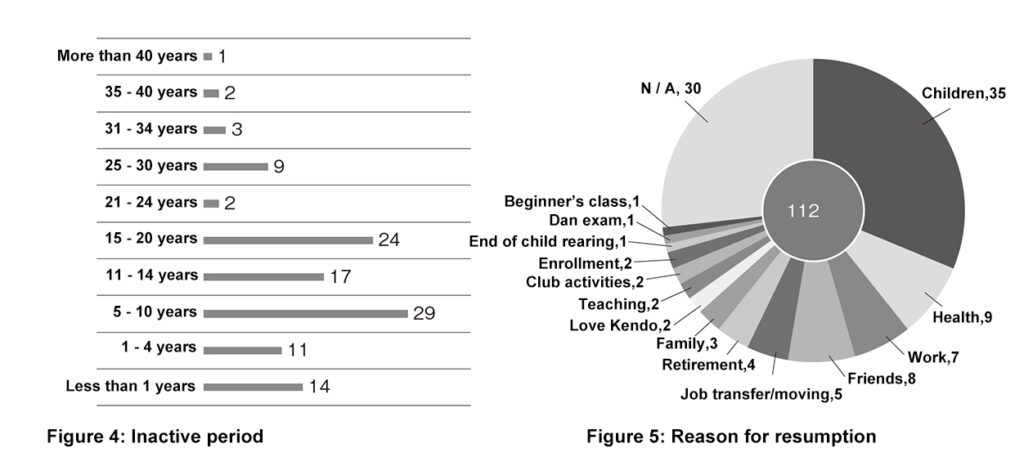 In order to keep the Kendo population from decreasing, I was reminded of the need to consider measures to prevent burnout after graduating from junior high school, senior high school or university and completing club activities, environmental measures to continue Kendo or devices to make it easier to resume Kendo after a period of inactivity.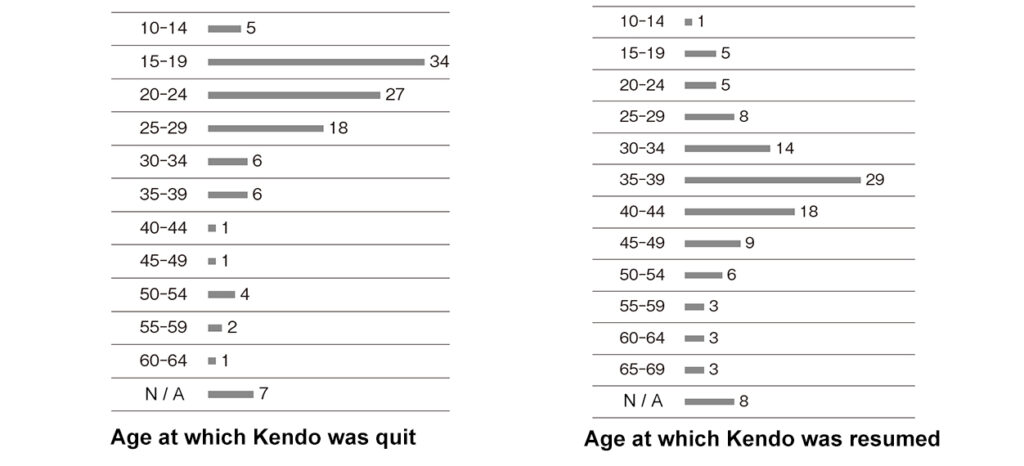 2. About smoking
The smoking rate was 21% (of which 100% male and 0% female). 56% of the respondents had a smoking history and most of those had quit smoking. Distributed by age, the percentage of smokers was 8% for those in their 20's, 5% for those in their 30's, 23% for those in their 40's, 16% for those in their 50's, 37% for those in their 60's, and 11% for those in their 70's. In order to stay healthy and enjoy Kendo for a long time, it is important to eliminate lifestyle-related diseases such as COPD (Chronic Obstructive Pulmonary Disease) and to raise awareness about the benefits of smoking cessation, including prevention of strokes and lung cancer.
3. Solo Keiko during restrictions


The rest of this article is only available for Kendo Jidai International subscribers!