FREE ARTICLE
Wilfried was the runner-up in the individual competition at the 2023 European Kendo Championships (EKC). He started Kendo at the age of 5 at Akamon Dojo in Saint Étienne, France. No one in his family did Kendo, but as there was a Dojo near his grandparents' house, they recommended him to pick up the martial art. He has been practicing Kendo for almost 25 years now. What mindset does he have and how did he prepare for the EKC?
Profile
Wilfried Olivier
Wilfried was born in France in 1991. He started Kendo at Akamon Dojo at age 5. He first started representing his country 8 years ago. His first European Kendo Championships were those held in 2016 in Macedonia. He attained the individual 2nd prize at the 2023 European Kendo Championships held in Beauvais.
1. What kind of training did you do in preparation for the EKC? How did you prepare both physically and mentally?
I train 6 times a week all year long (3 times Kendo, 2 physical training sessions with a trainer, and a cardio/running session). I've been doing mental preparation since 2016. In addition to that, the national team comes together to train once a month. I'd say that I start the season with more physical and technical training. As the season progresses, I concentrate more on the sensations and the feelings. I also watch Kendo videos from time to time.
2. What was your most impressive match at the EKC and why?
I had very strong opponents, so it's very difficult to give you an answer. Every match was difficult.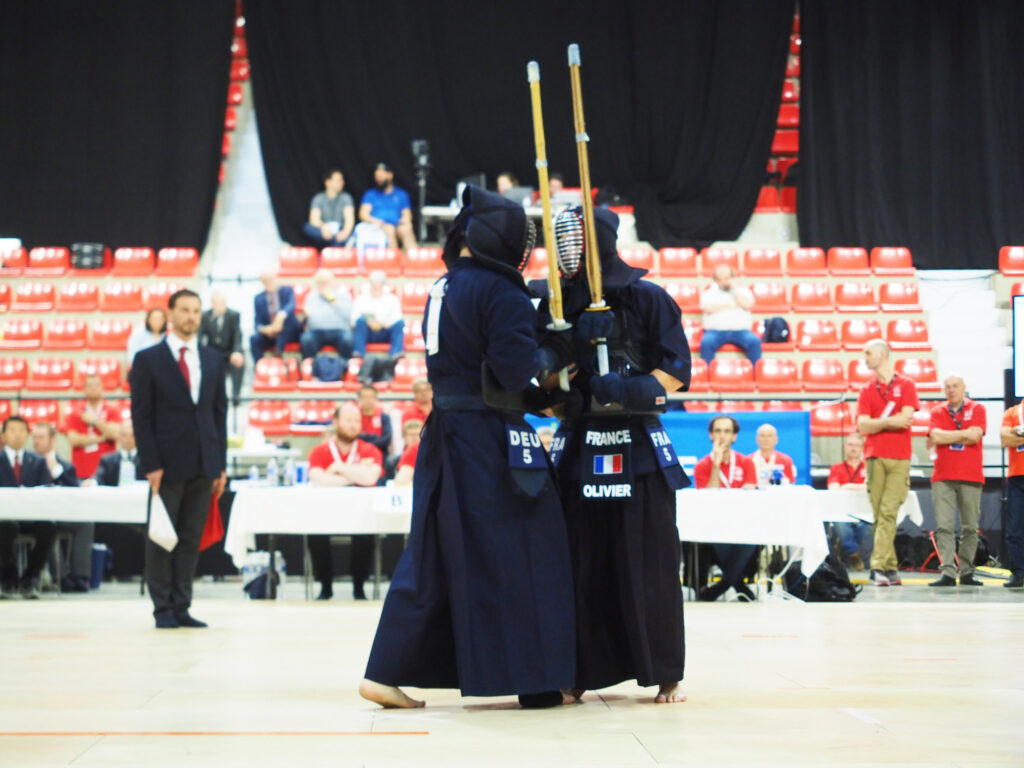 3. Have you ever trained Kendo in Japan?
Only twice:
In 2015, I accompanied the French team to the World Kendo Championship (WKC). We trained with the Tokyo police.
In 2018, I went to Miyazaki with the national team in preparation for the WKC.
I hope we will go to Japan again in 2024 to prepare for the next WKC.
4. What differences did you find between European Kendo and Japanese Kendo?
Everything looks more natural in Japanese Kendo. The Shinai is an extension of the body. The reasons for this are simple: they've been training hard with quality partners since they were children, and there are many high level Sensei. They participate in a lot of competitions, which allows them to practice with many different partners.
And of course, in Europe, Kendo is just a hobby. We all have a job and have to train during our free time. I think the big difference between Europe and Japan comes from how they use their legs. They are always in a state of preparation.
But we are working hard with the French team to reduce the gap between Europe and Japan. We mustn't forget that we are all human, with our own strengths and weaknesses. Anything is possible during Shiai.
5. What do you value and keep in mind in your daily practice?
As I said, Kendo is a hobby for me, so I try to keep in mind that it's all about having fun and enjoying myself. However, sometimes this is difficult because I strive to push myself in order to improve my level.
6. What do you think about the difference between sports and Budo?
The first difference is the history. Kendo originates from traditional samurai warrior skills.
Unlike sports, the way of the sword is a lifetime's work. There's more to it than just competition.
It's a philosophy of life in which we seek to improve ourselves, not just physically.
When we compete in Kendo, I think it is very close to sport, as we are looking for the best possible performance. But in the end, this is just a single step in a Kendoka's life.
7. What do you like about Kendo as Budo?
Kendo gave me a lot when I was young: a framework and values that have enabled me to progress in life.
8. What are the attractive points of Kendo, both regarding human development and competition?
When it comes to human development, you have the opportunity to interact with many people from different cultures and countries with different visions of Kendo. This is very enriching for you and your Kendo
On a competitive level, working with our partners with team spirit, giving our best so that we can all progress together.
Knowing how to challenge yourself and not being afraid of facing difficulty
9. What do you aim for at the WKC and the EKC?
At the WKC, I want us to be at our best. Hopefully we will be able to bring home the first medal for France.
10. What is your goal in Kendo?
Sharing and exchanging with the aim of progressing, both as a person and as a Kendoka.
11. What is your ideal style of Kendo? Anyone who you look up to?
I don't have an ideal style of Kendo and I don't think there is one. It all depends on how you see things. The beauty of Kendo is that it's highly diversified. We can always learn something from someone.
So, I'm not looking at anyone in particular. I'm inspired by what I find interesting and what helps me with developing my own Kendo style.
12. Do you still enjoy Kendo?
It was difficult during the covid pandemic and with the new rules being introduced, but of course I still enjoy Kendo.
Bonus question: what is your favorite practice?
I like the variety of techniques available in Kendo, but I will say that I prefer Hikiwaza.